When Taylor Swift was awarded the Grammy for Record of the Year on Monday night, she addressed her female-empowerment speech directly to Kanye West, who seems to have finally gotten under her skin.
Clearly responding to his new song Famous, with its lyric, 'I feel like me and Taylor might still have sex/ Why? I made that bitch famous', Swift looked deadly serious as she delivered her acceptance speech, which included the following:
I just want to say to all the young women out there, there are going to be people along the way who will try to undercut your success or take credit for your accomplishments—or your fame—but if you just focus on the work and you don't let those people sidetrack you, some day when you get where you're going, you'll look around and you will know that it was you and the people who love who put you there and that will be the greatest feeling in the world. Thank you.
Without uttering Kanye's name, Swift left no doubt who she was referring to, and social media was quick to respond.
If she was trying to shame Kanye, however, it will take more than a lecture.
West has been a thorn in Taylor's side since he famously interrupted her speech at the VMA awards in 2009. Yes, it was that long ago.
Since then, there have been several apologies and make-up hugs between Taylor and Kanye, but she has clearly had enough after last week's Twitter volley from West, seeking to absolve himself of any responsibility for the offensive song lyric.
In his tweets, Kanye says he not only cleared the lyric with Taylor, but it was HER IDEA!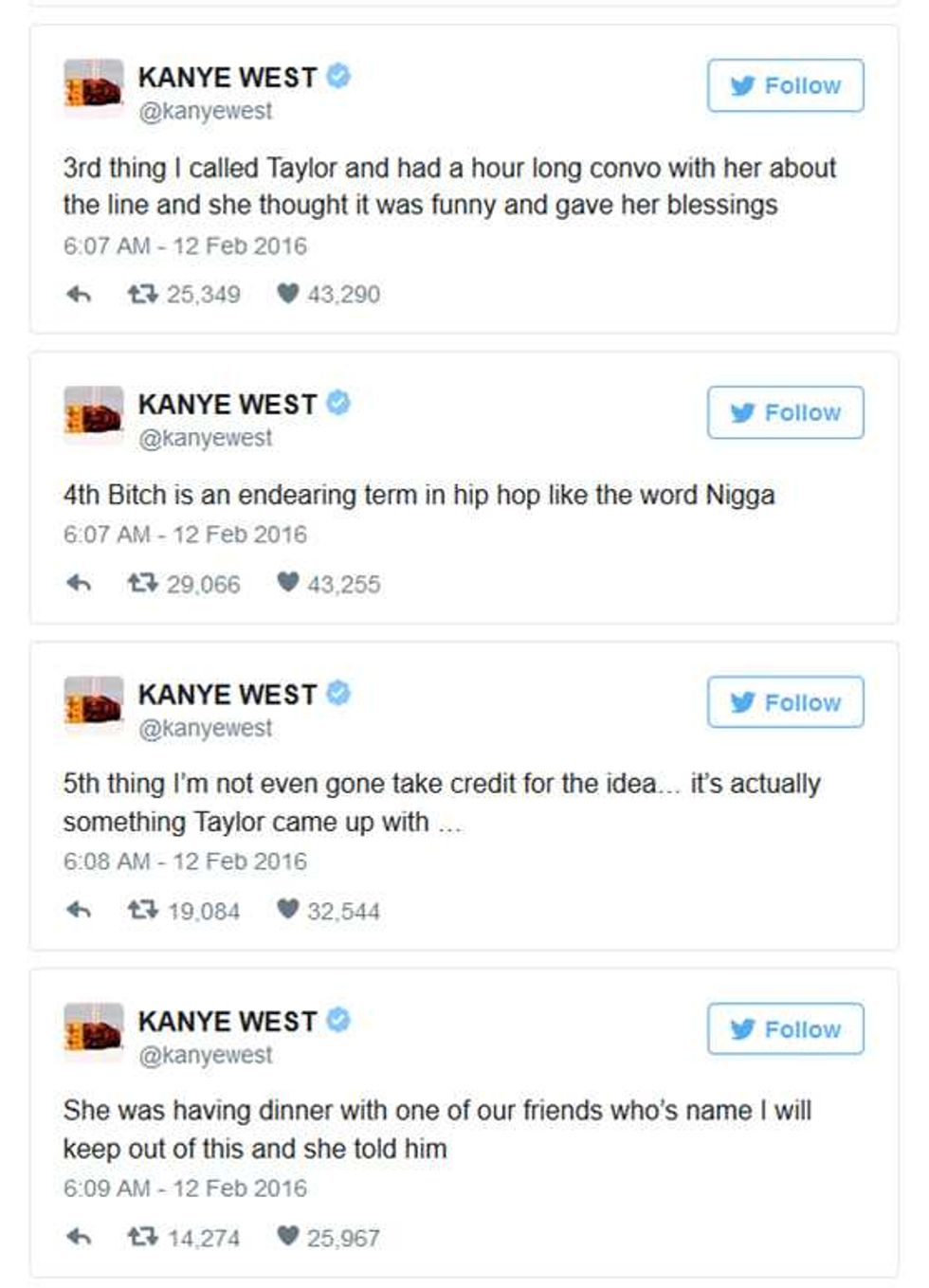 But Taylor's publicist denies this, saying:
Kanye did not call for approval, but to ask Taylor to release his single 'Famous' on her Twitter account. She declined and cautioned him about releasing a song with such a strong misogynistic message.
Uh-oh. The publicist concluded:
Taylor was never made aware of the actual lyric, 'I made that bitch famous.'
Kanye, so far, is sticking to his story. As popdust noted earlier, West has been busy with his fashion show, his record release and his alleged financial troubles.
Poor Taylor.
Will she be fooled again into letting bygones be bygones, or rather, letting Kanye get away with his stupid antics at her expense?
What do you think, Swifties and Haters? Should Taylor forgive Kanye? That seems like a lot to ask, even for the nicest pop star in the whole world.