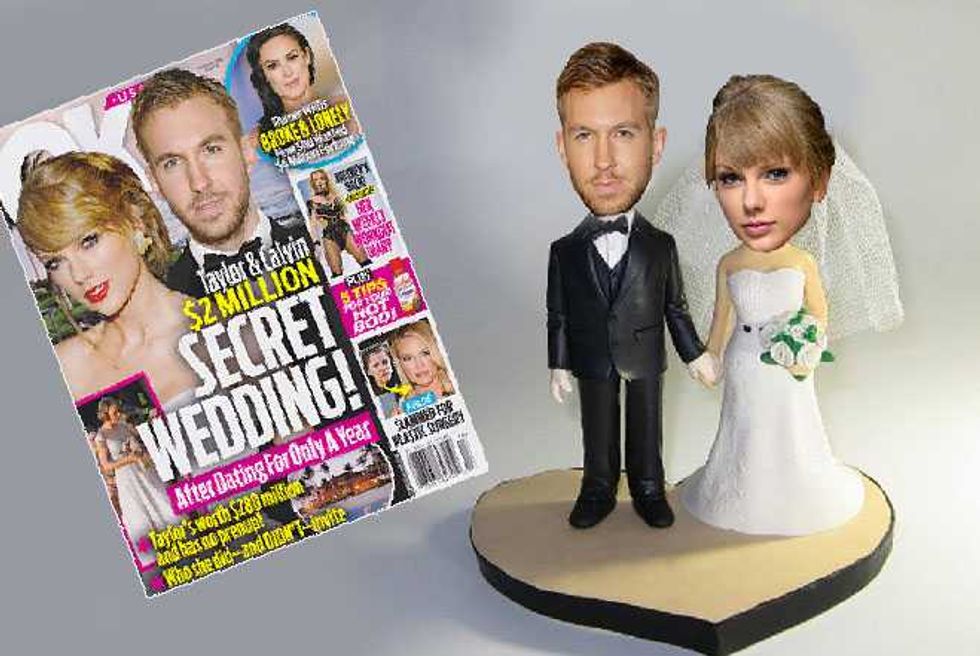 taylor swift calvin harris wedding Wins Fake Story Of The Week
We can't bring ourselves to open the pages of the National Enquirer and glean details on their truly repugnant "dying" Michael Douglas "wasting away" "losing hair" "cancer relapse" "the end" cover story.
So, this week's fake story award goes to OK magazine.
Kourtney Kardashian Pregnant By Biebs Wins Best Fake Story Of The Week
Not so secret Tay!
taylor swift calvin harris wedding
They claim that after one whole year of dating Taylor Swift and Calvin Harris are already planning a "secret" wedding.
Not so secret though folks—because, luckily for us, OK magazine has all the inside scoop!
In a wondrous piece of fiction, the tabloid breaks down all of Swift and Harris' "secret" wedding plans.
Taylor Swift Is A 'Nazi Barbie,' Says Feminist Scholar Camille Paglia
Inside track
taylor swift calvin harris wedding
Now, don't get us wrong, we actually wouldn't be surprised if Tay Tay did get all bridal up in our grill, she has a penchant for falling in crazy love crazy quick—but, we seriously don't believe OK magazine has the inside track.
And we also don't believe their claim:
The 26-year-old singer and her DJ beau, 32, have already begun planning their secret wedding, but the hopeless romantic Tay is not making Calvin sign a prenup, despite being worth $280 million!
Apparently, the secret $2million wedding "could take place as early as this August" which is kinda weird, as the magazine claims to know "who she did — and DIDN'T — invite."
Sorry Tabloids, But Taylor Swift Won't Make $365 Million This Year!
That's my home
taylor swift calvin harris wedding
Oh, but wait! Seems she's sent out all the invites, but hasn't yet set a date for the "secret wedding" as an "insider" tells OK:
They'd like to get married as soon as August. It's all happening really fast.

[Taylor Swift] finally feels settled. Even though they still have this crazy, bicoastal lifestyle, she says, 'Wherever Calvin is, that's my home.'
Awww! That's just so sweet!
The couple "have thrown themselves into the wedding planning process" apparently, and are "hunting for the perfect Hawaiian estate at which to host the nuptials."
Taylor Swift Flaunts Famous Friends And Spectacular Camel Toe
Oh, and just close friends and family will be in attendance, as the source claims:
They don't want to have some elaborate ceremony with hundreds of people they barely know.
Yeah, sure, whatever.
PDA packed vacay
taylor swift calvin harris wedding
Meanwhile, Swift and her alleged husband-to-be (whose real name is Adam Wiles) have been sharing PDA-packed pics of themselves frolicking on the beach, during a romantic getaway.
Noel Gallagher Slams Taylor Swift—Only Her Parents Think She Has Talent!
You can check out the photos in the gallery below.
For more entertainment, world, music and pop culture updates and news, follow Max Page on Twitter