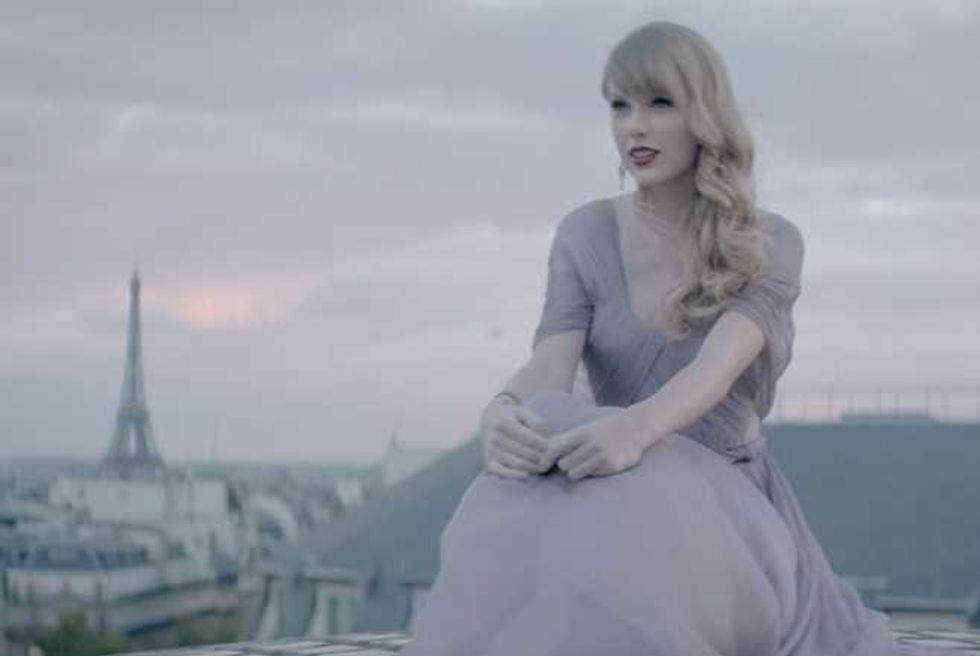 Unlike bright pink or vampy purple, red lipstick is a classic rather than trendy look. But we couldn't help but notice its popularity with three of our favorite young pop stars. Taylor Swift, Our Girl Carly Rae Jepsen and Rita Ora have all recently released stylish new music videos and in each, wore a statement-making shade of red on their lips. And while they stayed in the same color family, their choices were very representative of their individual styles. Who wore it best? Judge for yourself, below.
TAYLOR SWIFT'S HOPEFUL RED IN "BEGIN AGAIN"
Taylor Swift goes super-romantic for her latest video. In "Begin Again" she gets all dressed up and travels to Paris to flirt with a boy, eye French pastries in a cafe and generally do lots of dreamy, Parisian things.
Taylor likes to stick to lipsticks by CoverGirl, as she's one of the faces of the brand. According to their Twitter feed, Tay prefers "Flame" and "Burn;" her makeup artist Lorrie Turk has said that she likes to use the brand's lip liner to help Taylor's color stay on longer. For the video, the singer chose a deep red with a blueish undertone that perfectly suits her pale skin and flaxen hair.
CARLY RAE JEPSEN'S FLIRTY RED IN "THIS KISS"
We know that Carly Rae's favorite lipstick is M.A.C.'s orange-y red "Lady Danger," but for "This Kiss" she breaks out an awesome shade of reddish-fuschia. In keeping with the '80s feel of the song, Ms. Jepsen also rocks a light pink shade that won't be as noticeable all over the lips of her latest crush.
RITA ORA'S PROUD RED IN "SHINE YA LIGHT"
Rita Ora has said that Gwen Stefani is one of her biggest style influences, and in the video for "Shine Ya Light" she makes Gwen's beauty staples—bright blonde hair, dark brows and ruby lips̬her own. The clip opens with Rita performing in front of a crowd in her city of birth, Pristina in the former Yugoslavia. It then cuts to the singer atop a building wearing a dramatic outfit, a fur-trimmed anorak over black pants and a black bikini top, her mouth hidden by the flag of Kosovo. But even her "hips don't lie"-esque swivels can't draw your attention away from Rita's dramatic beauty.
We've heard that Ora's go-to lipstick is M.A.C.'s "Ruby Woo," which M.A.C. makeup artist Cher Webb often mixes with "Dare You" to create a custom-blend for the artist. In "Shine Ya Light," Rita's color choice is in keeping with her signature look—a bright, matte shade of true red.