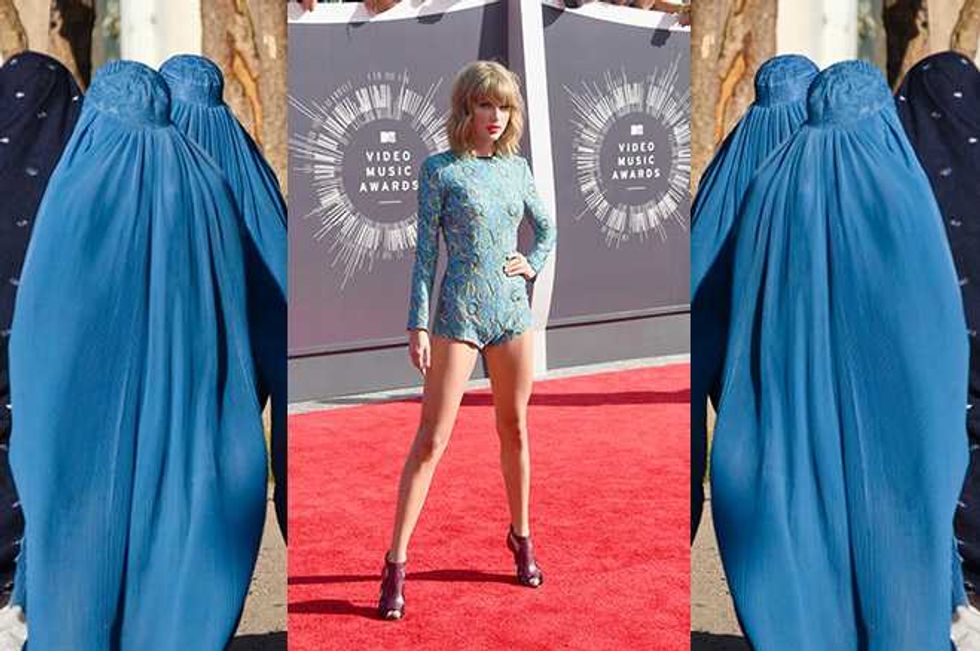 In a new interview with Maxim, Taylor Swift expounds on feminism and notes that 'Misogyny is ingrained in people from the time they are born.'
It's nice that with her busy schedule, Taylor has taken the time to immerse herself in Gender Studies to arrive at this bold conclusion. And she admits that her views on feminism have evolved since 2012, when she told the Daily Beast:
I don't really think about things as guys versus girls. I never have. I was raised by parents who brought me up to think if you work as hard as guys, you can go far in life.
The new Taylor has wised up, and like Joseph McCarthy with Communists, she sees misogyny everywhere. She explains that now she is regarded as more threatening to men, life is harder.
I didn't see myself being held back until I was a woman. Or the double standards in headlines, the double standards in the way stories are told, the double standards in the way things are perceived. A man writing about his feelings from a vulnerable place is brave; a woman writing about her feelings from a vulnerable place is oversharing or whining.
See? Men are so mean! It's so not fair.
What I love about Taylor Swift is that nothing is ever fair enough for her. When Tina Fey and Amy Poehler made a joke about her, it wasn't fair. When Spotify gave away her music, it wasn't fair. When fans on Etsy made items with her name or likeness, it wasn't fair. When her old guitar teacher mentioned her, that wasn't fair either.
I wish she would name names when she says that misogyny is holding her back. She seems to be getting ahead quite nicely. Perhaps when we're not looking, someone is making her wear a burka.
Don't get me wrong: misogyny is a real issue all over the world. It's just interesting when the most privileged of white women see it as hampering them personally. At least Taylor has Lena Dunham and ten thousand other BFF's to support her ideas about men, trademarks, Spotify and belly buttons.