Taylor Swift's latest stage show was filled with famous friends—there was an unwanted guest however, in the form of her serial offending camel toe!
Taylor has been wowing fans with guest appearances during her 1989 tour this summer. The Blank Space singer has been parading her celebrity pals like she's attempting a world record or something and Saturday night in New Jersey was no different.
Taylor Swift's Prettiest, Sexiest, Down Right Cutest Photos—Right Here, Right Now
Nick Jonas was the first one up, performing Jealous for the 60,000 fans who went totally wild.
Nick Jonas Proves He Still Looks Super Hot When Fully Clothed
Next on stage were a few of Swiftie's supermodel Victoria's Secret Angel besties who have been popping up all over the place with her lately. Gigi Hadid (rumored to be dating Nick's brother and Taylor's ex, Joe Jonas), Lily Aldridge, Karlie Kloss and Candice Swanepoel. What..wait...no Kendall Jenner? She must have drawn the short straw to sit this one out.
Miley Cyrus And Victoria's Secret Model Stella Maxwell—It's On!
Previous stage invaders have included Cara Delevigne, Serena Williams (before her incredible 6th Wimbledon win on Saturday), team of the moment, the US Women's National Team who recently won the soccer world cup and of course Tay Tay's beau, Calvin Harris.
It's Official: Calvin Harris Will Be The Subject Of Taylor Swift's Next Break-up Song!
Poor old Lena Dunham really needs to get a clause allowing her to veto who she appears on stage with written into her friendship contract with Swift. At only 5ft 2" she was dwarfed next to all the supermodels who tip 6ft in their heels! She tweeted afterwards;
"Remember that time I walked a runway with multiple super models and @taylorswift? Nope, me neither, cuz I blacked out. "
Now whilst we weren't really paying attention to this weekend's TayFest (quite frankly we're bored with the celebrity love-ins), we had to sit up and take notice of the pics of Taylor in her black leather catsuit, such is our commitment to bringing you all the best camel toes.
Camel Toe Prevention Is Out There Ladies!
This one is a spectacular example (note to fashionistas,catsuit ALWAYS = camel toe), but Taylor doesn't care! She's young, she's free, she's rich, she's got a multitude of friends, she's dating Calvin Harris—she's TAYLOR SWIFT goddammit!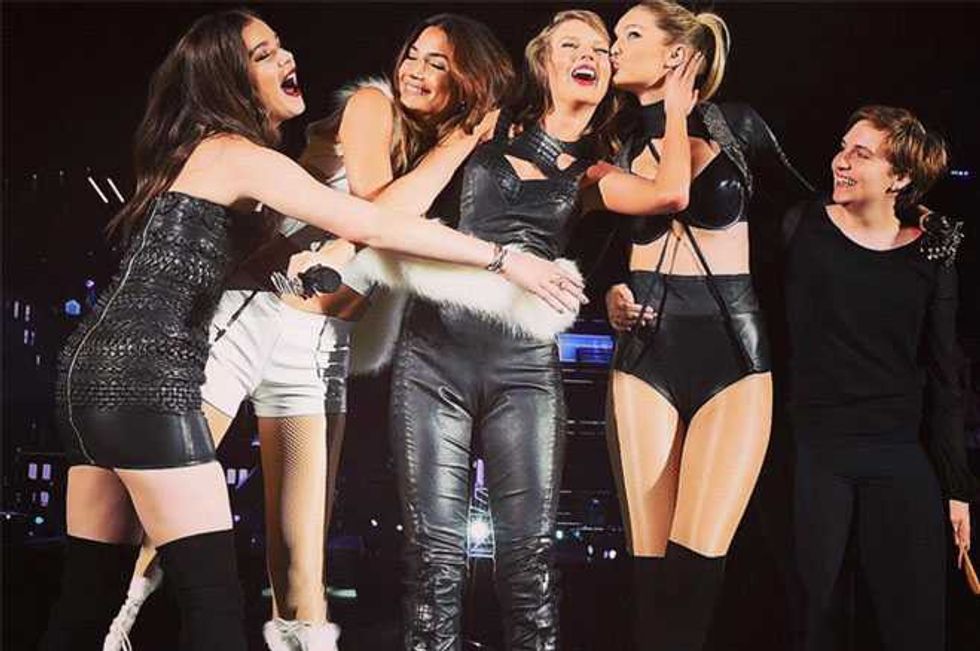 Unwanted guest—and we don't mean Lena Dunham.