Tom Hiddleston. John Mayer. Nightmares, daydreams, shooting stars, incredible things, white feminism, graveyards, pearls, Kanye West: It's all part of the Taylor Swift roller coaster.
With her upcoming album, Lover, dropping on August 23, Swift has documented her tumultuous dating experiences in song and in the media for the past decade, but now it looks like she's finally found the perfect guy—and this time, they're keeping things private.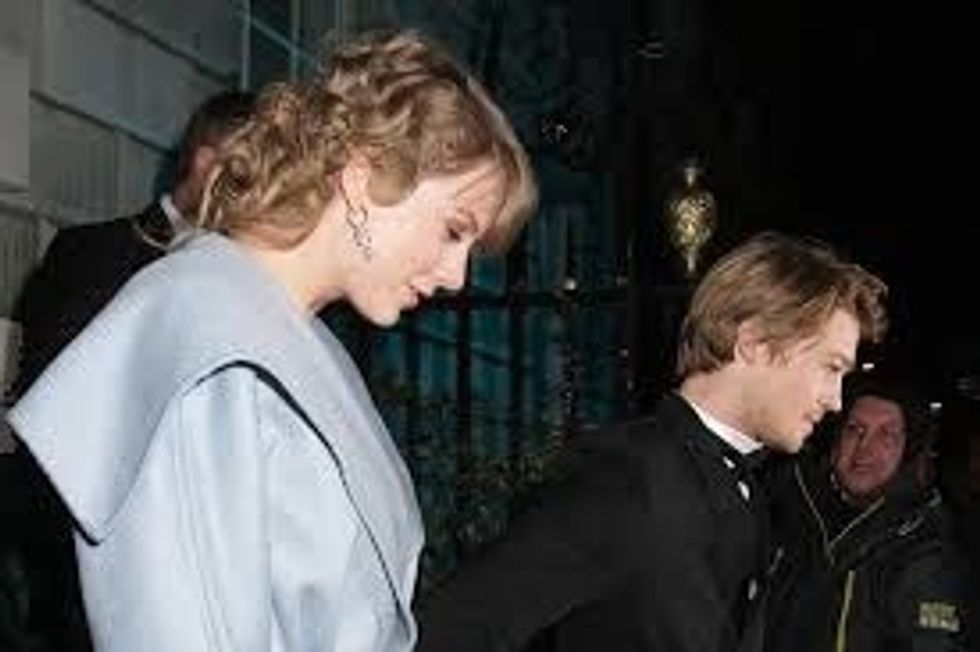 The Sun
Sorry, Who?
Joe Alwyn is an English actor who seems, well...perfect, and perfectly boring. Like Taylor, he has blonde hair and blue eyes. He's 28 years old, one year younger than Swift.

Alwyn was born in Crouch Hill, London. An "introverted" child, he always wanted to be an actor, and he studied English literature and drama at the University of Bristol. He also acted in two productions at the Edinburgh Fringe Festival and later received a BA in acting.
In 2015, just before graduating, he was cast as the star of Ang Lee's film Billy Lynn's Long Halftime Walk. Since then, he's mostly appeared in period drama films.
Okay, So How Did They Meet?
As for who this elusive figure actually is, there's precious little information available. Taylor Swift has been dating him for three years, and they apparently were introduced at the Met Gala, though some believe they met at a secret Kings of Leon concert in NYC (is Kings of Leon still a thing?) Both of them have been decisively private about the relationship from the get-go.
They've been a bit more public this year, though, and have been spotted at a bunch of parties lately, from Oscar pre-games to bashes at Cara Delevigne's house. Swift has also supported Alwyn at several awards shows. Most "sources" cited in tabloids have had very nice things to say about them.
Are They Engaged?
Marriage seems like a probability for Swift and Alwyn, especially in light of her new song and lyric video, "Lover," which contains the lyrics, "My heart's been borrowed and yours has been blue." Many fans are convinced that they're engaged, with the full line: "Ladies and gentlemen, will you please stand? / With every guitar string scar on my hand / I take this magnetic force-of-a-man to be my lover."
Swift and seem like the type to get married in a tastefully private destination wedding, to split time between two heavily surveilled mansions in England and LA, to have two gorgeous blue-eyed children, and to someday receive a priceless ticket to Elon Musk's suburban paradise on Mars.
Most Importantly: Will Taylor Finally Stop Singing About Being the Underdog?
Hopefully! But, no really, good for Taylor. We get it—your life is perfect, you've got the perfect guy, you're very nice and very adored, you never did anything wrong but you've been through so much hate and it's been so hard, but you have overcome and single-handedly saved gay people while doing it, and your life is now perfect again, etc. Sorry if most of us can't relate, but honestly, it's been hard to relate to any one of your songs since "Fifteen" came out. Enjoy your Lover; meanwhile, the rest of us will be listening to Miley's "Slide Away" and crying.
Taylor Swift - Lover (Lyric Video) www.youtube.com