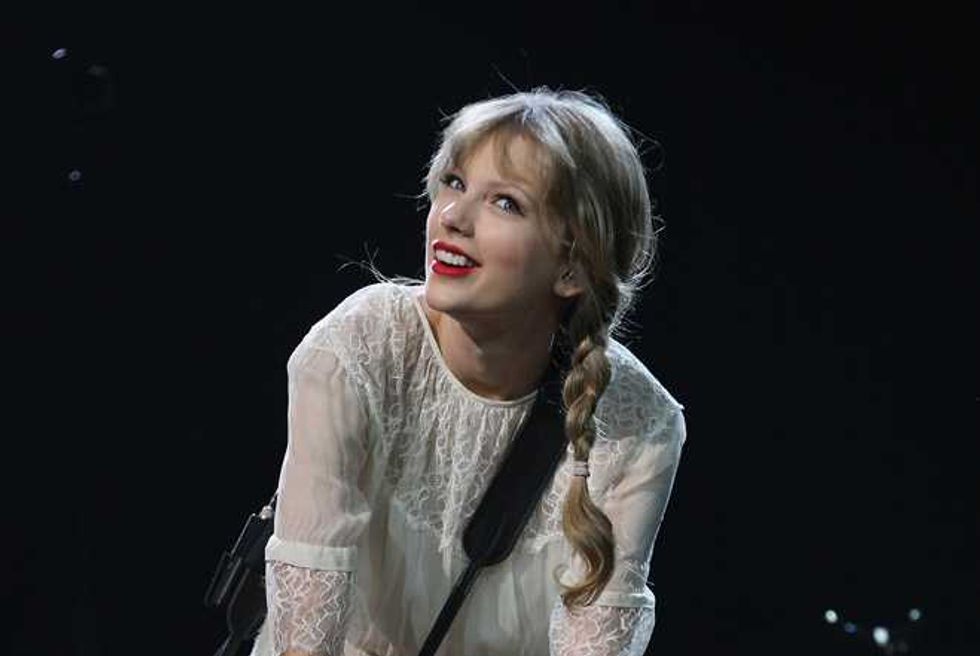 In case you've been strictly listening to one or more of the fabulous EPs out this week, you may need reminding that Taylor Swift has some new material as well,officially released on Monday Oct. 22. She'll be doing a lot of interviews, performances and promotional appearances—surprise!—to help ensure you buy a copy of Red for yourself, your grandmother and maybe even your pet dolphin. We know he's a Wyclef fan, but there's always time to convert the haters.
Next week's media explosion includes a two-day live stint on Good Morning America, to cap off those weekly song previews she's been sending the morning show all month, as well as daytime visits to The View, The Ellen DeGeneres Show and Katie. But that's just the tip. Considering the sizable buzz around her fourth major release, we wouldn't be surprised if Taylor showed up at your office with bagels and coffee come Monday morning and offered to tuck you in on Friday night. The girl is everywhere.
With the final presidential debate, the World Series kickoff and what looks to be a pretty engrossing episode of Duck Dynasty all on deck, the week of October 22 is already puling at our interests and pop culture loyalties from many different directions. In order to help you Swifties keep up, we've tracked down all of Taylor's scheduled appearances and grouped them together in a convenient weekly planner. Enjoy!
MONDAY OCTOBER 22 
Good Morning America (ABC) 7 a.m. EST/PST
Sirius XM Live Q&A 2 p.m. EST
TUESDAY OCTOBER 23
Good Morning America (ABC) 7 a.m. EST/PST
The Late Show with David Letterman (CBS) 11:35 p.m. EST/PST
WEDNESDAY OCTOBER 24
The View (ABC) 11 a.m. EST, 10 a.m. PST
Scholastic's "Read Every Day" literacy event at company headquarters in New York
THURSDAY OCTOBER 25 
The Ellen DeGeneres Show (NBC) *Check local listings
Someone's excited!
FRIDAY OCTOBER 26
Katie (ABC) *Check local listsings
20/20: All Access Nashville (ABC) 9 p.m. EST/PST
ONGOING
Entertainment Tonight will be celebrating "Taylor Swift Week" Monday through Friday

Interviews with Swift will be featured on Access Hollywood, E! News and Extra throughout the week

Expect a boatload of Twitter praise and frequent trending topics to come from her famous friends and multitude of followers.
[CBS Local, Billboard]