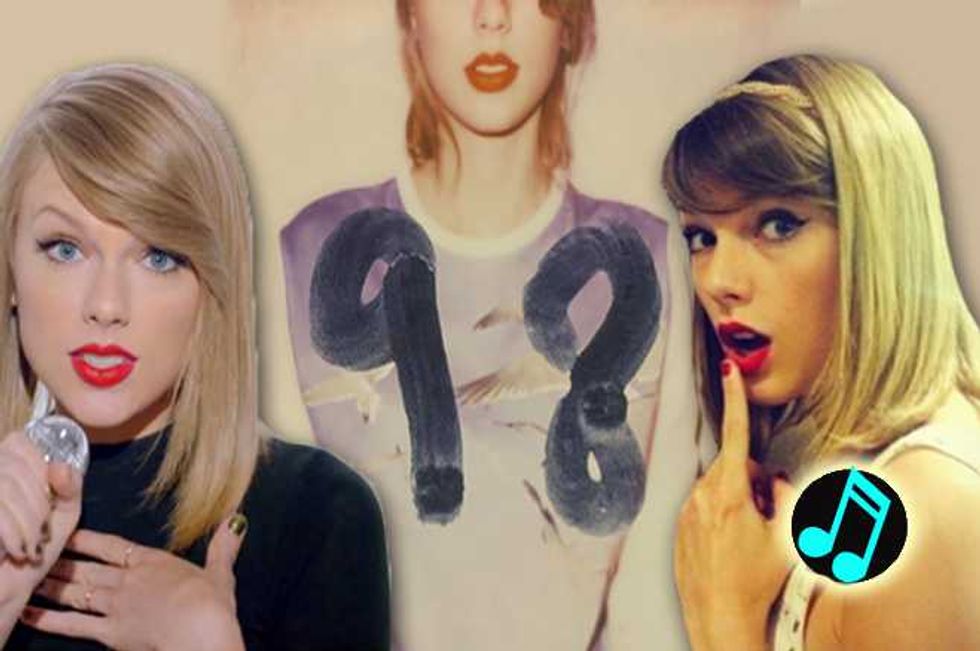 *DISCLAIMER-- AS SOMEONE WHO SPENDS 2 YEARS LISTENING TO EACH TAYLOR SWIFT ALBUM CONSISTENTLY GETTING NEW STUFF OUT OF IT EACH TIME, THE FOLLOWING ARE MY *FIRST IMPRESSIONS* AND DO NOT REFLECT MY END OPINIONS OF 1989. MY OPINIONS WILL PROBABLY CHANGE 10000X MORE TIMES. AND FOR YOU CRAZY SWIFTIES WHO ARE GOING TO HATE MY MORE NEGATIVE OPINIONS -- JUST KNOW I AM ONE OF YOU.
RATING SCALE 1-10 TEN BEING THE BEST OBVIOUSLY (1=Girl At Home, 10=All Too Well)
1. Welcome To New York- I don't know about this song, I just don't know. This song drives me up the wall for a variety of reasons (It simply does not evoke any New York feelings in me at all, and can people please stop trying to tell everyone about their NYC love story? No one cares that NYC makes you feel happy and excited) but I get why Tay put it as number 1 on 1989. She's just trying to usher in a *new era* of herself and we all know Tay is big on grandly obvious statement making.  3/10
2. Blank Space- What a fun song that sounds like it could have been on 1990s alt radio if it didn't have those drums playing in the back! It's smart and self-aware in a way that isn't obnoxious. "I can make the bad guys good for a weekend" is a great lyric, cuz I believe her. Actually, maybe this song is amazing. 8/10
3. Style- YEAAAHHH this makes me want to watch Grease right now. Immediately see montage in my head of a Danny Zucko looking dude cruising down Highway 1 taking his RayBans either on or off. Also makes me think that Tay and Harry Styles were not as bad of a couple as I thought they were at the time. This part-- "I say I heard that you've been out and about with some other girl/some other girl/he says what you heard is true but I/ can't stop thinking about you"-- gives me chills because I am corny, duh. This song is good. 8/10
4. Out of the Woods- Blah, can't get behind this song, sorry guys. Weak lyrics forced into a track that Jack Antonoff thinks is the greatest thing he has ever done. I actually don't even want to talk about it cuz it bums me out, so let's just move on to the next track. Maybe at some point over the next two years of the 1989 era I will retract these feelings but I don't know. 1/10 (Unfair rating but I can't take this song seriously- it's Jack Antonoff's fault not mine)
5. All You Had To Do Was Stay-  I feel very conned that this is our "Track 5" for 1989. Track 5 is usually Tay's most *heartfelt* songs—Cold As You, White Horse, Dear John, the epic All Too Well, for those of you not in the know. It's usually the one that makes you cry. The first time I listened to this song I dismissed it entirely but now I'm listening to it a second time and I don't hate it. I love the hysterical "STAAAAY" in the chorus. 6/10
6. Shake It Off- This song fits in well with the album, more than OOTW, IMHO. Perfect track 6. 8/10
7. I Wish You Would- THIS SONG IS A PARTY and is definitely the "I Knew You Were Trouble" of 1989. That chorus reminds me of some other song I can't quite place but it might be a damn Drake song to be honest. Does anyone know what I'm talking about? Anyway, this album does a great job of staying above musical trends, but this song definitely sounds very 2014 and not 1989. HEH HEH. It's fun though. Obviously. All of these are fun. 8/10
8. Bad Blood- One thing Tay cannot / will not ever stop doing is assuming what other people (John Mayer, Kanye West, Jake Gyllenhaal) are thinking and why they react to her in the way that they react. This song is fine, when she says "mad love" I can't help but chortle (yea, chortle), but what the heck Tay? Why did you write a Katy Perry shame song? IMHO this song is no better than Better Than Revenge.. 4/10
9. Wildest Dreams- I'm listening to this and my roommate immediately is like "This is so Lana Del Rey." Ugh, it's so true. This could be a LDR song and maybe be better. Also refers to herself as "standing in a nice dress." What the hell does a nice dress look like? The bridge of this song is fun and weird enough I guess. Blarg. 5/10
10. How You Get The Girl- Lyrically this song is pretty great at meaning exactly what it's saying. It is a relief that Tay has learned something about herself and what she wants from relationships. This song is way 80s and reminds me of Pat Benetar. I wish I had more 80s references to work with. 8/10
11. This Love- Yesssss this totally sounds like The Cranberries and I love it. It's so breathy and power-ballady without being too much. Gorgeous gorgeous gorgeous thanks Tay. 9/10
12. I Know Places- Wow, you know that photo of Taylor with Conor Kennedy in RI when they're on the beach trying to get away from the paparazzi and she's in a hilarious looking mid-run? That picture cracks me up. This is like the musical version of that photo. It an anthem about paranoia, essentially- I can imagine a giant swarm of paparazzi jumping up behind Tay and Conor as they try to enjoy sparkling lemonade on the beach. Actually this song is kinda funny, I dunno. 6/10
13. Clean- GOD I love this song, I can see this on 90s alt radio no problem, nobody would know the difference. It could also have been on "Red" to be honest. Now that I think about it, Red was pretty 90s alt radio-friendly. Who does this sound like? I like when she says she punched a hole in the roof. I hope she actually did that. Maybe this is the "All Too Well" of this album in terms of processing a relationship that has recently ended? Except this time she's forgiving and sew clean. 8/10
14. Wonderland- "Life was never worse but never better" GREAT LYRIC TAY, I FEEL THAT. But then you go and reference  Harry Style's "cheshire cat smile" which is the lamest thing you could possibly say, especially in a song about "Wonderland." Whatever. This song is catchy. In terms of corniness it's at Starlight level but that's okay. 7/10
15. You R In Love- BEAUTIFUL AND CUTE and takes me back to the Self Titled/Fearless days. Makes me feel the way that "Hey Stephen" or "Stay Beautiful" makes me feel. It does sort of feel like you're inside of a snow globe and paper snowflakes that Taylor hand cut herself are falling around you, except it's warm inside of the snow globe. "You understand now why they lost their minds and fought the wars / and why I've spent my whole life trying to put it into words" makes me DIE, OMG, DEAD, in a good way. 9/10
16. New Romance- This song ROCKSSSSS. I can't even understand how to process it because it is so different than the rest of the album. Lady GaGa wishes all of Artpop sounded like this. "Please take my hand and please take me dancing and / please leave me stranded / it's so romantic" = KILLER LYRIC TAYTAY U GO. 9/10
Overall feelings- I was really ready, after Shake it Off, Out Of The Woods, and Welcome To New York, to swear off Tay fandom, but TBH I can't because this is not just a pop album, it's a Taylor Swift album, she delivered, thank the Lord.
For the best deals on Taylor Swift tickets visit TiqIQ.com