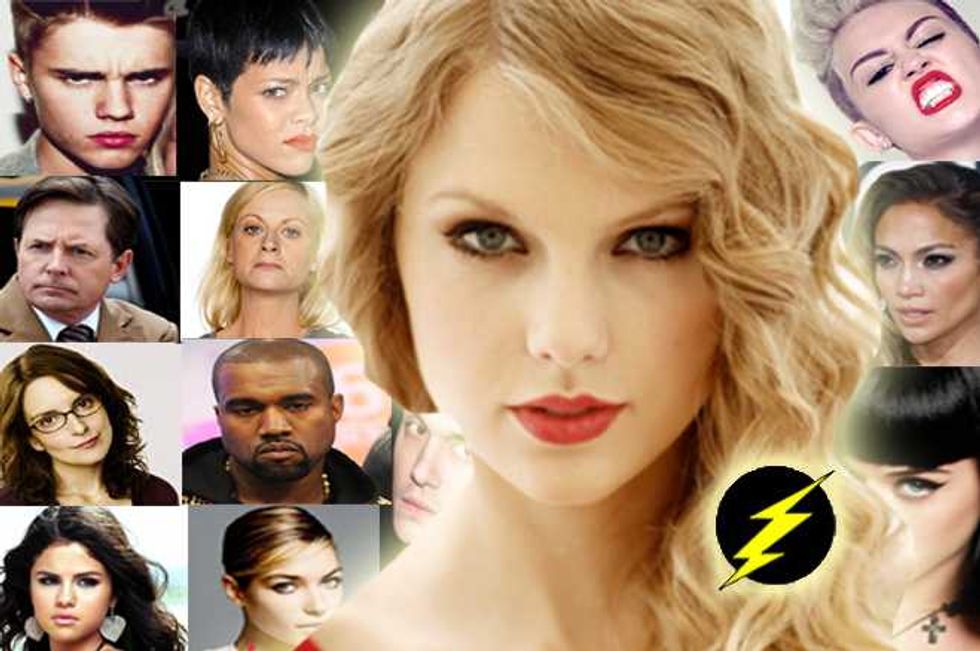 It seems Taylor Swift has been accused of feuding with just about everyone you can think of in Hollywood and beyond.
As Popdust previously reported, the many feuds of Tay-Tay rumor mill cranked back into action earlier this month following a delightfully dishy Rolling Stone interview, in which Swift revealed her new song, Bad Blood, is about a female singer who "did something so horrible" to her.
By far, the general consensus was that she was referring to Katy Perry—and cryptic tweets from both Perry and Swift did little to dispel that belief.
However, as a short ten minute Google search proves—Taylor has allegedly feuded and fought at one time or another with a ridiculous number, and array, of famous folks—even Michael J Fox! MICHAEL J FRIGGIN' FOX peeps! Who could possibly have beef with Marty McFly?!!!!
So, we've gotta ask—Is Taylor Swift really, truly the biggest drama loving Mean Girl in Hollywood? Or, is it just yet another case of tabloids not letting the truth get in the way of a good old fashioned, bullshit, made-up feud story?
Check out Popdust's gallery of the many alleged feuds of Tay-Tay—then vote in our poll and sound off in comments!
For all news on Taylor Swift tickets for her upcoming tour, visit TiqIQ.com