Taking that step to not only accept who you are but to reveal that to others is an incredible act of bravery. It shows a willingness to "face the man in the mirror," so to speak, and shake off whatever demons might be plaguing your life. Dani Buncher, one half of the electro-pop duo TeamMate, came out to her family and friends - and her then-boyfriend and now-bandmate Scott Simons - several years ago. It was a mighty and courageous decision, and, thankfully, didn't destroy their relationship. In fact, it made it that much stronger, as they looked inwardly to heal. "I don't know exactly how long it had been weighing on me. I know that we were experiencing a lot of problems within our relationship and we spent a lot of time sweeping those problems under the rug," Buncher tells Popdust. "There came a point when it became overwhelming, and we were both forced to look inward. For me, that meant finding the root to whatever misplaced anger or discontent I was feeling. I worked on being honest with myself, and as soon as I felt I was in an emotionally capable space, I started a discussion with Scott about what I was feeling."
They did break up but their budding new friendship took over and soon began to flourish. Simons moved out to Los Angeles to pursue other options in his career, while Buncher remained on the East Coast. They wouldn't reconnect face-to-face until a couple years later--when Buncher moved within a block of Simons, ironically. That's when TeamMate was born, a spirited collaboration between two creatives with a lot of important things to say. They channeled the aftermath of their breakup - the hurt, the confusion, the angst - and their reimagined roles as friends into their full-length album.

One of the LP's standouts is the toe-tapping anthem, "Damage," in which they profess "we can't stop the downpour, we can't trip the trip wire, we can't hold it back now. It's something so right." They bask in the tumultuous ripples of life and face the world together, head-on, with tremendous fearlessness. "Musically, I love 'na na' songs. Tears For Fears' 'Head Over Heels' is probably my favorite," says Simons about how the song came to be, "but lyrically, this song came at a turning point for us when we realized that not only might we be onto a really special friendship, but if we can put the past behind us, we may be onto something really special as a band too."
He continues, "[It] was one of the easier ones to write. Songwriting, in general, is a culmination of years and years of trial and error. So, in the room that day, 'Damage' was easy to write. But we've been working for years and years, together and individually, as writers to get to that song that day."
The music video--premiering exclusively today--sees Simons and Buncher share the spotlight. Under the creative, watchful eyes of directors Justus Meyer and Eric McCoy, the duo remain confident and unaffected by the past--instead, they're storied history bleeds onto the camera. And their chemistry is infectious, as they both pluck away on synths, keyboards and a drum kit, feverishly constructing the song's rhythmic-base and funneling the melody into an Everest-sized hurricane. "'Nothing's Ever Over' was the first single and video released off the new record. The band is just the two of us and it was important for us to establish that and exactly what our roles are within the group. TeamMate is such a 50/50 project, and we sing basically the entire album in unison. We wanted to continue that theme and put all of that on display in the video for 'Damage,'" shares Buncher about the vibrant visual, flickering between a black 'n white filter and explosions of color.
Simons adds, "We don't really see ourselves as a mysterious band. We tell our story, we wear our hearts out on our sleeves and we are real without taking ourselves too seriously on social media. For the stage we're at right now, which is trying to build on what we've done so far and reach more people, we thought it was important to present ourselves performing as an introduction to music fans. The treatment was really creative, and we were sold from the second they presented us with the idea."
Watch the spirited "Damage" video below:
When you came out, were family and friends supportive?

DB: Yes. Everyone was very supportive. Scott being the most supportive which I am forever grateful for. Of course, some conversations were much easier to have than others. But, I am very lucky and fortunate to have such loving, caring, and supportive family and friends in my life.
SS: Luckily, my family was and is still super supportive. Both our families are still in touch and my family loves Dani like a family member. I feel the same love from her family. We are super lucky.
Of course, you two were dating for several years and it could have easily ripped you two apart. But it didn't. You two did, however, part ways for awhile-- until Dani moved out to LA. How did you guys end up meeting again?
DB: Scott and I had a long history together before the breakup. The hardest part about coming out, for me, was the idea of losing such an important person in my life. It wasn't easy but we made a commitment to each other to figure out how the next stage of our relationship was going to exist. We didn't know what that was going to look like, but we knew that we had to try. We never lost touch when Scott moved to LA. The space/distance played a huge role in the development of our friendship, post breakup. It allowed us to break with the routines we had as a couple and start building lives independent of each other.
How long after that did you decided to form the band?
DB: We became a band a few years after the breakup and it was a decision that we kind of stumbled upon. We never really played music together as a couple. We both had our own bands and it was something we did separately. After we broke up, I sat in on drums with Scott on a few solo gigs and something just clicked. I'm not sure the dynamic would have felt the same if we were still in a relationship.
In your song "Nothing's Ever Over," there is a lyric which reads "we don't have to fall out of love." How did you two decide that you wouldn't let the breakup be the end of your friendship? And how did this song come together?
SS: I've said this a lot, but I lost my dad when I was 20. I didn't have a choice whether to keep him in my life. There was a moment during Dani's and my breakup that I realized I have a choice. I wanted Dani to be in my life whatever that meant going forward and luckily the reverse was true. "Nothing's Ever Over" is a special song for us. It started with a track idea I had, and I started scatting some falsetto melodies over the chorus. I knew I wanted something really high and soaring (melodically) that we could both sing. When I listened back to the demo vocals, I was mumbling a lot but it sounded like I was saying "Nothing's Ever Over," and I liked how those syllables fit the rhythm. I think the title just found me and it was our job to apply a meaning to it which was easy given our story.
How long did you work on this album, and what started this record?
SS: Well, right after we became a band we released an EP. Those songs were very one-sided, mostly coming from me. Over the next few years, we released a series of singles which gave us time to find our voice as a band. Meanwhile, we were touring and playing shows in front of an audience which really helped us come up with the "size" of the sound. It was challenging for two people to get on stage and fill up the room enough to make people pay attention, so we started writing bigger sounding songs. We were just writing single after single and playing shows until we finally hit a wall. We felt we needed to make an album. So, we took some time off from playing live which gave us a chance to write new material and figure out which of the old material still fit what we were doing - musically but also conceptually. That's what became the album.
What is the core message of the album?
SS: To me, it's that love has a lot of different shapes. We think when things are broken we have to move on and leave them behind. But we've been able to find a way to make something new from the pieces.
DB: That relationships can evolve from something very specific into something with entirely new meaning.
On "Don't Count Me Out," you tap into the initial flood of emotions of the breakup. What was it like writing that one?
SS: That one started with a track idea also. And after I played it for Dani, she said "I like it, but I think some kind of shout-y hook would be cool." I went digging through my Notepad app file of lyric ideas and found the title "Don't Count Me Out." When we started writing the verses, we played off of the idea of being knocked down and getting back up before the count. In the third verse, the meaning switched a little bit to say something like "If you're ever knocked down, I'll be there for you because I've been through this, too."
How does your friendship and past influence other songs on the album?
DB: Our friendship and relationship allows us to look at life and situations with a sense of optimism. Most of the songs on the album reflect that sort of mentality.
SS: Definitely. We look at our past and then try to apply it to a broader context. When you're going through something it's easy to think "Why is this happening to me?" and feel helpless. But if you zoom out, whether it's the unexpected death of a parent in my case or a painful breakup in our case, a lot of people have been through similar situations and have come out of it okay. We hope that someone can look at us, our story and our songs and think it can all be okay.
Musically, were there artists you wanted to emulate on this album with your stylistic choices?
DB: We didn't go into this record wanting to emulate anyone, necessarily. However, you can't help but to be shaped by your influences. Since my instrument is the drums and Scott's is keyboard/synths, that set somewhat of an immediate direction as to where we were headed, stylistically.
SS: I think we just tried to make music we like. I don't think we chase well. We're better at just being ourselves and letting our influences permeate the songs that way.
What did you learn about yourself and each other through writing this record?
DB: I think we've learned how to communicate a little better through the process of writing a record. The songwriting process opens the door to lots of personal conversations and mental exploration. Writing the record has brought us closer as friends and has given us each a little more insight into the other person's thought process.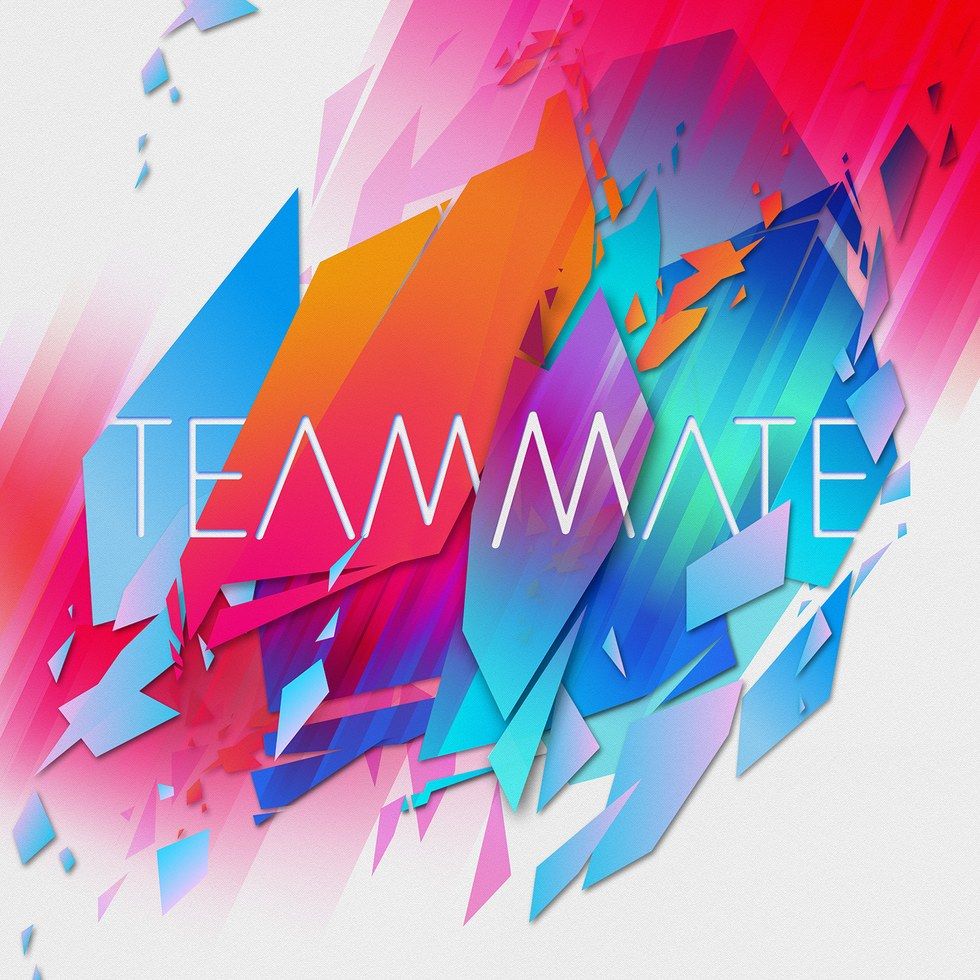 ---
READ MORE ABOUT MUSIC...
Premiere: New Portals expand their sound on new 'Stereo EP'
Premiere: Chasing Moonlight rise from the ashes with new anthem, "Home"
Watch Trishes channel a goddess in her "Day Jobs" video
---