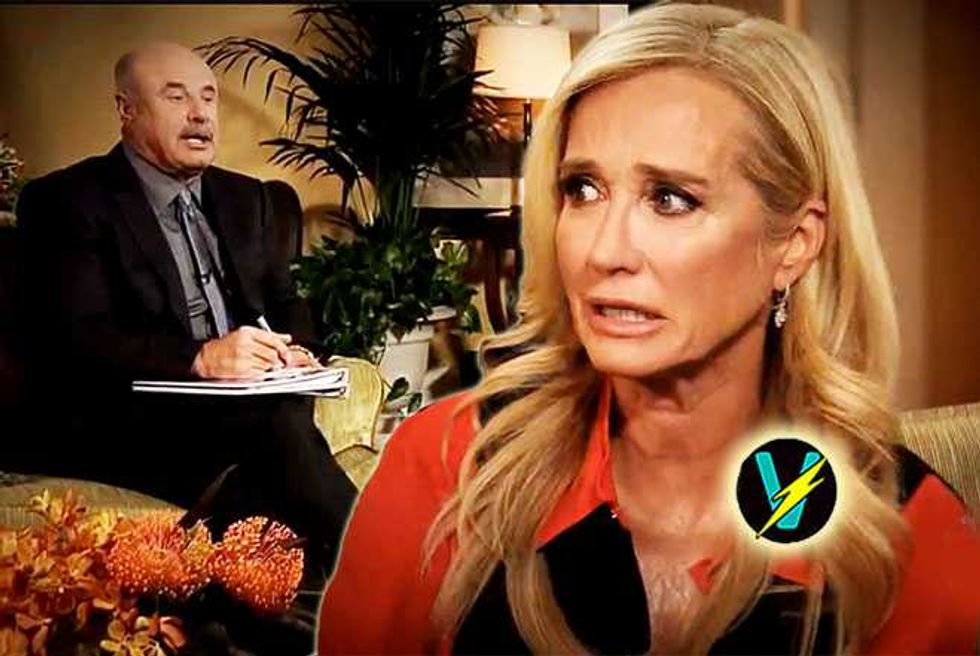 Having appeared on five seasons of Real Housewives of Beverly Hills, socialite, Kim Richards, knows a thing or two about drama.
But, judging by a new promo video, even the most insane bitch-fest Housewives reunion show doesn't hold a candle to the 50-year-old's upcoming interview with Dr. Phil.
Richards, who has a history of struggling with alcohol and substance abuse issues, sat down with the phoney physician good doc, shortly after her recent arrest.
As Popdust previously reported, Paris Hilton's aunt was hauled away by cops last week, after becoming "unruly" at the Beverly Hills Hotel Polo lounge.
According to the police report, Richards, who was slurring her words and "reeked" of alcohol,  locked herself in the restrooms and refused to come out. Cops had to drag her out, and after she was taken to a nearby jail, she allegedly kicked a police officer.
The mom-of-four was eventually released, after being charged with trespass, resisting arrest, battery on a police officer and drunk in public.
In true Dr. Phil style, McGraw pulls no punches in the dramatic face-to-face, which promises to be epic train wreck TV.
"Are you living a lie, telling everybody I've been sober for three years?" McGraw demands. "You're drunk at a bar, fighting with a cop, that's not good mothering."
Richards attempts to defend her actions, explaining she, "poured a drink of vodka ... and thought, 'Oh my god, what have I done?'" Then breaks down in tears and admits, "I'm beating myself up over this."
But things start to get REALLY dramatic after Richards' children materialize, and she demands to know if there is an intervention going down, before storming off set in floods of tears.
Tune into Dr. Phil Tuesday to catch the whole interview—check local listings for times.