Who is TEKST (aka TEKSTartist) and what is Derbby?
Part surfer, part twisted typographer, Jason Markow (a.k.a. TEKSTartist) has been warping words from his Carlsbad Village studio in California since 2011. His techniques often combine digital and traditional mediums to create visual representations of powerful quotes.
TEKST's work (like the print above, titled "Just Words") has appeared in music videos, on cars and tour posters for multiplatinum recording artists, and hangs proudly in the homes of celebs like Stephen Colbert and Chuck Palahniuk.
TEKST's website Five Spot Derby was designed to sell his own art with a unique concept - each featured piece of art would sell for $5 initially, with the price increasing by $5 after 5 pieces sold (the first through fifth pieces $5, sixth through tenth $10 and so forth) - a derby, of sorts. Five Spot Derby launched in 2013 and quickly gained popularity - TEKST sold over 5,000 pieces to fans in every state and 25 countries.
From Five Spot Derby, TEKST's new site Derbby was born. Derbby - by artists, for artists, is "a new way to discover and support creatives from all over the world." Each week, Derbby features a different artist's artwork, which can be purchased at a starting price of $25. As demand for a piece increases, the price goes up! So if you see a design you like on Derbby, make sure you grab it ASAP before it blows up.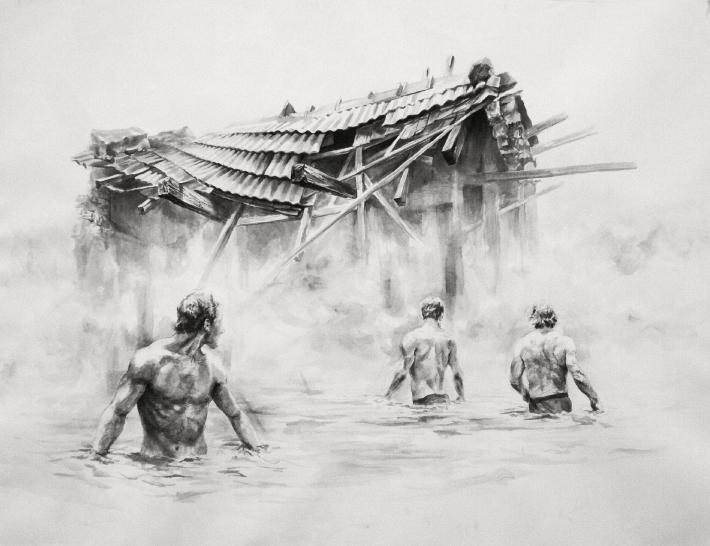 "Placement" by Matthew McHugh
This week's featured piece is "Placement" by Matthew McHugh - centered on creating a paradoxical narrative, in which the relationship between people and their environment is presented in an obscure way.
If you miss a Derbby featured piece, you can always get it later in their store! Check out all their awesome art here. Derbby also accepts submissions from artists; if you have questions you can submit them here.