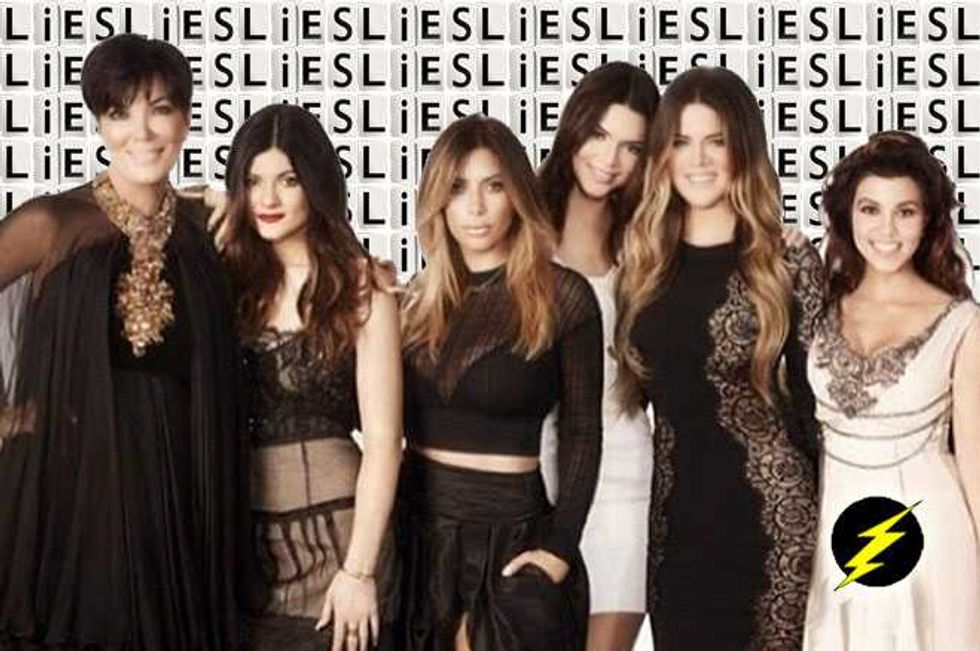 Reality should not be a word that comes to mind when you hear the name "Kardashian," and yet, all too often, it is.
They have been referred to as reality royalty, the first family in reality TV, and even TV truth tellers.
Popdust has been examining their history however, and is now ready to expose a decade of deceit the infamous family has perpetrated on fans, friends, and each other, since even before the first "reality" show aired—and, we're still reeling from the betrayals we uncovered...
That's not just a lot of lipstick on Kylie's lips?
You mean Scott never really quit drinking?
And Kim's ass might not actually be real?
Where does it end? (The lying, not Kim's ass. Well, her ass, too. Cuz that thing goes on for days...)
Here's a list of the Kardashian Klan's biggest Krafty Kons:
1) Turns out Scott Disick and Kourtney Kardashian didn't actually live in the house they were supposed to live in on their "reality" show.
The couple bought Keyshawn Johnson's Calabasas home at the beginning of the year, after living in a mansion with the address of 25435 Prado de Las Peras, which they purchased in December of 2010.
The house that was featured on the show was an entirely different house, and the address was 4532. The house that fans thought the family of four lived in was very different from their actual home.
2) Kim Kardashian claims she's never gone under the knife or needle but a number of doctors disagree.
Dr. Anthony Youn, opines, "I suspect that she may have had a rhinoplasty (nose job), as her nose looks thinner, shorter, and more refined now than it did in 2006.
"I suspect that she's had multiple skin tightening treatments, like chemical peels and laser treatments. She may also be benefiting from filler injections in her cheeks, such as with the new Voluma. I doubt she's had a surgical brow lift, she looks like she's had a Botox brow lift, where Botox is injected in a pattern to raise and arch the brows.
"Her lips appear to have been plumped with fillers, although she doesn't sport the 'trout pout' of some other reality stars."
3) Khloe Kardashian denied, denied, denied that she was dating French Montana, but sure enough they were every bit as hot and heavy aqs various reports claimed. A Popdust source even once overheard Khloe complaining that she and French had had sex so many times in his swimming pool, that her butt muscles were too sore to walk!
4) Kim denied waxing baby North's eyebrows, but a November 12 photo proves the child had far fuzzier and less arched brows than in a December 15 pic.
5) Everyone, including Kris Jenner denied that 17-year-old Kylie Jenner was dating 25-year-old rapper Tyga. Kris even vowed, "Kylie isn't dating anybody. This whole little group of kids who have been around forever, and I call them kids because, relatively speaking, they kind of all travel as a pack and they enjoy each other's company.  We all live in the same neighborhood. [Tyga] used to live across the street for a long time, and now he lives next door to Khloe."
Tyga has since confirmed the romance on Instagram.
6)  Scott Disick announces that he has officially quit drinking only to get drunk as a skunk again in no time at all…again, and again, and again.
7) The Game and Khloe Kardashian insisted they were just friends, despite evidence to the contrary—Like photos showing The Game and Khloe, who was married to Lamar Odom, at the time, hugging it out in L.A.'s Runyon Canyon.....The Game and Khloe holding hands.... The Game and Khloe dirty dancing...The Game and Khloe walking arm in arm out of a fancy restaurant. You know, all the regular friend stuff.
8) In August of 2014, Kris Jenner denied she and Bruce Jenner were having marital issues. On September 22, she filed for divorce.
9) Kris Jenner's talk show promised "Lots of Laughs." Nobody laughed. Except maybe when it got cancelled.
10) For months, Kylie Jenner refused to admit that she got lip injections, insisting her sudden plump pout was achieved through make-up and sticking her lips in a bottle to make them swell!
Finally, as Popdust previously reported, during a May episode of KUWTK, Kylie confessed that she got "temporary" injections.
Sister Kim then shared, "Kylie has always been so insecure about her lips since she was a little girl.  And I think over time she decided she wanted to plump up her lips a little bit with filler. And I get that. I mean, we all have insecurities. I just want Kylie to stay strong and positive."
11) Kim told then boyfriend Nick Cannon that her now infamous sex tape with Ray Jay didn't exist.
We all know how that turned out. And an empire was born…
12) Kris Jenner swore blind that nobody from the ABC 20/20 team asked her to comment on Bruce's gender transition, prior to his emotional and honest Diane Sawyer interview airing—however, during the interview, Sawyer said that all three of Bruce's ex-wives were asked to comment—and that his first two wives offered supportive, loving statements but Kris had "no comment.
Perez Hilton questioned Kris about the conspicuous omission and Kris angrily shot back, "no one asked me to comment." Network sources were quick to counter that claim, saying Kris Jenner was contacted several times for a comment.
13) Kris Jenner dismissed rumors and reports of Bruce transitioning as "ridiculous."
14) Kim married Kris Humphries on October 9 and 10, 2011. Immediately, rumors that there was trouble in paradise dogged the couple, but Kim insisted they were in newlywed bliss. Just 72 days of marriage later however, Kardashian filed for divorce, citing "irreconcilable differences."
Jonathan Jaxson, Kim Kardashian's former publicist, has claimed the reality star's protests on her website that she "married for love" and "would not have spent so much time on something just for a TV show" were an outright lie.
15) Kim has always denied having butt implants and even had a doctor X-ray her ass to prove it. But Life & Style reported in 2013 that Kim actually "had lipo on her legs and the doctor moved the fat into her butt. That's why it didn't show up on the X-ray"
16) Kris Jenner also denied repeatedly that Lamar and Khloe's marriage was in turmoil. So, poor Kris must have been shocked to the core when Khloe filed for divorce in December of 2013.