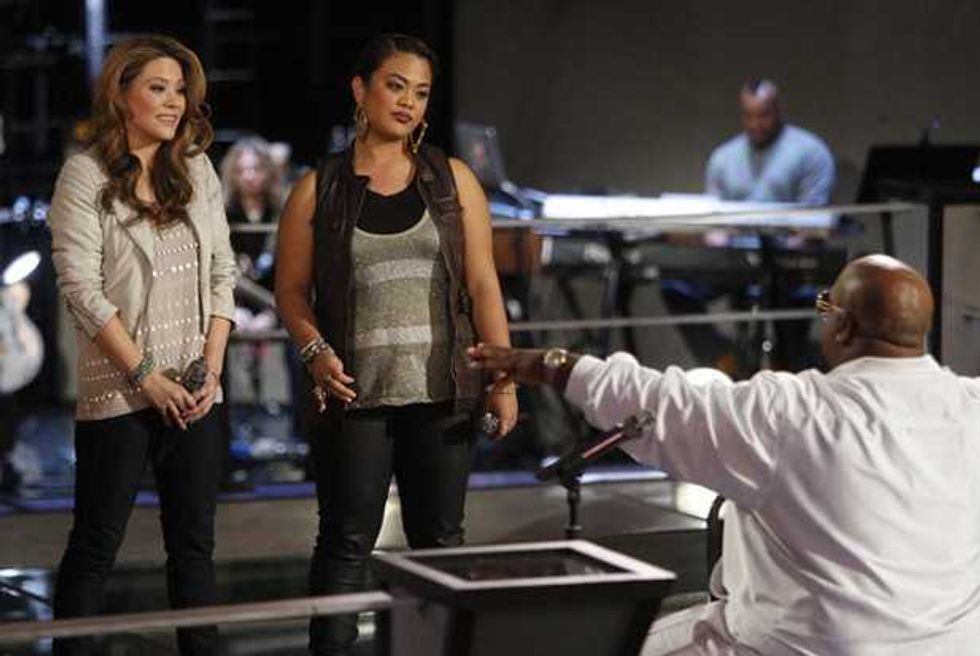 Well, the audition stages are over on The Voice, and it's definitely No More Mr. Nice Anybody now at this point—it's coach against coach, team member against team member, overbearing corporate sponsor against overbearing corporate sponsor. All right, so the show hasn't exactly gotten legit reality TV cutthroat yet, but there were definitely a couple tense moments with the contestants facing off against one another, which is a couple more than they'd had in the four weeks leading up to now. No more thrill of the new with the contestants, and the inter-coach banter definitely takes a hit when they're not fighting over team members, but the show has matured, and now it's business time for all involved. Here are ten things that happened in the first Young Adult episode of this season's The Voice:
1. Christina Aguilera wore a small U.F.O. on her head. I guess it could be generously described as a pillbox hat, if they made saucer-shaped pillbox hats, but at just about any moment during the Tony Lucca vs. Chris Cauley battle, I fully expected Xtina's moment to light up and fly away into the L.A. cosmos.
2. Robin Thicke is also a sunglasses-indoors kinda guy. It works for Cee Lo Green, but Adam Levine celebrity assistant coach Robin Thicke just looked hungover and out of it behind his dark shades in the studio. His advice for Chris Cauley—I have "stand there and just offer this up to the people" as a quote written in my notes, and though I can barely remember the context, I doubt it matters all that much—did little to dissuade this impression.
3. Blake Shelton won't be sleeping on the couch tonight. Does it strike anybody else as a minor conflict of interest for Blake that his wife Miranda Lambert advises one of the two contestants in each of his battles? What's he gonna do, pick the other one? "Sorry, honey, but I think Kelly Clarkson did a way better job coaching her guy than you did yours." C'mon—Blake didn't get to where he is today by being that stupid. Anyway, Miranda's batting 1.000 so far, with both of her assignments getting the nod from Papa Shelton—even though two of the other three judges preferred Kelly's Adley to Miranda's RaeLynn. A sitch worth monitoring for you Voice conspiracy theorists.
4. LIONEL RICHIE'S SCARF.
I don't know if it's the scarf itself or just Lionel in general, but goddamn. How much life ownage can you project with a single garment?
5. Key-change off! Rival Team Cee Lo baddest chicks Cheesa and Angie Johnson faced off on Bonnie Tyler's "Total Eclipse of the Heart," and things got testy early, with Angie accusing Cheesa of showing off by asking to take the song a half-step higher in key—then one-upping her by taking the song a half-step higher than that. "Do you know that I was in the military?" Angie asked when informed by the judges that she would have to bring her all to beat Cheesa. "But the finger's gotta stay off the trigger until you're ready to shoot." Things were already pretty intense before their on-stage diva-off, which took things to a new level—"My goodness that was a battle," remarked Adam. Cheesa emerged victorious, but all were bonded in the heat of battle.
6. Blake may or may not understand how Rock works. For his much-ballyhooed Battle of the Rockers between Jordis Unga and Brian Fuente, Blake selected for the duo to sing..."Ironic" by Alanis Morissette. (Was this a pre-requisite of Alanis appearing as a judge for Team Adam? Feel like it must have been.) "The one thing that I expect from a rocker is to make me go 'Yeah!'" said Blake, before making the headbanging devil's horns motion with his right hand. "Whatever these things are, I wanna be doing that." Explains a lot, really.
7. Legitimate criticism happened. Blake was none too impressed with Brian and Jordis' "Ironic" rocking—go figure—and was not afraid to tell them as such. "There were some pitchy things that didn't really work, and I was just going 'Oh my god,' you know, 'It sucks,'" Blake commented in review. "I don't think either of them really did the best they could do." Jordis managed to escape the knife, and agreed with her coach that her debut performance in competition was not up to snuff. "I've got a lot to prove now," she acknowledged. "That [performance] was a trainwreck."
8. Product placement ran rampant. OK, it wasn't quite Top Chef "Hey everybody let's get in our Toyota Sienna and drive over to Whole Foods to buy some Healthy Choice products and store them in our tupperware from the Glad family of products!" level, but it was one rung below that. There was the typical KIA pandering—Miranda sent Raelynn a message of support through the UVO system while the contestant was driving to her performance—and since there were no Carson Daly meetups at Starbucks, instead they just had Miranda drinking from a big-ass Starbucks mug while coaching Jordis. But the worst of all was when Team Christina assistant Jewel said that she wanted to watch contestant Monique Benabou's blind audition, then gathered everyone around her iPad/Pod thing to watch, with a big ol' Sprint logo taking up half the screen. Subtle, Kilcher.
9. Anthony Evans and Jesse Campbell had the two best performances yet. There weren't many audition moments on this season that really left me impressed, but I actually muttered aloud a "holy crap" during this one. The episode wisely left Evans and Campbell's duel on Alicia Keys' "If I Ain't Got You" to the end, because they were probably the two best performers of the night, each constantly forcing the other to take their performance to the next level, until they were both at Lambert-doing-MJ levels by song's end. Though Campbell was named the victor—and he probably did deserve it, though just barely—it was like watching Kentucky and Duke dueling it out in the first round of the NCAA's when you know they should be meeting in the Final Four at the absolute earliest. I say ditch the rest of the season of this show and just have these guys compete against each other on a couple dozen different songs. It'd be way better TV, I guarantee.
10. Christina commented that she was "literally at a loss for words" about the duel. No you weren't, Christina. It's paradoxical to comment that you are "literally at a loss for words"—that's basically saying "I am literally not speaking aloud right now." Geez.
SECRETARY CLINTON PRESENTS AWARDS FOR CORPORATE EXCELLENCE.
States News Service December 9, 2009 WASHINGTON -- The following information was released by the U.S. Department of State:
Office of the Spokesman Washington, DC December 9, 2009 Secretary of State Hillary Rodham Clinton on December 9 presented TOMS Shoes in Argentina and Voila - Communication Cellulaire d'Haiti (Trilogy International Partners) with the Secretary of State's 2009 Award for Corporate Excellence (ACE). The ACE is given annually to U.S.-owned businesses that exhibit good corporate citizenship, promote innovation, and advance democratic principles around the world. here toms shoes coupon code
This year's small or medium-sized company winner is TOMS Shoes in Argentina. TOMS Shoes was chosen for pro v iding a basic necessity - shoes - to disadvantaged people including children and disaster victims, aiding in the prevention of foot-borne infections, and providing mobility for children to obtain education. TOMS Shoes exemplifies U.S. volunteerism and demonstrates best practices in supplier management.
This year's winner in the multinational category is Voila - Communication Cellulaire d'Haiti (Trilogy International Partners). Trilogy International Partners was chosen for its positive impact on the Haitian economy through exemplary employment practices and its promotion of education through youth rehabilitation programs, scholarships, internships, computer labs, sports, and arts programs. web site toms shoes coupon code
The two winners were chosen from 11 finalists. The nine other finalists were Chevron Corporation in the Philippines, Cisco Systems in Lebanon, Cummins in China, Intel Corporation in Costa Rica, Marriott International in Jordan, Officenet Staples in Argentina, Oracle Corporation in Romania, Protec in Vietnam, and White and Case LLP in Russia.
PRN: 2009/1255