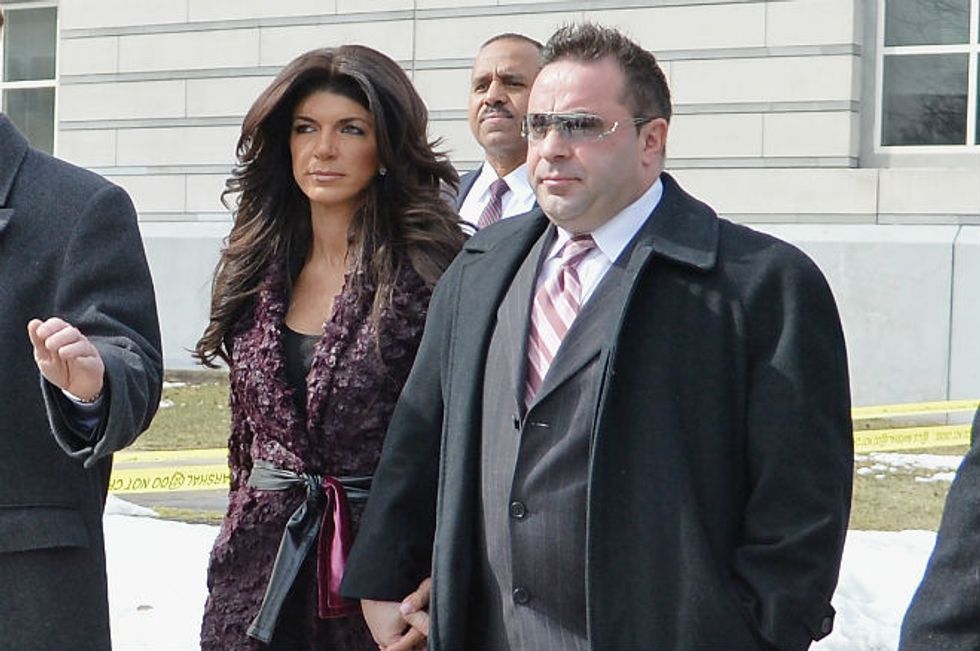 Despite insisting for years now that they are innocent and this is all a huge misunderstanding, Teresa and Joe Giudice are finally throwing in the towel and pleading guilty to massive amounts of fraud.
The couple appeared in front of U.S. Magistrate Esther Salas in Newark on Tuesday and quietly admitted to conspiracy to commit mail and wire fraud as well as three types of bankruptcy fraud. Joe also pleaded guilty for failing to file a tax return for 2004, and not filing taxes on approximately $1 million between 2004 and 2008.
If they are sentenced under federal guidelines, Teresa is looking at 21 to 27 months in jail while Joe faces 37 to 46 months. Teresa's attorney has made it clear she will seek probation and is taking full responsibility for her actions.
"I will describe the choices I made, continue to take responsibility for my decisions and express my remorse to Judge Salas and the public," Teresa wrote in a statement. "I am heartbroken that this is affecting my family — especially my four young daughters, who mean more to me than anything in the world."
It turns out Joe is an Italian citizen and never got U.S. paperwork, which means he is in danger of being deported. His attorney Miles Feinstein explains that Joe was just a baby when his parents brought him to America and he had no idea he wasn't a citizen.
"It would be a grave injustice, and inhumane, for him to be deported," said Feinstein.
Teresa and Joe have four daughters - Gia, 13, Gabriella, nine, Milania, eight, and Audriana, four.
They will be sentenced on July 8, 2014.