Tess Holliday loves the skin she's in—and doesn't give a f*ck whether you do or do not, thank you very much.
The 26-year-old posted a black and white photo of her big, beautiful, buck naked bod on Instagram Friday, along with a carefully worded f*ck you to all the fat-shamers out there.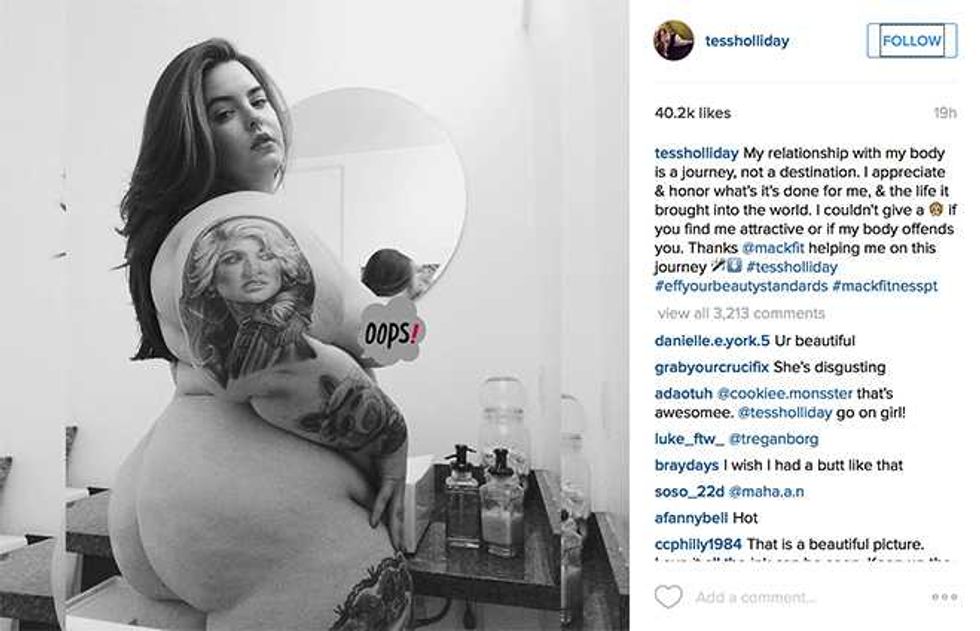 "My relationship with my body is a journey, not a destination. I appreciate and honor what it's done for me, and the life it brought into the world. I couldn't give a X X X you find me attractive or if my body offends you. Thanks @mackfit helping me on this journey," Holliday wrote.
Tess Holliday—Body Positivity or Promoting Unhealthy Lifestyle?
The plus sized model is a very vocal opponent of the fat-shaming "movement" recently speaking out against a Facebook page for a website called Project Harpoon, that takes pics of plus-size models and celebrities and posts digitally altered images of them looking thin.
Holliday slammed the site—and called for a boycott, along with others of the same ilk—after she became an unwitting slim down "project" herself.
"It's abominable that this is using my image without permission to promote themselves," she told E! News. "Their sole purpose is to harass women, and nothing more. They are disgusting.
Eminem Talks Drastic Weight Loss, Replacing Drugs With Exercise Addiction
"This kind of hit piece is exactly why I started #effyourbeautystandards. I am asking my followers to boycott this [page] and any others like it. Loving yourself is the most powerful message we all need to stand behind."
Although the name pretty much says it all by snarkily referring to women as whales, Project Harpoon insists they're not fat shaming, instead, they claim, they are all about ending "skinny-shaming."
Katie Hopkins Fat Shames Kelly Clarkson 'It's Carrot Cake, Not Baby Weight'
"In current societal fashion, a recent trending surge of 'pro-obesity' and 'fat acceptance' have paved the way for many people to renounce exercise and personal healthcare in general," the account's description reads.
"This page aims to only show that being skinny is okay as well. Skinny-shaming is not okay."
Half Ton Killer's Transformation Continues—Check Out Amazing Weight Loss Photos
Skinny shaming most certainly isn't OK….. but, seriously? Do we really believe that skinny people being made to feel ashamed for being thin is a real thing?!!
It's every bit as ridiculous as the #AllLivesMatter "movement"….. and beggars the same explanation….. just by saying fat shaming is not OK does NOT mean, de facto, that skinny shaming IS OK…
You Will Not Believe The 'Half Ton Killer's' Amazing Weight Loss Transformation
Meanwhile, Holliday has no issue with being referred to as "fat."
"To me it's just a word, but it wasn't until I discovered the body positive community that I became OK with it. I've been called fat my whole life," she says. "I am fat, so it's kind of silly to get mad about it."