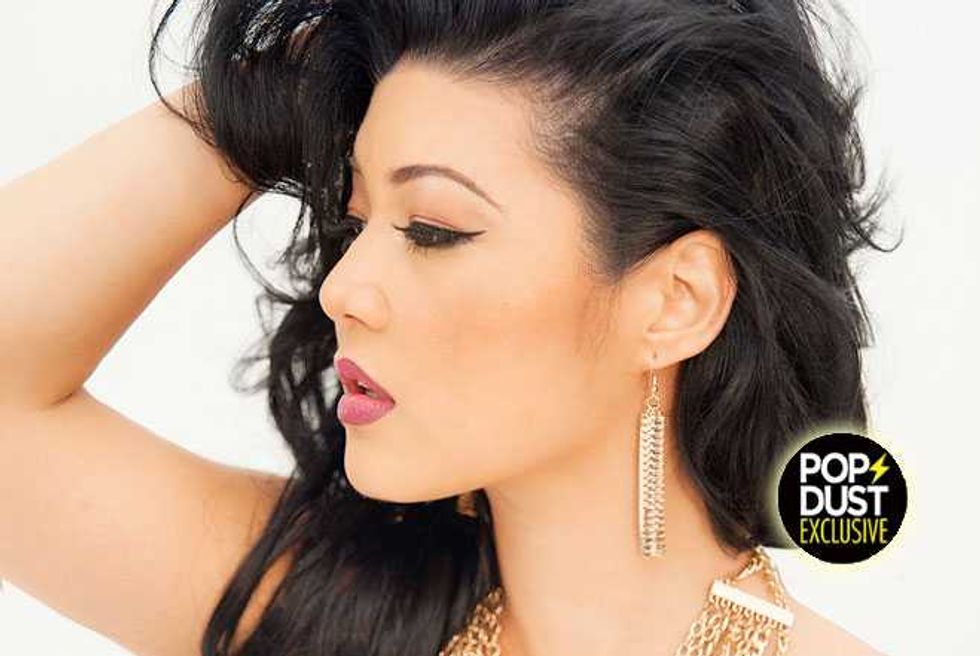 Tessanne Chin went through a whirlwind of personal upheaval last year, and instead of hiding away, she's channeling all that energy into expanding her creative wings. Hew new single, Love Suicide, is a delicious, empowering, sultry slow-jam, and that's only the tip of the iceberg of what she has in store for 2016. With the recent creation of the song's upcoming lyric video  (which has "a bit of twist") and plans underway for an official music video—"it is very soulful, sexy and edgy," she teases—Chin is taking command of her life and career in inspiring ways. "This song is reminiscent of the fact I have gone through a lot of changes this year, personally and otherwise. It represents growth and new beginnings," she shares with Popdust over a phone call recently.
She continues, "What I love about this song is the way it was written. [Co-writer] Blu June [who has worked with everyone from Rihanna to Mariah Carey] is incredible. I remembering thinking when I was listening to it how soulful it is and not just the melody but the lyrics were, too. People want to feel that way in terms of just surrendering to something that is wonderful and good and is consuming. I'm in a different place in my life where I'm evolving as an artist and as a woman everyday."
Needless to say, Chin is rather relieved her new song is finally out there. "I have mixed feelings," she says. "It's like you're releasing your baby into the world, and you don't know what people are gonna think or expect. It's one of pride and excitement, as well."
On working with Blu June, Chin says she was one of the most humble people she has ever met. "She didn't come into the room saying 'oh, I'm Blu June, and I wrote all these songs.' To meet someone who is so incredibly in tune with what they are doing and efficient and so sweet is a wonderful treat. She's an amazing singer, too, and it was wonderful to get direction from her in that way."
As The Voice season 5 winner digs her voice into new material, she continues finding new colors in which to dabble. "It's all about being inspired. I don't want to get thrust into that box of 'OK, so I have a big voice and I always need to sing these big epic songs.' It's good to be versatile and try to explore different parts of your voice and emotion," she says. "Being able to do that is about singing differently and choosing songs and singing them in a way I wouldn't necessarily have done in the first place. I have definitely been exploring that."
She adds,
"I don't believe because you have a big voice means you need to belt every tune out. That becomes exhausting after a certain point. People want to hear different things. Whether you are singing big or softer, it's all about what you are capturing and the feeling you are bringing to it and the emotions you connect with."
Love Suicide begins her next chapter, in whatever form that may be. "I certainly hope [to release an album this year,]" she says. "We've been doing a lot of recording with people like B&B [Bread & Butter formerly of the The Phat Boiz]. They are incredible to write with. We work really well from scratch on piano and being very organic about it. I really like what's been coming out so far with them and the honesty of the music. I love working with Lil' C and J.U.S.T.I.C.E League, too. We'll see what is yet to come, but we've recorded quite a few songs."
"It's funny when you see something starting to take shape. I didn't go into recording with any previous ideas of what I wanted the it to sound like. I just wanted it to be and whatever came would come," Chin says.
Chin's last studio album is 2014's Count on My Love, which she says "she's still proud of." "I had such an amazing experience writing and making [that album]. At the same time, there was an incredible time limit we had to meet. We couldn't take our time. With this new one, I've had time to get to know who I am as an artist."
"When you come off a reality show and vocal competition where you sing other people's songs and then you have to figure out what kind of artist you are in the space of three months and the type of album you want to make is tough," she says. "Mind you, I've been an artist before that, but it was a game changer. With this new album, it's about finding what is natural and what is real. People can spot fakeness from far away, so if you don't believe it, don't expect anybody else to."
Coming off such a massive singing competition can often lead to jarring reality. She admits it was a bit difficult to find her footing after taking the crown. "I'm going to be very honesty. The show has provided some incredible opportunities, and it has afforded me to be able to see many different parts of the world and to have a very wonderful career. However, it can put you into a bubble. You want people to see you first and foremost as an artist and not as 'oh, that's the girl who won a competition show.' That's the biggest thing I want to dismiss. I am a singer and an artist who has something to say. I would never discredit the show or be ungrateful for it. I'm here today because of it. I just like to build upon that now and move forward."
And speaking of moving forward, Chin says her songwriting has been an essential tool as she maps out her life and career. "Writing has always been hugely important to me. I've kept journals since I was a teenager. Whether I'm writing a song or not, I try to write everyday," she says. "It's the perfect way to release and have that cathartic experience. It's changed for me in that it's not about putting words together anymore. It's more about 'how can I say this in a way that everybody will understand it and feel the weight of it?' One of the most amazing and profound writers is Bob Marley. He has this way of saying profound things in a very simple way. That's been my personal challenge."
Looking to her album as a whole, the powerhouse singer says her split with husband Michael Cuffe fed into many of the songs' themes. "This past year was one of the toughest years, personally and professionally. Sometimes, I feel like I'm more honest in my songwriting than I am in my diary. In a diary, I write in code," she explains. "Songwriting is a photograph. When you record a song, it's something that you capture in the lyrics and the melody. I have the ability to be a lot more honest now with myself and what I'm willing to share. I'm still learning about how much to give. You have to keep something for yourself."
"This past year, I went through a very public separation with my husband. We are about to be divorced," she continues. "That really taught me that while you can have something that you love and something you naturally want to share with everybody; there are ways to do that and ways to keep things sacred. It's a process of experience and learning everyday about what you are willing to share."
"I remember Celine Dion saying something about how you can't expect people to buy your music and come to see your shows and support you and then you tell them to stay away. It's important to find that balance, and I'm still trying to find that."
On handling her life on social media, she admits, "It's a bit weird. Sometimes I wonder why people want to know what restaurant I'm eating at. It's not a part of my personality at all. I'm learning to get better at it."
While the majority of her focus will be on her new album this year, she says, "It's about relaunching and having something to tour with and something to tell people about. I will be doing performances, but I want to finish the album first."
Fans can grab a copy of Tessanne Chin's new single Love Suicide now on iTunes.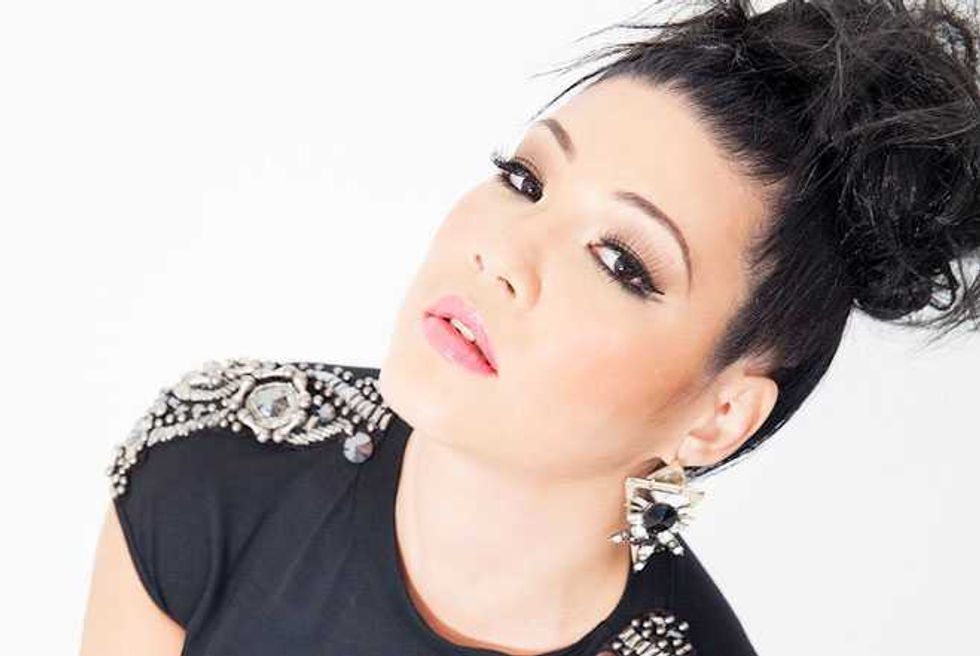 Stay tuned for Tessanne Chin updates. Be sure to follow @Popdust and @JasonTheScott on Twitter!