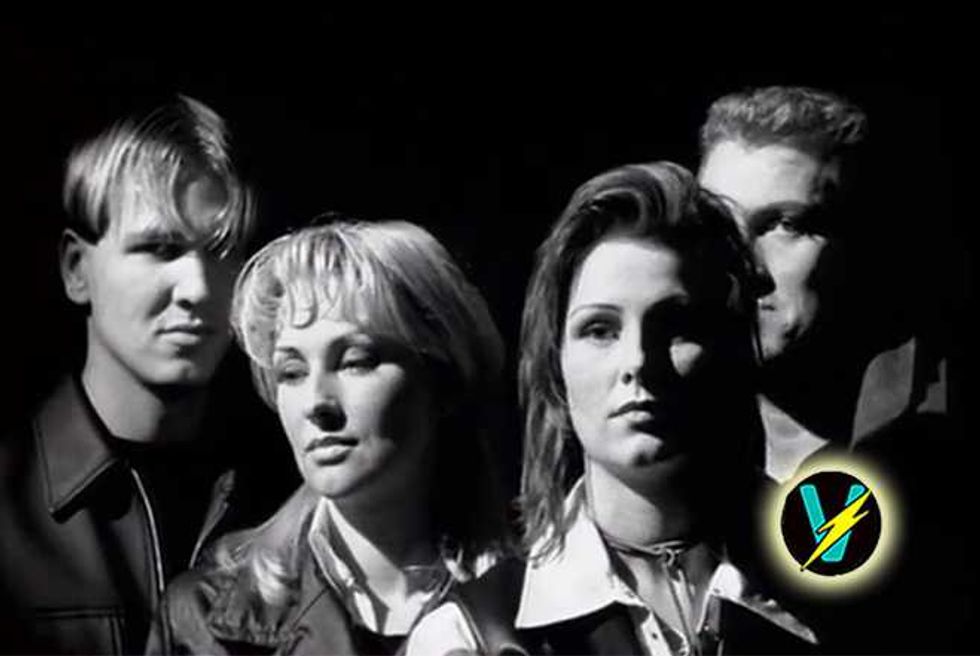 Flashback Friday Ace of Base The Sign takes you back to 1993 with some classic Europop
Like many of us in 1993, did you "open up your eyes" and see Ace of Base's music video for The Sign?
"Life is demanding without understanding," so here we will get into the meaning and mayhem of this weird yet whimsical display of creativity which only the Europop-ness of the Swedes can bring forth.
Wikipedia explains the plot of the seemingly all-over-the-place video as such:
The music video of the song features the pop group singing amidst romantic and joyful images. The Sign was depicted as a computer generated ankh (also known as key of life) and a djed (ancient Egyptian symbol representing stability).

Perhaps Ace of Base is full of life, but stability is up for review.
Wikipedia continues:
Amid the images is a little story of a man and woman sitting side by side until the man leaves, seemingly abandoning the woman. However, he comes back with a rose and offers it to the woman.
The woman graciously accepts and takes his hand.
However, a bright light shines in the woman's face, drawing her away, abandoning the man and dropping the rose on the chair.

This, my friends, must have been "the sign."
In today's times, a photo of another girl on his Facebook feed would render a similar reaction.
As I watched the video again, I was certain that Ace of Base can't speak a lick of English, as even their lip synching seems worse than an Ashley Simpson SNL meltdown.
What's fun is a revisit to a totally 90s wardrobe, complete with vests, chokers, midriff-baring tops, and Rachel inspired hairdos.
The ladies do all the singing, so aside from Vogue-type dancing, it's unclear of the role the two gents in the video have.
There's a whole lot of fire, symbolism, and interpretive dance moves, and while the set seems glum, the lead singers seem unnaturally cheery.
Again, the translation thing.
All and all, this cheesy song is as catchy as the flu and you'll be wondering "where you belong" after the :45 second mark.
Enjoy!
TFIF folks!
Scroll down to watch this week's Flashback Friday Ace of Base The Sign
TFIF Flashback! Safety Dance By Men Without Hats
TFIF Flashback! Vanilla Ice—Ice Ice Baby
TFIF Flashback Friday—Opposites Attract by Paula Abdul
TFIF Flashback Friday—Jessica Simpson Public Affair
Watch this week's Flashback Friday Ace of Base The Sign:
Flashback Friday Ace of Base The Sign
TFIF Flashback Friday! I'm Too Sexy—Right Said Fred
TFIF Flashback Friday—Karma Chameleon by Culture Club
TFIF Flashback Friday—Dress You Up by Madonna
TFIF Flashback Friday—Rick Astley Together Forever
TFIF Flashback Friday – Every Little Step by Bobby Brown
Flashback Friday Ace of Base The Sign