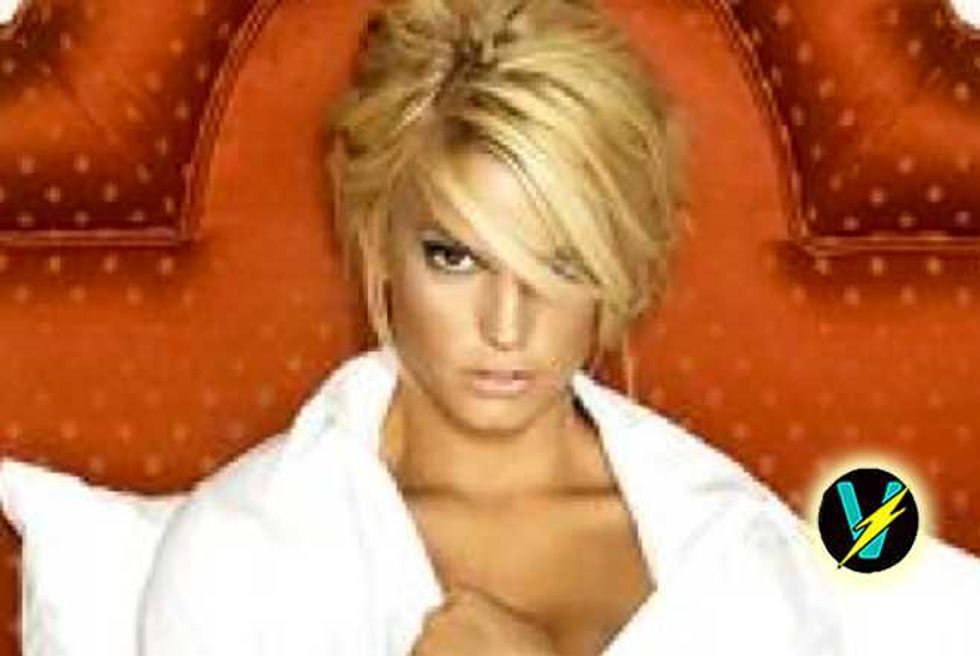 Jessica Simpson Public Affair —flashback to just ten years ago, when Jessica made a living as a pop princess
Think back to ten years ago.
Surely the first thing that pops into your mind is that Jessica Simpson still made a living as a pop princess.
Her catchy song, A Public Affair, was a chart topper, with its bouncy beats and simple lyrics.
Kinda like Jess… bouncy and simple.
Jessica Simpson Public Affair —bubblegum sticky-sweetness
The video was Polly-O cheesy, chock full of celebrity cameos, and saturated with bubblegum sticky-sweetness.
Celeb gal pals Eva Longoria, Christina Applegate, and Christina Milian join Jessica in a limo to head out for their all-night Public Affair where they all discuss their fabulousness and fame status.
Oh, and how they hope to become even more of the paparazzi's playthings.
Jessica Simpson Public Affair —Seacrest out!
The limo driver turns his head only to reveal it's none other than Mr. Celebrity himself, Ryan Seacrest!
The destination is a roller skating rink, yet the girls are more suitably dressed for clubbing.
The nerdy skate renter dude is instantly drooling over the gals, fantasizing about being licked by them, among other sexual acts.
They flirt with him only to deepen the blueness of his balls.
Jessica Simpson Public Affair —Maria Menounos guest appearance
Next, Jess makes eyes at a hot guy at the rink, and he back at her, to the dismay of his girlfriend, who is a then lesser-known Maria Menounos.
The girls skate and dance, and even fall into a clumsy pile as they try to move around the rink with sexiness.
Once they catch their stride, the others at the rink join them in a choreographed skate/dance number with Jess as the lead.
In the end, we see Jessica walk off with Maria's boyfriend… bitch!
The Jessica Simpson Public Affair video is too good to not see again.
Please Jessica, put the shoe line aside for a moment and get back into the studio.
We need more of this nonsense in our lives!
"Ready, set, go"… watch Jessica Simpson Public Affair video below.
TFIF Flashback Friday—Rick Astley Together Forever
TFIF Flashback Friday! I'm Too Sexy—Right Said Fred
TFIF Flashback Friday—Talking in Your Sleep by The Romantics
TFIF Flashback Friday—Dress You Up by Madonna
TFIF Flashback Friday—Karma Chameleon by Culture Club
TFIF Flashback Friday—I Think We're Alone Now by Tiffany
TFIF Flashback Friday – Every Little Step by Bobby Brown
TFIF Flashback Friday—Lost in Your Eyes by Debbie Gibson
TFIF Flashback Friday—All Night Long by Lionel Richie
TFIF Flashback Friday—Wham! Wake Me Up Before You Go-Go