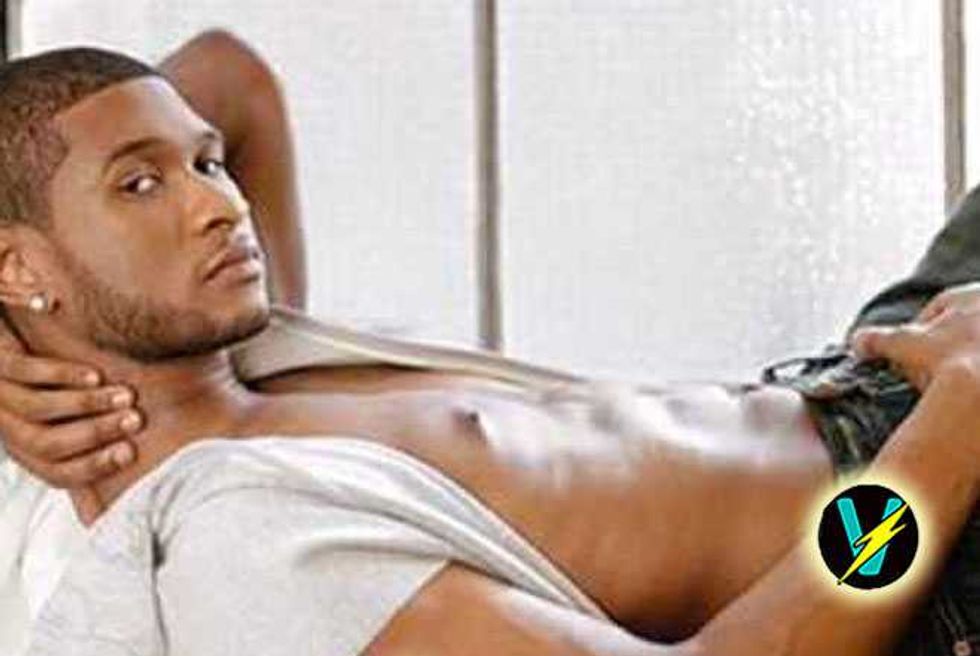 This week's Flashback Friday Usher You Make Me Wanna may well make ya wanna wanna...if ya know what we mean..
"I tried to fight it, but the feeling's just too strong."
Yes, I flashed back to 1997 and watched Usher's steamy music video for his hit R&B tune, You Make Me Wanna.
Funny how Usher didn't seem so young-looking when I originally viewed this piece of artistry.
He's still as fine as ever, so he "makes me wanna" up my Usher game.
As per Wikipedia:
The song focuses on a love triangle relationship, with the protagonist wishing to leave his girlfriend for his erstwhile best friend.
Problems only a stud like Usher would have.
Most folks would be lucky to have one person to deal with.
The video begins with a fish bowl or aquarium scene.
The reason is unclear, perhaps Usher feels like we are all looking into the fishbowl that is his life, or maybe he loves sea creatures.
Better yet, with his impure feelings about the "other woman," Usher's current gal is sure to smell something fishy.
Either way, he's fried.
We now get a glimpse of the fit as a fiddle Usher in a silky shirt exposing his world famous abs and of course, saggy pants – a 1997 must.
Next, there are four Ushers, sitting in different chairs and jamming to the beat.
The question emerges—why leave the one he's with when there are multiple Ushers?
Heck, get two more chicks and call it a party!
The various backdrops are all jewel colors, perfect for the song's sexy vibe and illicit content.
And the background dancers keep pace with Usher who is leading the show.
The most remarkable thing of all is how those pants stay in place when they are clearly not fastened very securely.
He "makes me wanna" get those boys some belts, or at least an elastic waistband.
If you "go home at night" and "all you think about" is Usher, then you need to watch this video again before "the situation's out of control."
Scroll down to watch this week's Flashback Friday Usher You Make Me Wanna video
Usher Nude Selfie Snafu Proves Size Really Does Matter
TFIF Flashback Friday—Ace of Base The Sign
TFIF Flashback Friday—Dress You Up by Madonna
TFIF Flashback Friday – Every Little Step by Bobby Brown
TFIF! Flashback Friday—Get Outta My Dreams—Billy Ocean
TFIF Flashback Friday—I Think We're Alone Now by Tiffany
Watch this week's Flashback Friday Usher You Make Me Wanna video:
TFIF Flashback Friday! How Will I Know—Whitney Houston
TFIF Flashback Friday—Talking in Your Sleep by The Romantics
TFIF Flashback Friday! I'm Too Sexy—Right Said Fred
TFIF Flashback Friday—Rick Astley Together Forever
flashback friday usher you make me wanna
TFIF Flashback! Britney Spears—Oops!…I Did It Again
TFIF Flashback! Vanilla Ice—Ice Ice Baby
TFIF Flashback! The Cheeky Girls—Cheeky Song (Touch My Bum)
TFIF Flashback! B*Witched—C'est La Vie
flashback friday usher you make me wanna