A Thailand toilet python attacks... and it isn't fun—in fact, it's every bit as horrific as you would suspect... and then some...
BANGKOK, Thailand.
There's almost a warning implied in the name of the city.
A town known for it's decadence, your kok is likely to get banged, sucked, bitten.
But for Attaporn Boonmakchuay, it didn't happen in quite the way you might expect.
The 38-year-old was home when he heard the call of nature, and went into his bathroom to relieve himself.
That's when a 10-foot Thailand toilet python who was hiding out in the plumbing system beneath his home latched its jaws onto his penis with his sharp, backward-curving teeth.
The struggle persisted for a full 30 minutes!
The average python can apply 200 pounds of pressure per square inch, so that had to hurt.
In spite of unimaginable odds, Boonmakchuay emerged the unlikely victor in the vicious snake on snake battle—his wife and a neighbor providing the necessary back up.
Mrs. Boonmakchuay tied a rope around the snake, while Attaporn somehow managed to pry open its jaws.
Once he was detached from the monster, he passed out while his wife ran for medical help.
Now, Attaporn Boonmakchuay lies in a hospital bed overjoyed with the doctors prognosis that he will make a full recovery.
But photos of his bloody bathroom in Chachoengsao province, east of Bangkok, provide a glimpse into his terrifying ordeal.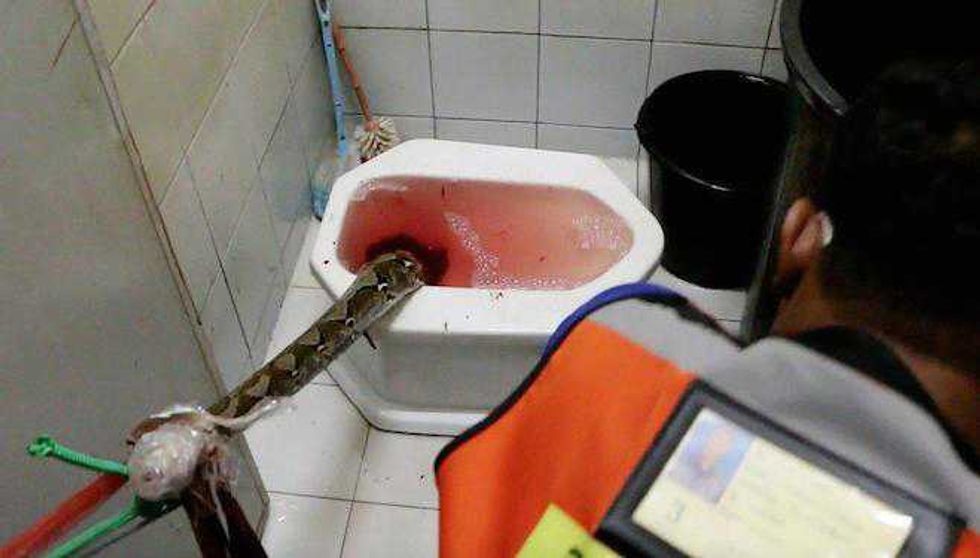 Hospital director Dr. Chutima Pincharoen tells Khaosod English:
He has a really good attitude.

Even though his own wife and children were in shock.

He's been smiling and giving interviews all day from his bed.
Emergency workers had to dismantle the Asian-style squat toilet while the python still camped out in the pipes.
According to an emergency responder cited by the newspaper Thai Rath, the snake was removed from the plumbing and mercifully released back into the wild.
Scroll down to watch the Thailand toilet python capture video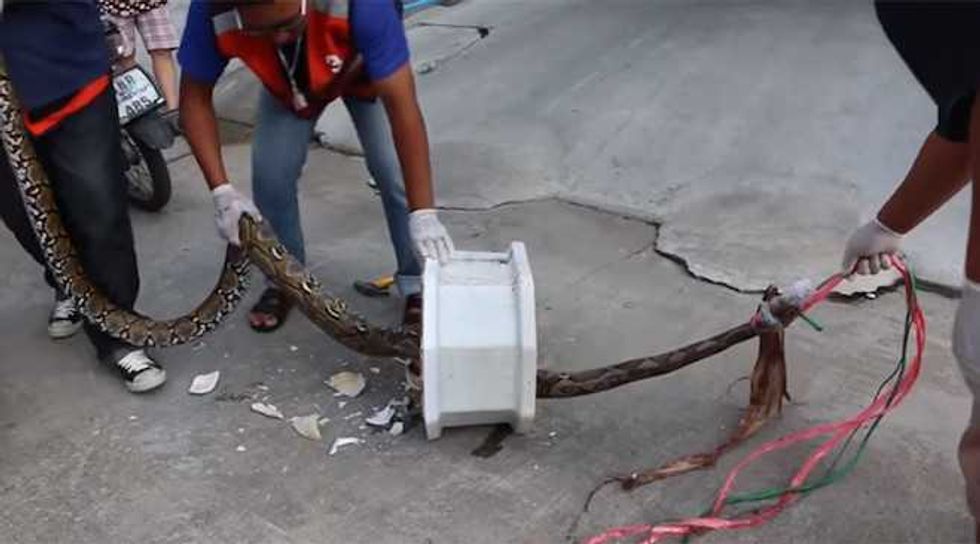 When reached for comment, the python hissed, "Mutherfuckers I'm still hungry," then slithered away.
Florida Dolphin 'Lover' Says Dolly The Dolphin Seduced Him—Yep Really
San Diego Man Discovers Fat Little Rat Stuck In A Plug Socket
Chimp Attack Victim Charla Nash's Body Rejecting Face Transplant
Cute Young Tiger Found In Texas Wandering Along The Street!
Watch the Thailand toilet python capture video:
Thailand toilet python capture video
ChaCha The Chimp Makes Desperate Break For Freedom From Japanese Zoo
Watching Sleeping Pig Wake Up To A Cookie May Make You Rethink Bacon
Inside Pup Play—The Bizarre BDSM Subculture Where Men Dress As Dogs
Stop What You're Doing And Watch The Cutest Sloth Video Ever
Thailand toilet python