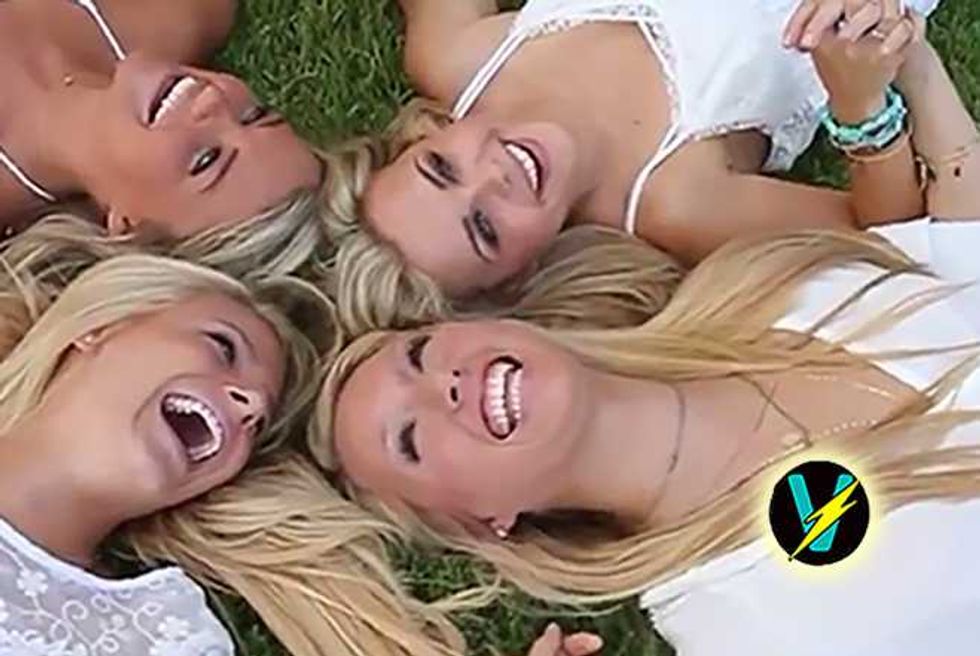 There's been more than a little controversy over the University of Alabama's Alpha Phi 2015 recruitment ad.
People are all up in their grill over its supposed lack of diversity and blatant sexual objectification of girls—the outcry has been so loud in fact that the ad has now been taken down and the sorority chapter has deleted all its social media pages—but you can watch the video right here on Popdust.
I'm Not Racist But… The Top Bigoted Celeb Blunders
Now, here's the thing…….
Yes, it looks like an Aryan Nation recruitment ad that's been directed by Joe Francis….. but, Alabama…. sorority…… hello?!!
Meanwhile, we've watched the video several times, and would like to counteract the "lack of diversity" argument, with some cold hard FACTS peeps….
Kanye West Says Racism Is Not a Real Thing, Just A Silly Outdated Concept
We spotted at least six—maybe seven—brunettes in the video…. even a couple of chicks with black hair for Christ's sake!!
That's diversity right there!
We estimate there was probably at least 30-40 percent of the girls who didn't have blue eyes….. and there's even a few who didn't have sparkling white, perfectly straight Chicklet teeth……and, we think we may have seen one girl with a slight limp make an appearance at some point....but, we could be mistaken there....
411 On Baltimore PD Corruption, Racism, Witness Coaching And Coercion
Damn, we even spotted a couple of unfortunate girls who may be more than a size six! (Albeit positioned somewhere waaaaay in the background)…
Crimson Tide Alpha Phi loves fat white chicks too y'all!
Then…. hello!!! There's the black person! Yes! A real life African American! Did everyone fail to see the black person? (Or maybe you're all just "color blind"....)
That's REAL diversity folks!
Starbucks To Solve Racism... Finally!
OK… so the one solitary black person was a lone football player surrounded by a sea of blonde, tan, white "goodness" and, OK, he was actually outrun by one of the blonde tan lithe white chicks…. but, that's all part of the Aryan Nation recruitment schtick, right?
All said and done folks….. we think it's important to remember in this this day and age that #BlondeLitheYoungWhiteChicksLivesMatter too….