When Amy Schumer joked about Khloe Kardashian's weight loss during her SNL monologue, she probably had no idea that Khloe would feel insulted.
But Khloe was so hurt by the laughs, she was moved to share her feelings on Twitter.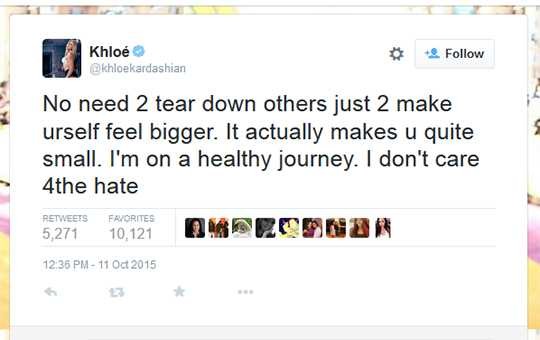 Poor Khloe! She's on a journey and she doesn't care for your H8, you meanies!
Some of us might have felt flattered that Amy Schumer knew of our existence. Some might have been pleased by a reference to our slimmed-down body, the body we had been obsessively photographing and discussing every day for years.
But that's not Khloe. Big girls do cry, and they do it on Twitter. Unfortunately, the tweet elicited mixed reactions, with many followers urging Khloe to get a sense of humor.
Perhaps Khloe doesn't know that Amy Schumer targets herself constantly as an overweight woman beset with insecurities about her looks. And that's part of why she's so endearing as a comic, and adored by so many women who can relate to her perspective.
If you missed Amy Schumer's hilarious routine on SNL, check it out, below.
Was she too hard on Khloe, or does Khloe need to shut lighten up?
For those who find Amy Schumer on the funny side, she has plenty of upcoming shows in November and December. Hipmunk.com has cheap New York flights for her show with Jerry Seinfeld at the Beacon Theatre on November 16th, or fans can book hotels in South Portland on Hipmunk for her show in Maine on November 7th.