That Jared Fogle dude just got one hell of a lot creepier....
As Popdust previously reported, on July 7 federal and state authorities raided the 37-year-old'sIndiana home, months after an employee of Fogle's charitable foundation was arrested on child-pornography charges.
Jared Fogle's Lawyer Blames 'Mild Pedophilia' On Subway Diet Weight Loss
Jared emerged from the raid seemingly unscathed, but now the FBI has subpoenaed an affidavit containing alleged texts between the former Subway spokesperson and a former female Subway franchisee in which Fogle says he paid $100 for sex with a 16-year-old girl, according to the woman's lawyer.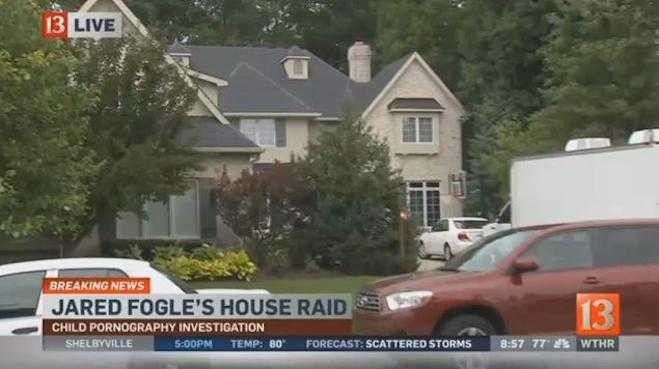 Business Insider reports that the former franchisee shared the disturbing texts from Fogle with Subway management at the time, her lawyer says, but Subway took no action and now claim they have no record of the girl's complaint.
The woman's lawyer, who asked to remain anonymous, said the FBI recently subpoenaed his law office for the text-message conversations, which Business Insider has viewed.
Jared Fogle Child Sex Abuse Scandal Is Even More Disgusting Than You Imagined
In the messages, Fogle repeatedly asks the woman to advertise herself on Craigslist for sex with other men and asks if he can watch the sexual acts. He tells her she can make about $500 for each sexual encounter.
The incriminating messages span from January 2008 to June 2008, and the attorney says they were recorded from the woman's phone by a court reporter in 2008 and witnessed and verified by a notary-public official.
Alabama Teen Pissed That The Jared Diet Didn't Work—Robs Four Subway Stores
The woman was having a sexual relationship with Fogle at the time but became increasingly uncomfortable as Fogle pushed her to prostitute herself on Craigslist.
Wendy Osborne, spokeswoman for the FBI's Southern Indiana branch, would not confirm or deny that the FBI has subpoenaed the messages.
Pope Admits Some Priests Are Pedophiles
The U.S. attorney's office, which is now handling the case pertaining to the July 7 raid, won't say if an investigation is or isn't underway.
According to the affidavit, Fogle asked the former Subway franchisee in May 2008 to set up a meeting for him with her cousin. The cousin was underage at the time, according to the woman's lawyer
The Craziest Celebrity Stalkers
"When can we find a time for me to talk to your cousin?" Fogle asks in a message dated May 1, 2008.
"Any more news with your cousin?" he asks the next day. "Tell me what u think about when u think of the three of us all together???"
Earlier, in April, according to the affidavit, Fogle asked the woman, "How young would you like?... Would you want to have an adventure like that?"
On June 19, the lawyer says that Fogle again asked the woman to post herself on Craigslist.
Two Men Arrested For Smoking Heroin At Chuck E. Cheese
She responds, "Is this the same website you found that 16-year-old girl you that you fucked? ...I still can't believe you only paid $100 for her."
Fogle responds: "It was amazing!!!!"
She asks, "What part of her ad made you think she was selling sex?"
He says, "U will have to read them to see."
Fogle lives in Indiana, where the age of consent is 16-years old.
Foxy Felons! Check Out Our Hottie Rogues Gallery
As Fogle's overtures became more and more disturbing, the woman grew uncomfortable, hired a lawyer and the messages were then extracted from her phone.
The woman reported the communications to Subway, her lawyer says. Subway determined that no violations occurred as Fogle was not an official employee of the brand.
Snoop Dogg Gets Arrested—Blames Racial Profiling
She met with two levels of Subway management, shared the messages with them, "and specifically requested not to have his imagery and merchandising related to him in her stores," the lawyer said.
"She also specifically warned them that he should not be interacting with young people."
Subway continued to feature Fogle in national advertising campaigns until the FBI raid on his home.
When reached for comment, Subway said, "We have no record of this allegation."
Snoop Lion Plans to Introduce His Children to Marijuana "the Right Way"
A former journalist also claimed that Fogle made inappropriate comments to her about middle-school girls.
Florida ABC affiliate WWSB reports, "According to the woman, Jared would often visit schools in Sarasota County, and allegedly told her numerous times that, 'Middle school girls are hot.'"
"They weren't jokes. They were very serious," she told WWSB.
The woman said she contacted the FBI about the comments and was later asked to wear a wire and record conversations with Fogle, according to the report.
Man Shoots Party Guests For Refusing To Sing Happy Birthday To Girlfriend
In response to the claims, Fogle's hard working attorney, Ron Elberger, stated, "the story is a fabrication that lacks credibility."
Fogle shot to fame as Subway's spokesman 15 years ago, after losing over 200 pounds by eating their sandwiches and according to the New York Daily News, he has a net worth of $15 million.
Fogle also started the Jared Foundation, a charity aiming to help children develop better eating and exercise habits.
The Good, The Bad, And The Very Very Ugly Celebrity Mugshots
Two months ago, Russell Taylor, the former executive director of Fogle Foundation, was arrested  in Indianapolis on federal child-pornography charges following an April 29 FBI raid of his home.
Over 400 videos of child pornography were found in his possession.
Convicted Pedo And Former Subway Pitchman Jared Fogle Attacked In Bloody Prison Brawl