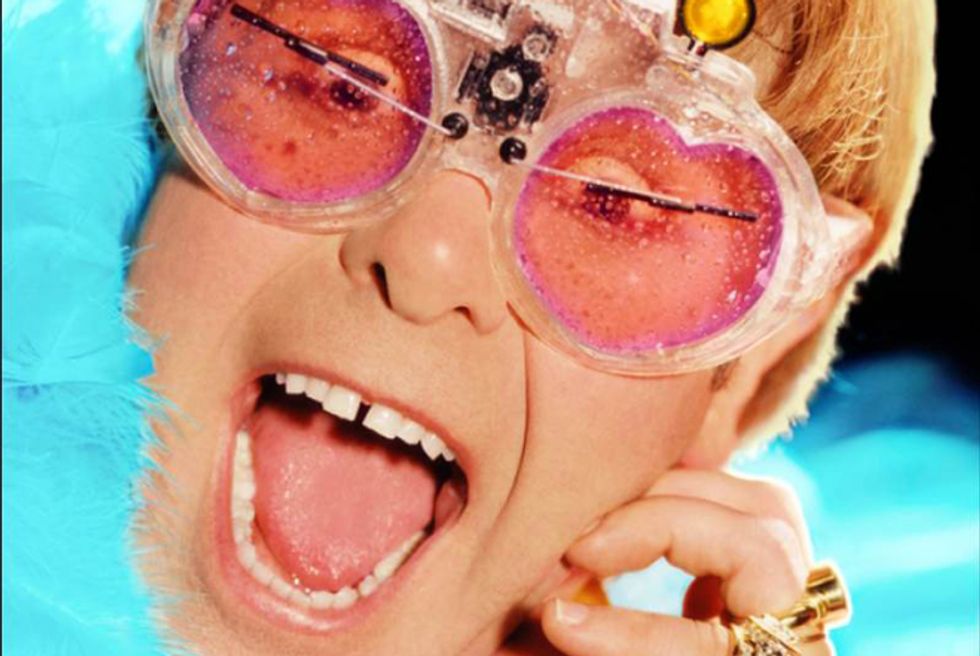 Sir Elton John is freaking crazy and we love it. If you're reading this and thinking, "He's not crazy! We're just alike!" sorry, friend-o, you're freaking crazy too. And we love it!
Sure, Elton has birthed tunes that a lot of perfectly normal people enjoy—"Your Song" is one of the most popular wedding songs of all time and The Lion King score is an ageless treasure—but he had Bernie Taupin and Sir Tim Rice respectively guiding him into the normal light.
Today, as it is the great man's 66th birthday, we thought we'd salute to the eccentricities that make Sir Elton Sir Elton. Here's what we found...
Craziest Picture
Craziest Picture Sans Glasses
For the love of Christ, put some windshield wiper goggles on the peepers!
Craziest Performance
Heh, he sure did love his cocaine!
Craziest Friendship
FACT: Elton John is Eminem's sponsor.

Craziest Royal Friendship:
You got Sir-ved.
Craziest Fingerwork
Craziest Name
Between "Elton Hercules John" and "Reginald Kenneth Dwight," we're going to go with "Hercules."
Craziest Name Discovery
His sons' middle names are "Daniel" and "Levon." Subtle self-promotion there, Elt?
Craziest Song
"Just Like Noah's Ark"
"Pretty girls and boys in drag/Walking a fine thin line/Shaking hands and bussing cheeks/Licking their lips like they could eat/Me alive in a couple of weeks/Yeah, just like Noah's ark"
...come again?
Craziest Mag Cover (Maybe Ever?)
Imagine a time when you only had to pay 60 cents for such glorious copywriting.
Happy 66th Birthday Elton!