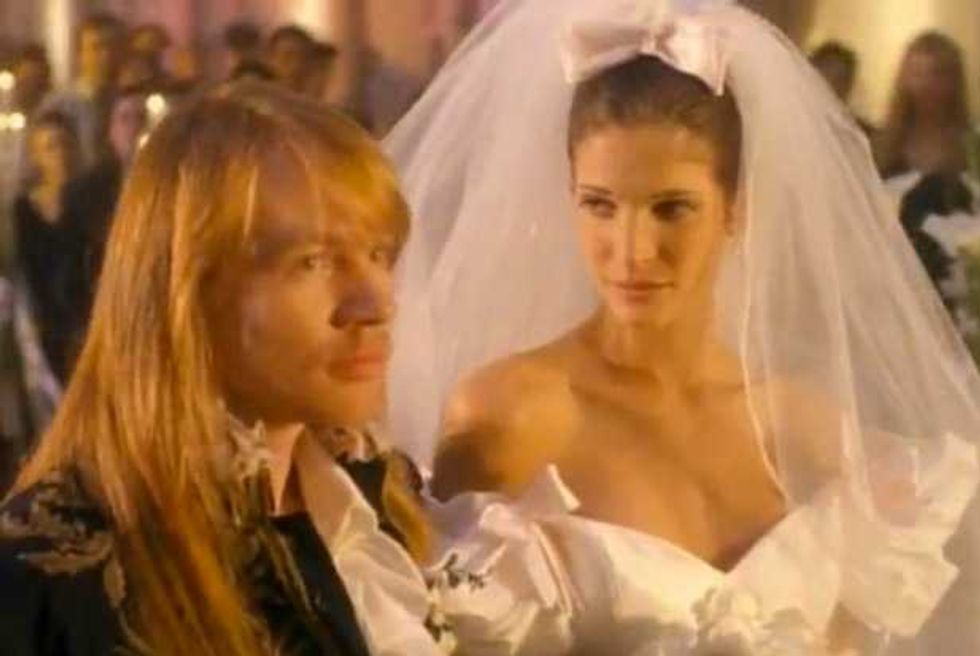 Guest lists, floral bouquets, "Funky Chicken" dance rehearsals—planning a wedding is stressful enough without the eyes of the entire world watching. But watching they will be for Prince William and Kate Middleton when the Royal pair are wed at Westminster Abbey on Friday, April 29. So before going over all the arrangements one final time, and well in advance of actually walking down the aisle, the two would be well-advised to heed the lessons imparted by such wise pop stars as Madonna, Katy Perry and Guns N' Roses in our list of the ten greatest weddings in music video history—lest they end up with a runaway bride or an exploding chapel on their hands. What a national embarrassment that would be!
For P!nk through 98 Degrees, Click NEXT.
10. P!nk, "Raise Your Glass" (2010)
Pink and her guitar serve as the after-dinner entertainment on this same sex couple's big day, which is a progressive move from this no bullshit artist, who wouldn't have it any other way.
Lesson Learned: P!nk is available for weddings.
9. Jagged Edge, "Let's Get Married" (1999)
The only song on our list where the lyrics are actually on the literal subject of planning a wedding (Billy Idol alludes to it being a nice day for one, but never actually proposes), Jagged Edge's video for "Let's Get Married" also features a tale of marriage. Lead singer Brian Casey proposes to his long-time girl, but she has misgivings about his friends. When she calls him during his bachelor party, he picks up but gets distracted, leading her to assume the worst and ditch him at the altar. But rewinding back to that phone call, Casey instead leaves the party and tells his bride-to-be that he loves her, and they end up tying the knot and living happily ever after. (Wait a minute, no, that was Case, not Jagged Edge.)
Lesson Learned: "Accidentally" leave the phone at your spouse's place before leaving for your bachelor(ette) party. It's verifiable, and prevents all kinds of unfortunate mix-ups.
8. Katy Perry, "Hot n Cold" (2008)
This anthem of ambivalence, also know as "love bipolar," depicts Perry's man as a fumbling groom left speechless at the altar. Who really needs a minute when you're about to marry Katy Perry? She lets him know that she has other options, and rounds up her fellow jilted women to express her anger through song.
Lesson Learned: When in doubt, a gaggle of your friends and fellow brides carrying baseball bats can scare a man into marrying you.
7. Greg Kihn Band, "Jeopardy" (1982)
All is not well with Greg Kihn as he prepares to wed his "Jeopardy" bride—he's having second thoughts about making the commitment married life, envisioning his parents as handcuffed together and his aunt and uncle literally joined at the hip. When he unveils his fiancée, she turns into a skeleton, and all the attendees becomes zombies, as Kihn attempts to flee the scene (with the floor exploding under him, of course). Some tentacled monster attempts to ensnare him, but he fights it off and escapes, when it is revealed that he's been fantasizing the whole thing backstage. He grabs a bottle of champagne and sneaks out the back, but sees a different bride from another church, who is similarly hesitant, sneaking out the front. He decides bride No. 2 is good enough, and they drive off together.
Lesson Learned: Make sure the hallucinogens from the bachelor party are well out of your system before walking down the aisle.
6. 98 Degrees, "I Do (Cherish You)" (1999)
The '90s boy band crooned their way into the hearts of girls everywhere with a video that shows each guy spoiling his lady (Ali Landry, times four) with romantic gestures—a warm bubble bath, a scenic drive along the coast, a cozy snuggle session on a bearskin rug—before popping the question (guys who aren't afraid of commitment? We knew we always liked them). But sadly, nothing is official until you say your I Dos. In the end, the shared girl of their dreams was the biggest player of them all, jilting them all to marry Dustin Diamond.
Lesson Learned: Never underestimate the appeal of Screech Powers.
For Miranda Lambert through Billy Idol, Click NEXT.
5. Miranda Lambert, "White Liar" (2009)
Miranda's you-done-me-wrong tale "White Liar" sets the scene of confrontation at her own wedding, where she spots a couple of familiar faces among the attendees—a series of girls she knows that her husband-to-be has been stepping out with. Don't feel too bad for Miranda, though—she's been sneaking around with one of the groomsmen herself. She kisses him in front of her fiancé, the groomsman shrugs to the audience as if to say "Hey, what did you expect? This is a country video," and the two walk the other way back down the aisle, as everyone applauds.
Lesson Learned: If you're going to make a cuckold of your finacée many times over before the wedding, make sure there isn't a guy parked in the shadows down the street holding a big-ass camera while you do it.
4. Madonna, "Like a Virgin" (1984)
This bridal look might be more recognizable from Madonna's writhing around on the stage at the 1984 MTV Video Music Awards, and the song's revival with pop proteges Britney Spears and Christina Aguilera in 2003. Still, the original video is set in Venice, with the backdrop of romantic canals and storied architecture, enough to get anyone in the mood. We don't actually see the ceremony, simply the moments that follow, as Madge and her lion-masked man set off for their first night together. Leave the rest to your imagination.
Lesson Learned: Lions can be sexy.
3. Mariah Carey, "We Belong Together" (2005)
Before there was Nick Cannon and a huge, twin-toting belly, there was Mimi and her fictional man-in-waiting (Wentworth Miller). This outdoor wedding is picture-perfect, with a cute flower girl and ring bearer, a gorgeous dress and a handsome groom (Eric Roberts) fawning over the bride to be at the end of the aisle. And yet...
Lesson Learned: Public scenes are acceptable if you're leaving your groom at the altar for a former Prison Break star with a sick ride.
2. Billy Idol - "White Wedding" (1982)
In the "White Wedding" video, Billy and real-life girlfriend Perri Lister marry at a gothed-out church amidst a sea of crosses. He forces the ring on her finger, cutting her badly and causing everyone in the church to point at him in accusation. Later, Billy crashes his Harley through the church window for no particular reason, his bride dances around him in the kitchen while various appliances spontaneously combust, and Billy finishes the song singing in front of her dead, cobwebbed corpse. Your typical semi-formal, really.
Lesson Learned: So many choices, everything from "Get your rings fitted ahead of time" to "Don't hire Daniel Ash of Bauhaus as your wedding decorator" to "Make sure your groom keeps his goddamn shirt on." But I think we have to stick with "When registering for kitchen appliances, make sure you sign up for the non-exploding variety." There's no upside to going the other way with it.
For our No. 1 music-video wedding, click NEXT.
1. Guns N' Roses, "November Rain" (1991)
In GnR's VMA-winning nine-minute epic, frontman Axl Rose takes some pills and dreams of his wedding, to supermodel and then-real-life-girlfriend Stephanie Seymour. The two are blissfully happy as they say their vows, despite Axl being dressed as some kind of 17th-century pirate, and it's so emotional that guitarist Slash needs to take a breather to go outside and play the most badass solo in wedding history. But things turn dark at the ceremony, as a thunderstorm hits, and all of a sudden, the wedding turns into a funeral for Axl's bride. How exactly she dies is unclear (Tripped and fell? Struck by lightning? Turned out to be the Wicked Witch of the West and dissolved?), and it's possible the whole thing was a dream or some kind of extended metaphor to begin with, but no one who ever watched MTV in the '90s will ever forget the sight of Stephanie's bouquet of roses bleeding to white on the site of her grave.
Lesson Learned: Check the weather report ahead of time. Or at the very least, make sure your floral arrangements are colorfast.
Did we miss any classic video weddings? Are we dumb for pretending to care about this wedding at all? Or should we have waited for the less-official Royal Wedding of Kristin Cavallari and Jay Cutler to pull this list out?