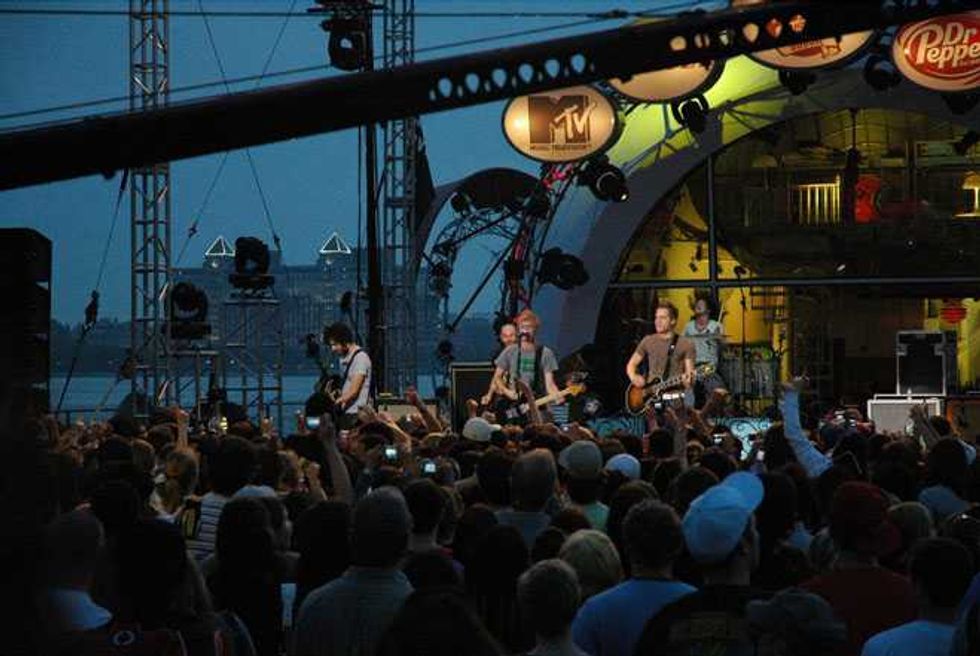 In 2001, MTV sealed a Georgia band named Cartel inside of a plastic bubble for 21 days, in the hopes that their creative genius might flourish. There was only one problem: each of the four band members was a moron. If nothing else, Cartel was a sort of fable for the hubris of producers who thought they could make good TV ginning up, then exploiting, dreams of musical stardom. It was a pattern to be repeated many times, its best legacy the opportunity to look back, point, and laugh.
By the way: Read about some GOOD music TV right HERE!
Celebrity Rapper
The finalists were Kendra Wilkinson and Shar Jackson. Since "How much for a flower on my left big toe?" is the longest sentence either of them have ever managed to say, rap falls well outside their skillset. Sebastian Bach also starred, looking as if he'd just gotten plastic surgery to make him look exactly like Kendra Wilkinson. Shar won, and in a subsequent appearance on the TV Guide channel marveled that now, people took her seriously as an artist. Clearly there should have been a spin-off called "Kendra Takes Three Months Working up the Courage to Tell Shar Jackson She's Not An Artist, After First Spending a Month Trying to Figure Out What Courage Means."
Fantasia For Real
Fantasia Barrino won Idol in 2003. Seven long years later, this show chronicled her family life and career. Fantasia's baby voice, spoken through lips coated with enough gloss to lubricate a wind turbine, was the main and constant annoyance—though her brother, Teeny, whose hats were even sillier than his hair and who attempted to launch his own career with something called a "butt-naked car wash," gave her some stiff competition. One saving grace: Aunt Bunny's YouTube moment: She was so fed up with Fantasia's gurgling evasions about having slept with a married man that she couldn't bring herself to fully enunciate the words "girl, please!" and instead exclaimed, "grrrrrplea."
Pussycat Dolls Present: Girlicious
In which Pussycat Dolls founder Robin Antin picked three hot chicks who could hopefully kind of sing to be in her new supergroup, Girlicious (which, naturally, no longer exists). The competitions consisted of pop-song dance routines straight out of a high school talent show, if the high school was for the hot and not terribly bright.
Diddy's Starmaker
The best thing you can say about this show is that Diddy didn't do it for the money—he did it for the opportunity to humiliate the young people competing for a recording contract with Bad Boy Records. "Have you been working out [every day]?" he said to a poor, overweight man with a great voice. "You haven't been giving it your all." Anxiety about the ruination of his brand was the grand theme. "My name is on this show. I don't want you all to embarrass me." That's right: embarrass Diddy.
Rock Star/INXS
Here's how this one came about: INXS frontman Michael Hutchence hung himself. So his ex-bandmates and friends auditioned his replacement! It came down to a woman, Suzie McNeil, and the eventual winner, JD Fortune. McNeil sounded like Avril Lavigne doing Cher karaoke, and Fortune sounded like a frat boy who longed to be Axl Rose. And Michael Hutchence remained dead.
Daisy of Love
A runner-up in the Bret Michael's dating show Rock of Love, Daisy de la Hoya here took her turn at choosing an ideal mate from a squadron of gym-buff hopefuls, among them the sort of tattooed musicians for whom a plastic-y L.A. woman is catnip. Speaking in a voice so sultry she sounded half asleep, De La Hoya dismissed them one by one with soulful gems like "You have your guard up. I don't have time to break that guard down right now." You don't have time? But, this is, like, all you do, right?
Tommy Lee Goes to College
Most reality shows aren't real, duh. But this show was insultingly unreal. It actually started with Tommy Lee hugging his mother good-bye, as if he hadn't been living on his own, marrying and divorcing blonde actresses and going to jail for the last 43 years. Then there was the lamely quintessential college imagery: Tommy balancing a tower of books in his arms, Tommy grabbing his head in frustration over a hard test, Tommy scoring a hot tutor. With this shows it wasn't a matter of seeing the seams—it was all seams.
Britney and Kevin: Chaotic
In this six-episode series, Britney and Kevin Federline fall in love, marry and chain-smoke. They are often wasted, or maybe just think it's really funny to stick their tongues out even when they're not wasted. Britney is wide-eyed and clueless. Kevin wears a perpetual smirk. It's hard to say what's more disturbing: the cold sociopath Kevin seems to be, or the deep, intense loverman he pretends to be.
Karaoke Battle USA
Some things are better left relegated to the obscurity of a dark bar. Is there any pastime that more perfectly marries narcissism and mediocrity? The four or five people who watched this show saw this: A blond woman, obviously an Amy Winehouse/Adele-type fan, singing "Stand By Me" in a bizarre British accent; a young man with over-gelled hair and an embarrassingly fashion-y military jacket singing "Someone to Love." Joey Fatone hosted, and Rolling Stone editor and judge Joe Levy laughed at fellow judge Carnie Wilson's jokes and generally tried to look like he wanted to be there instead of shopping for cashmere scarves.
House of Carters
The Carters—Backstreet Boy Nick and his brother Aaron Carter and their sisters, Angel, Leslie and Bobbie Jean, all back together and living in a big, cheesy L.A. McMansion—were blond and unbearable. Nick was sanctimonious. Aaron was a brat. Angel, Leslie and Bobbie Jean were pretty and spoiled, but mostly just spoiled. Nothing happened. Angel let someone take hookery pictures of her on a roof. Aaron and Nick got in fights about their "careers." Everyone's dogs ate spilled food off the floor.
Bands on the Run
This was VH1's attempt at gritty realism—their way of saying, "Hey, screw the glamour of the music industry. Let's keep it real. Let's put some hungry, marginally-talented musicians up in shitty motels and see how much money each of them can make on a whirlwind tour of cities like Columbus, Tampa, and Cleveland. Let's get a lot of footage of them on the phone and riding escalators." The rest of the show was pre-YouTube but YouTube-quality footage of the bands actually playing the gigs they so humbly begged for. The idea, apparently, was to make sure that the viewer understood that being a musician actually sucked.
I'm From Rolling Stone
Six young writers intern at Rolling Stone for the summer, and in the end, one will be hired as a contributing editor. Who will it be? (The phrase "who gives a fuck" was invented to answer this question.) One story line actually centered around a contestant's anger that an editor re-wrote her article, which is kind of like if there was a reality show about doctors and there was an episode about "that day when one of them used a stethoscope." (Former Rolling Stone editor Joe Levy of Karaoke Battle USA fame also appears here, looking only slightly less ashamed of himself.)
Rock of Love: Charm School
In this show, yet another spinoff of Rock of Love, Sharon Osbourne hoped to turn a bunch of reality-show-circuit skanks into fine ladies by trussing them up in little uniforms and telling them they were bitches. Indeed, they seemed intent on smacking each other, pouring beer over each other's heads and dying their hair pink. Defining moment: On the reunion show, a contestant named Rodeo, eliminated early, announced that she was designing and marketing a line of waterproof jeans.
The Next Great American Band
The judges were John Rzeznik, Sheila E and some dude named Ian "Dicko" Dickson from Australian Idol, which basically means the producers had a last resort choice and he was somewhere beneath that. The bands had names like Dot Dot Dot, Tres Bien, and Sixwire. The guys in Sixwire were about 900 years old, played lame country rock and thought they were real pioneers. The winners, the Clark Brothers, all looked like they cut each other's hair, but not in a cool, Kurt-Cobain-way, but in a sad, we-get-no-pussy way.
Cartel: Band in a Bubble
From MTV.com: "For 20 days beginning May 24, 2007, Cartel will live inside a 2,000-square-foot transparent bubble on Hudson River Park's Pier 54 in New York City. Sponsored by Dr Pepper, this fully interactive on-air and online event culminates when the bubble 'bursts' and Cartel premiere a new song written and recorded completely from inside the bubble." When the bubble "burst" and the band came out, the singer shouted "Freedom," just like Mel Gibson in Braveheart. Then they sang a shitty song called "Lose It." Everyone was drinking Dr. Pepper. The prophecy was fulfilled.