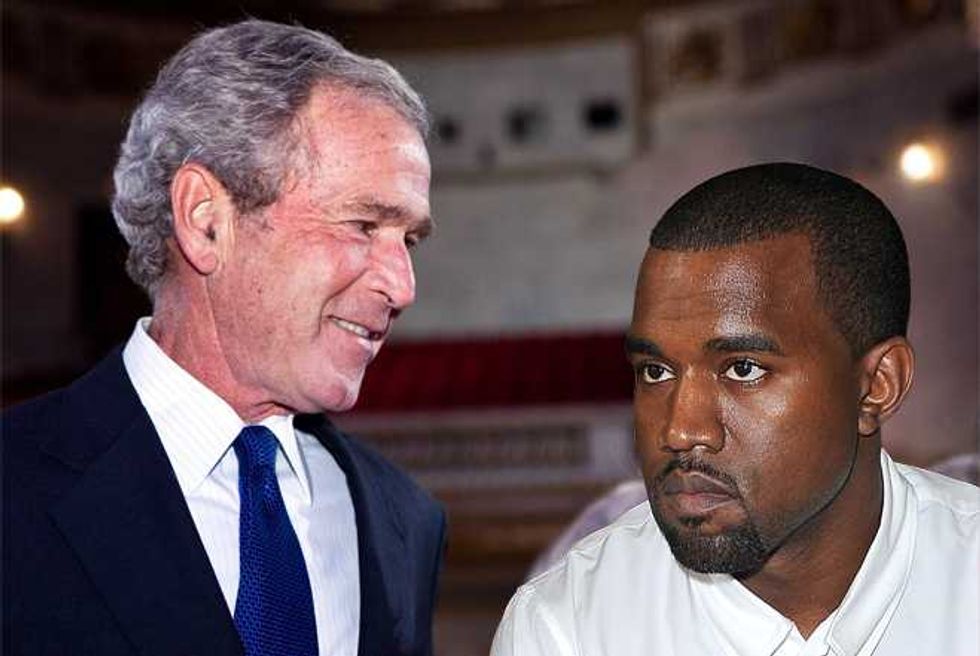 From protest songs to Rock The Vote efforts, pop music and politics are always going to be entwined. After all, both are fundamentally about using language and symbols to craft a pleasing narrative. But many of our most eloquent artists have stumbled when they enter the political arena, where words and standards are more strictly enforced.
Butt Chugging Cough Syrup: All The Cool Kids Are Doing It!
The 2012 election had its own multitude of rhetorical blunders by musicians, most notably Madonna's ironic comment that "We've got a black Muslim in the White House" was taken literally by many news outlets (including us). In pop, you can switch between different voices and characters without causing a stir, but in politics people assume you mean what you say.
(This isn't, of course, to let every pop star who's ever said something dumb off the hook: Many of them display the same level of political awareness as that uncle that's always forwarding you conspiracy theories.)
To celebrate the madness that happens when pop stars go political, we've rounded up a list of the misinformed, inelegant or just plain stupid things musicians have said when they're trying to make a point.
ON BARACK OBAMA...
1.
Paint the White House black and I'm sure that's got 'em terrified

McCain don't belong in any chair unless he's paralyzed

Yeah I said it, 'cause Bush is mentally handicapped

Ball up all of his speeches and I throw 'em like candy wrap
This nasty booster track, released at the height of the 2008 campaign, was the exact kind of endorsement Obama didn't need, and in a move reminiscent of Bill Clinton's Sistah Souljah moment, his campaign renounced the track almost immediately. That didn't stop the rumor that Obama would paint the White House black from turning into a racist meme, though.
2.
Obama and I is for the ladies

Pro abortion, death to all babies

Biden is the father

Obama did it big

'Cause if McCain wins I'm not claiming none of them f---ing kids
Luckily for Obama, Tyler the Creator was not yet a household name in 2008.
3.
If Barack Obama becomes the president in November again, I will either be dead or in jail by this time next year. … We need to ride into that battlefield and chop their heads off in November.
As one of rock's few open conservatives, the Nuge is sadly unexempt from the paranoid conspiracy theories that have taken over a segment of the right wing since Obama's election. It's fine to criticize the president, it's less fine to suggest guillotining him.
4.
Just like the Bushes, Clinton and Obama

Just another talking head telling lies on teleprompters
The Atlanta rapper's ode to our 40th President takes a lot of shots at Reagan's past as a film actor, but it also takes time to slip in a nod to the pervasive meme that Barack Obama owes his political success to his teleprompter.
ON GEORGE W. BUSH...
5.
 George Bush doesn't care about black people.
Woof. At last Kanye West didn't say that "George Bush hates black people," which would have been plainly untrue. But Kanye's controversial ad-lib during the Concert for Hurricane Relief missed the mark in a similar fashion, mistaking the systematic racism on display in the wake of Hurricane Katrina for personal racism on the part of those in power. The latter is easy to refute—whatever your opinion of Bush, you have to admit he did more to fight AIDS in Africa than all previous Presidents combined—the former, less so.
6.
Who gave Saddam anthrax? George Bush got the answers?
Kanye West, at it again! Somehow, Bush found the idea that he (or his father) gave Saddam Hussein biological weapons much less offensive than the suggestion that he was a racist.
6.
How is George Bush not in jail for treason?

But Clinton gets impeached for busting semen?
Whatever his faults, George Bush did not spend his years in office "levying War against [the United States], or ... adhering to their Enemies [and] giving them Aid and Comfort." Similarly, Bill Clinton was not impeached for receiving oral sex, but for lying under oath about receiving oral sex.
8.
Colin Powell chain and you know I'm straight thuggin'
This isn't offensive, so much as it is just confusing.
ON OLDER PRESIDENTS...
9.
How do we stop the Black Panthers?

Ronald Reagan cooked up an answer
Kanye here is referring to the urban legend that Ronald Reagan used the CIA to funnel crack into America's inner cities as part of a plot to keep blacks down. Though the CIA was allied with Nicaraguan drug runners during the Cold War, the agency has been cleared of all trafficking charges.
10.
Dear Mr. President.

First, I would like to introduce myself. I am Elvis Presley and admire you and have great respect for your office. I talked to Vice President Agnew in Palm Springs three weeks ago and expressed my concern for our country. The drug culture, the hippie elements, the SDS, Black Panthers, etc. do not consider me as their enemy or as they call it the establishment. I call it America and I love it. …  I have done an in-depth study of drug abuse and Communist brainwashing techniques and I am right in the middle of the whole thing where I can and will do the most good. I am Glad to help just so long as it is kept very private. … I was nominated this coming year one of America's Ten Most Outstanding Young Men. … am sending you the short autobiography about myself so you can better understand this approach. I would love to meet you just to say hello if you're not too busy.

Respectfully,

Elvis Presley

P. S. I believe that you, Sir, were one of the Top Ten Outstanding Men of America also.
Of all the presidents for Elvis to send a rambling six-page fan letter, he had to choose Nixon? Really?
11.
"You can't change a house from outside," I said. "You have to be inside the house. That's why I endorsed Mr. Nixon. I'm trying to sell us in. I'm trying to put pressure on the government not to forget about us."
At least James Brown had a better, less-delusional motive for palling around with Nixon, but still: Come on guys, he was Nixon. You should have known not to trust him!
12.
You just changed, a brand-new funky President
Brown soon changed his tune on Nixon, releasing this celebratory tune after Tricky Dick's resignation. Yes, that's right: The "brand-new funky President" of this classic jam is supposed to be Gerald Ford.
ON 9/11...
Did you know that a surprisingly large number of rappers are 9/11 Truthers? You should, because they want everyone to know:
13.
9/11, building 7, did they really pull it?
14.
9/11 was a calculation, and some would say it was a timed attack
15.
Why did Bush knock down the towers?
If you're still unsure about 9/11, Popular Mechanics has done a good job debunking these rappers' conspiracy theories.
ON SOCIAL ISSUES...
16.
Equality is the prime rib of America, but because I am gay, I don't get to enjoy the greatest cut of meat my country has to offer.
Gaga's explanation of how her meat-dress was a protest about gay marriage was a classic example of an artist making a statement first, and figuring out the politics of it second.
17.
And I know that the government administer AIDS

—Kanye West, "Heard 'Em Say"
The government does not, in fact, administer AIDS.
18.
I really don't believe in abortion. It's like killing a baby? [Reporter: What about in the case of rape?] Um. Well, I think that's really sad, but everything happens for a reason. I don't know how that would be a reason. I guess I haven't been in that position, so I wouldn't be able to judge that.
OK, so Biebs was set up. But yeesh, "Everything happens for a reason" is not the kind of quote you want to drop there.
19.
I'm not sure about [political] parties. But whatever they have in Korea, that's bad.
The major parties in South Korea are the conservative Saenuri Party and the liberal Democratic United Party. The only party in North Korea is The Workers' Party of Korea.
20.
I'm actually part Indian. I think Inuit or something? I'm enough percent that in Canada I can get free gas.
First Nations people do not get free gas in Canada (they get an exemption from the national gas tax if they buy petrol at a reservation). Also, Inuits are not covered by Canada's Inuit Act.
What have we learned? Pop is like Thanksgiving: Don't talk about politics, unless you want to end up with a mess on your face.