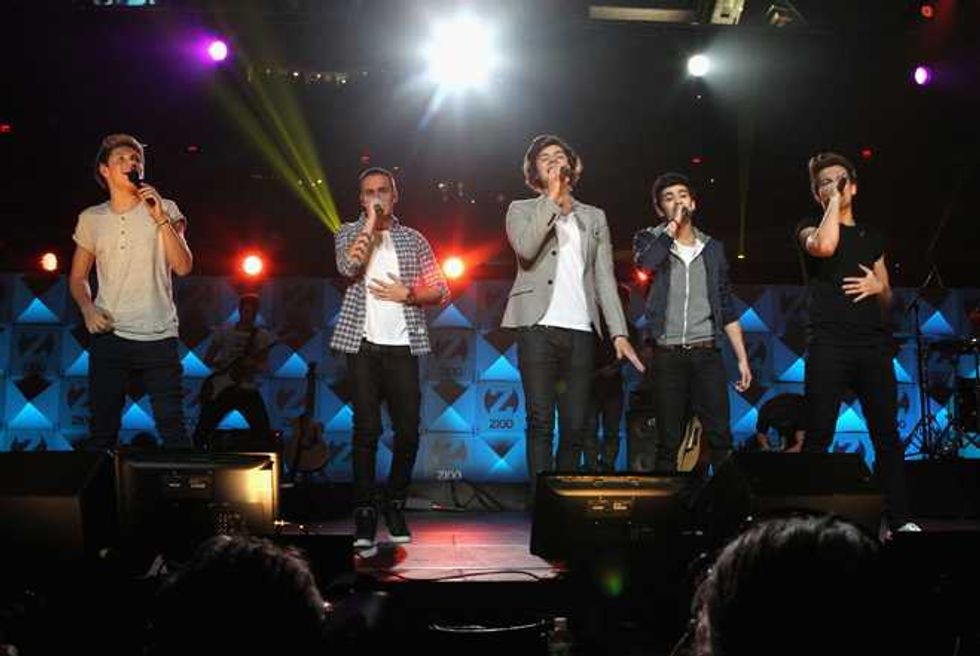 Valentine's Day is a time of love, of romance, of grand sweeping gestures and of candy hearts that taste a little cardboard-y and make your teeth hurt if you eat more than like three of them. It's a time of showing that special someone in your life just how much you care about them, how much you respect them and value them as a lover, a friend, and a human being worthy of certain base-level considerations.
Adele Lets Ex Know She's Over Breakup With Yet Another Breakup Song
Or not. Plenty of love songs over the years—some of which will undoubtedly receive some circulation this Valentine's Day, for the wool they've pulled over the eyes of some gullible pop listeners—are at their core pretty rotten in their declarations, treating the object of their affection with condescension and mild distaste, if not outright scorn.
So when you're loading your boombox with mp3s to play outside of your intended's window, maybe try to avoid putting these 25 songs on the playlist. Otherwise, you might be standing out there all day, and the weather's pretty terrible for that at this time of year.
25. NE-YO, "LET ME LOVE YOU (UNTIL YOU LEARN TO LOVE YOURSELF)"
For all hisYear of the Gentleman posturing, Ne-Yo has a mild, though largely harmless, misogynistic streak running through many of his hits, whether he's laughing at his girl for how cute she is angry ("When You're Mad") or acting super-duper-impressed at her ability to pay her own bills on time ("Miss Independent"). Perhaps worst of all is "Let Me Love You," whose long parenthetical is demonstrative of Ne-Yo's tendency to view women as the weaker sex, in desperate need of the healing power of his love. "How can you understand something that you never had? / Ooh baby if you let me, I can help you out with all of that." Would that be on a freelance basis, Ne-Yo, or do you demand benefits and such for that?
24. BACKSTREET BOYS, "AS LONG AS YOU LOVE ME"
One of those "Hey, I don't care if everyone else thinks you suck, I think you're okay!" love songs that sounds sweet at first, but more insulting every time you hear it. This one is kind of an extreme example, though, as oblique references to the girl's shady past raise some disturbing questions: "It doesn't even matter if you're on the run," "I don't care who are, where you're from, what you did." What is this girl, a serial killer? Just in witness protection? Is shacking up with a world-famous boy band such a great idea, then?
23. MEAT LOAF, "TWO OUT OF THREE AIN'T BAD"
Of course, the most famously insulting lyric in this one comes in the chorus: "I want you, I need you, but there ain't no way I'm ever gonna love you / Don't be sad, 'coz two out of three ain't bad." But don't sleep on the verses, either, where Sir Loaf coldly explains "You can cry all night / But that'll never change the way I feel," before asking her not to kick him out because "The snow is really piling up outside." Well, next time, wait until the weather calms down before dropping the emotional hammer, Meat.
22. MR. BIG, "TO BE WITH YOU"
Aside from the highly patronizing opening lines ("Hold on, little girl / Show me what he's done to you"—what, are you gonna have to go give him a noogie or something?), Mr. Big do their girl no favors by complaining of the "line of greens and blues" they've had to wait on before getting a crack at her. We don't know what that means, and frankly, we don't want to know.
21. BRUCE SPRINGSTEEN, "THUNDER ROAD"
Arguable as a love song, but one that certainly entertains romantic notions, as Bruce starts things off on a nice note, talking of his intended Mary dancing "like a vision" as the radio plays. He kills the mood a little, though, by telling her "You ain't a beauty, but hey, you're all right / And that's all right with me"—gee thanks—and then, after inviting her to his car, saying "The door's open, but the ride ain't free." Gas money, we hope.
For more love songs of questionable decency, including Nickelback and the Queen of Soul, click NEXT.
20. BOBBY BROWN, "DON'T BE CRUEL"
For most of Bobby Brown's solo breakthrough single, the worst you could accuse him of is being a little too aggressive in soliciting affection ("As long as I've been giving my love to you / You should be giving me your love too"). But the late-appearing rap verse takes matters a little far, as Bobby claims "Although I want you bad I could let you go / 'Cause there's a lot of girls out there that won't say no" and "You want to be with me / You got to be the same way that another girl would be." Emotional and/or sexual blackmail—the sure way to any girl's heart.
19. ARETHA FRANKLIN, "I NEVER LOVED A MAN (THE WAY I LOVED YOU)"
The overall message is lovely enough, but Aretha takes her sweet time getting there, first listing all the reasons why it actually kinda blows that she's so in love with this guy. ("You're a no good heartbreaker / You're a liar and a cheat.") By the time she gets to the nice part—which the title basically sums up—you could forgive her guy for being like "Wait a minute...let's go back to the part where you talk about how much I suck."
18. ERIC CLAPTON, "WONDERFUL TONIGHT"
A perfectly nice love song if you don't know too much about it, but hearing the back story behind "Wonderful Tonight"—in which Eric Clapton wrote the song after an experience where he basically "yeah, yeah"ed his wife while she was pestering him about how she looked before going out to a party—colors every line with condescension and boredom. (For her part, though, Clapton's now-ex-wife is still into it, calling the song the "most poignant reminder of all that was good in our relationship." Doesn't say much for the relationship, does it?)
17. NICKELBACK, "SOMEDAY"
You can kinda plug-and-play with your Nickelback love song of choice here—and if we thought "Figured You Out" was a little more construable as a love song, it'd be a strong contender for #1—but "Someday" seems as good a choice as any, with Chad Kroeger kindly asking his girl to "unclench her fists" and offering her the unmoving reassurance "Someday, somehow / I'm gonna make it alright but not right now." Can't wait!
16. RONAN KEATING, "WHEN YOU SAY NOTHING AT ALL"
15. EXTREME, "MORE THAN WORDS"
"Hey, honey, that's great, you saying a whole bunch of stuff. But you know what would be even more awesome? If you just, like, stopped talking altogether! There, isn't that better?"
14. ELVIS COSTELLO, "ALLISON"
To Elvis' credit, as bitter and demeaning as this song is to the female in question—lyrics about her "letting" Costello's friend undress her and getting her fingers "left in the wedding cake," Elvis testifying "Sometimes I wish that I could stop you from talking when I hear the stupid things that you say"—he seems far more bitter towards himself throughout. It's misogynistic, but honestly so, if that makes it any better.
13. BILLY JOEL, "SHE'S ALWAYS A WOMAN"
12. BOB DYLAN, "JUST LIKE A WOMAN"
General male singer/songwriter rule: If you're writing a song about how much like A Woman your intended is, chances are better than decent you're coming off as condescending and prick-ish. Best check yourself 'fore you wreck yourself on that one.
11. JAY-Z, "SONG CRY"
Jay-Z was less than practiced at the art of the love song by the time of "Song Cry," and the inexperience shows, as an otherwise heart-rending tale of a relationship beset by circumstance is undercut by lyrics assigning blame ("That's your fault!") for his girl's revenge-cheating, explaining the distinction: "I was just fuckin' them girls / I was gon' get right back." Touché.
For our top ten most insulting love songs, including One Direction and the Bieb, click NEXT.
10. DAVID BOWIE, "CHINA GIRL"
You could make a pretty strong argument that David Bowie's "China Girl" (originally by Iggy Pop) is too surreal to be considered insulting, but the way the song transforms from a relatively sweet (if somewhat racially insensitive) love song to Bowie being overwhelmed by "visions of swastikas in my head" (?!?!) and then threatening "My little China Girl, you shouldn't mess with me / I'll ruin everything you are" is hard to overlook on this list. At least Bowie's Asian paramour has the good sense to tell him to shut his mouth when he gets weirdly excited like that.
9. BOBBY GOLDSBORO, "HONEY"
When they say "They don't write 'em like they used to"...not always a bad thing. "Honey" features three verses of Goldsboro laughing at his girl's misfortune, calling her stupid, and making her cry repeatedly. Then she dies. Yes, this is a love song, but perhaps the bar for what constituted a "love song" was slightly lower back in 1968.
8. FRANK SINATRA, "MY FUNNY VALENTINE"
One of the most covered love songs of all-time is also one of the most not-so-secretly vile, with lyrics like "Your looks are laughable / Unphotographable" and "Is your mouth a little weak / When you open it to speak, are you smart?" If "Each day is Valentine's Day" as the song claims, this song makes that sound more like a hellish Groundhog Day scenario than some kind of endless bliss.
7. DAVE CLARK FIVE, "YOU GOT WHAT IT TAKES"
How important is it to have What It Takes to satisfy the Dave Clark Five? Well, hopefully important enough that you won't mind being told the number of things you don't do particularly well, including living in a nice place, dressing well, or being granted by nature with a particularly good-looking face. If you're good with all that, then maybe you'll take being able to set the DC5's soul on fire as a compliment.
6. JUSTIN BIEBER, "NOTHING LIKE US"
When you get broken up with by your celebrity ex, what's the best way to get her back? Well, writing a touching love song in which you essentially deflect all blame onto her for the relationship's dissolution while painting yourself as the victim of the situation is a pretty good start. Be sure to make a subtle and out-of-nowhere allusion to her being an alcoholic too, just in case.
5. THE CRYSTALS, "HE'S SURE THE BOY I LOVE"
Like the Dave Clark Five jam, an oldies love song where you have to sit through all the reasons you suck before you get to hear about how much they love you. And in this one, boy do you sound like a real loser. Not only do you not "look like a movie star" or "drive a Cadillac car," you always "buy on the installment plan" and you've got nothing but "an unemployment check." Hey, you might be one step short of being straight-up homeless, but at least you're the boy the Crystals love! That should be some nice comfort as you eat canned corn for dinner for the 15th straight night.
4. ONE DIRECTION, "LITTLE THINGS"
You know guys, you don't have to list your girlfriend's imperfections in excruciating detail—the dimples on her spine, her dependency on caffeinated tea, her struggles to squeeze into her jeans—to demonstrate how powerful your love is, that it's able to overcome all that. You could just be like "hey, girl, digging your scene," or whatever it is you young UK lads are saying these days. They won't be like "BUT WAIT WHAT ABOUT ALL THAT WEIRD STUFF ABOUT ME THAT YOU PROBABLY SECRETLY HATE, I DEMAND YOU ACKNOWLEDGE ALL THAT FIRST." (God, we hope not, anyway.)
3. USHER, "TRADING PLACES"
Not just insulting to Usher's girl, but really to her entire gender, as he spends the song doing her the tremendous favor of allowing her to trade places with him for the night—meaning this time, she gets to drive the car and initiate sex (but she also has to make breakfast and pay for $60k worth of shopping! Didn't think of that, now did you Usher's girlfriend?) The saddest thing about "Trading Places" is the feeling that Usher really thinks he's being progressive by approaching things from the other perspective, but the fact that he sees his relationship so relentlessly defined by traditional gender roles—ones with the man in the driver's seat, both literally and figuratively—probably misses the point at least a little bit.
2. THE JACKSON 5, "I WANT YOU BACK"
One of the greatest songs in pop music history is, when you get down to it, pretty damn despicable—Michael admits in the opening lines that he basically dumped his girl for being a dog ("Those pretty faces always made you stand out in a crowd"), but that once someone else "picked" her "from the bunch," the jealousy was enough to make MJ realize what a terrible mistake he'd made. "Let me show you, girl, that I know wrong from right"? So wrong is going out with an unattractive girl when nobody else wants her, but right is realizing that as soon as she picks up with another dude, she was probably the one for you after all? Great song, terrible life lesson.
1. CHER LLOYD, "WANT U BACK"
Like its similarly named predecessor, but even more callously mean spirited, in which Cher not only readily admits she's only interested in her guy because he found a new girl, but also doesn't seem to hide that she's only trying to get him back to mess with new girl's head a little. "I don't give a shhhh, no one else can have you," Lloyd testifies, perhaps breaking new ground for the insulting love song–one which is totally comfortable with how horribly insulting it is, and says "Yeah, so?" It is a brave new era of love song condescension, and we are excited and terrified to see what comes next.
More Valentine's Week!
Check out ... nine love songs that might actually be Catfishes!
Look through ... 24 celebrity photos of the "Heart Hands" gesture!
Read ... our list of the 25 most insulting love songs of all-time!
See ... 17 artists in love with inanimate objects!
From Your Site Articles
Related Articles Around the Web