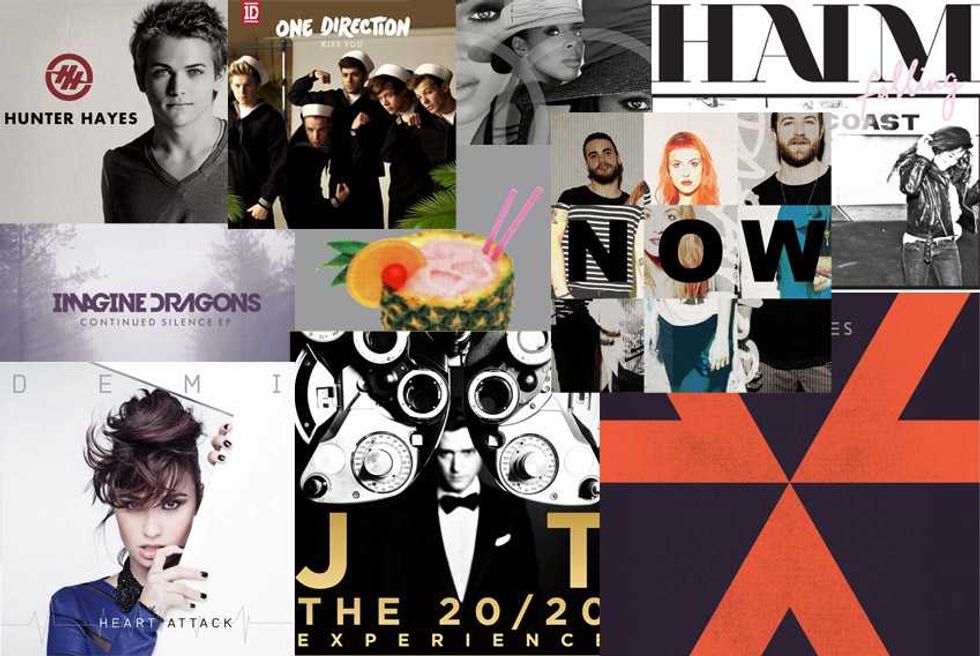 The first few months of any year are usually still so filled with remembrances of the year that just ended--best-of lists, award shows, catching up on things you may have missed in the prior 12 months--that it's easy to ignore or miss out on the new stuff coming out. Yet three months into a new year, and we already have enough quality music for a rock-solid Top 40 list of our favorite songs. From advance singles to much-anticipated albums still around the corner, to deep cuts on the albums that have already come out, to unexpected hits that we never saw coming, here are the 40 songs from the first three months of the year that have made us okay with turning the calendar over to 2013.
(Note: No songs included on our year-end list last year are featured here, which means such early 2013 smashes like Rihanna's "Stay," Icona Pop's "I Love It" and Baauer's "Harlem Shake" are unfortunately excluded, though they remain in our hearts and on our radio dials always.)
UPDATE: THE 50 BEST SONGS OF 2013's FIRST HALF!
PLUS: THE 15 BEST SONGS SET TO RULE THIS SUMMER!
AND NOW: THE 40 BEST SONGS OF 2013'S THIRD QUARTER!
40. MACKLEMORE & RYAN LEWIS FEAT. RYAN DALTON, "CAN'T HOLD US"
Less obnoxious than the self-righteous and occasionally grating "Thrift Shop," but no less catchy or exhilerating, the second single off Macklemore & Ryan Lewis' unexpectedly massive The Heist is again given a big assist by a smooth soul hook on the chorus, this time courtesy of former tennis instructor Ray Dalton. Already a top 20 hit, "Can't Hold Us" seems well on its way to being Macklemore and Ryan Lewis' second mega-smash of 2013.
39. HUNTER HAYES, "SOMEBODY'S HEARTBREAK"
Last year's "Wanted" proved that 21-year-old Hunter Hayes--a baby by male country star standards--could do ballads as well as anyone in the pop world, but "Somebody's Heartbreak" proves he can go toe-to-toe with some heavy hitters in the rock world as well, with some impressive guitar noodling that demonstrates that he's more John Mayer than Justin Bieber. When Brad Paisley is inviting you to join him on guitar at the ACM Awards, chances are you're doing something right.
38. ZEDD FEAT. FOXES, "CLARITY"
One of the better diva-led EDM anthems of recent days, "Clarity" proves it's more than just a nice "HEYYYYY-EYYYY" chant with a big build-up-and-drop with its beat-less acoustic version, which is pretty enough to get airplay on its own. They've taken to playing it in promos for the MSG Network, and if it's good enough for the New York Knicks in the midst of their 12-game winning streak, it's certainly good enough for us.
37. ONE DIRECTION, "KISS YOU"
One of our favorite songs from last year's Take Me Home, we were thrilled when One Direction tabbed the effervescent, impossibly likeable "Kiss You" as the album's third single, with an old-school "Trying on Different Costumes and Getups While Horsing Around" video to boot. We still get that same kind of ru-uh-ush every time we listen to it.
36. FLORIDA GEORGIA LINE FEAT. NELLY, "CRUISE (REMIX)"
To be honest, we were never totally sold on the original version of "Cruise," but it turns out that it was always just a Nelly verse away from irresistibility. The St. Lunatic's finest Nashville (or Florida-Georgia, as it were) crossover moment since the historically underrated Tim McGraw collaboration "Over and Over," by the time Nelly starts singing the chorus himself, you've pretty much got no choice but to ride with him. (Eyyyyyyy, must be the country!)
35. KATE NASH, "3 AM"
A combination of two time-honored lyrical traditions--late-night breakup-induced insomnia, and staring at the phone wondering should-I-or-shoudln't-I?--given new energy with the catchy nerviness of the song's frenetic bass-and-drum-led groove, and held together with Nash's deeply felt (and beautifully double-tracked) singing on the chorus. You'll probably be able to relate to some part of it, but if even if you can't, you'll enjoy dancing to it just the same.
34. ASHLEY MONROE, "TWO WEEKS LATE"
A classic country lament about being the other woman from young old soul Ashley Monroe, from her excellent Like a Rose album. Monroe's ballad is obviously meant to be more Tammy than Taylor, but she packs it with enough self-awareness ("So the man is gone / What a damn cliche") and guilty-but-gleeful indiscretion ("I know the Bible says / That you're supposed to wait...") to make it something far more fun than just a Grand Ole Opry throwback.
33. PITBULL FEAT. CHRISTINA AGUILERA, "FEEL THIS MOMENT"
An ecstatic club track with Christina Aguilera singing the song's chorus and a hook lifted from a-ha's '80s pop classic "Take On Me"? As always with Pitbull, it's so ridiculous that it just might work, and dammit, "Feel This Moment" does, a worthy successor to Mr. 305's "Give Me Everything" when it comes to party anthems that insist on enjoying right now as much as humanly possible, at all costs.
32. FUTURE FEAT. LIL WAYNE, "KARATE CHOP" (REMIX)
"Slang a bunch of narcotics / Pull up in the new 'Rarri." Doesn't sound like the stuff that great pop hooks are made of, but delivered in Future's syncopated and auto-tune-drowned staccato and served over a juggernaut of a Metro Boomin beat, it's inexplicably addictive--even a typically disinterested Lil Wayne verse sounds kind of awesome on it. By the time the last chorus rolls around, you can't help screaming "MICHAEL JACKSON BILLIE JEAN!" and making goofy karate sounds yourself.
31. FALL OUT BOY, "MY SONGS KNOW WHAT YOU DID IN THE DARK"
After a near-half-decade hiatus, Fall Out Boy announced their return--the second-most-unexpected of 2013 thusfar--with the rip-roaring "My Songs Know What You Did In the Dark (Light Em Up)." A chest-pounding, stadium ready singalong that proves the group is capable of keeping up with the times without sounding like bandwagon-jumpers, "My Songs" is destined to be the stuff of a thousand movie trailers and other promotional montages by year's end, so enjoy it while you can.
For songs #30-21, including a double-dip of Beyonce, click NEXT.
30. MIKKY EKKO, "PULL ME DOWN"
Like us, you probably first heard Mikky Ekko as the guest vocalist on Rihanna's hit torch song "Stay," but it was his own "Pull Me Down," to be released on his still-upcoming debut LP, that really convinced us of his considerable singing and songwriting talent. A mid-tempo ballad with an incredibly seductive undercurrent, "Pull Me Down" packs a song's worth of feeling and sensuality in just the first two lines of its chorus: "Pull me down if you want to / And I hope that you want to."
29. EMELI SANDE, "NEXT TO ME"
One of the more welcome surprise hits of early 2013 has been Scottish singer Emeli Sande's lush, soulful ode to her man (or possibly her lord--interpretation differs), "Next to Me." Comparisons to Adele and/or Amy Winehouse will be inevitable for obvious reasons, but Sande seems unique and talented enough to make her own lane in pop music, and no less an authority than Simon Cowell agrees.
28. CAZZETTE, "BEAM ME UP"
Certainly one of the more appropriately titled songs of the year, "Beam Me Up" achieves lift-off like few EDM songs of the year have thusfar, with a slamming beat and a rapturous ocean of static-y synths triggered by the titular undeniable directive. You can bet the producers of Project X were pissed the first time they heard this song that it came out too late for them to use in the movie.
27. DESTINY'S CHILD, "NUCLEAR"
No, it wasn't the big comeback single many were hoping for, and no, they didn't even end up playing it at the Super Bowl. Still, months later, "Nuclear" remains an indelible moment for Destiny's Child (as well as producer Pharrell), an intimate, quite lovely little love song throwback to the days of Shai and PM Dawn, the kind of song you imagine the girls grew up loving. It wouldn't have sounded great performed for 100 million people, but listening on your own (or with a special someone), it sounds just fine to us.
26. DRAKE, "5 AM IN TORONTO"
We like Drake when he's angry, and he sounds as incensed on "5 AM in Toronto" as any song he's been on in ages, going in over a spooky, Kraftwerk-meets-Hit-Boy beat(courtesy of the underrated Boi-1da), not even pausing for a hook or a chorus as he rants "A lot of niggas PR stuntin' like that's the movement / And I'm the only nigga still known for the music." Oh, and "That's why every song sound like Drake featuring Drake" is one of the best (and truest) hip-hop boasts in years.
25. JUSTIN BIEBER, "YELLOW RAINCOAT"
The most moving song Bieber's been involved with in some time, "Yellow Raincoat" (the best new track from Bieber's Believe Acoustic collection) sees the teen megastar attempting to turn a blind eye to all the drama and gossip he's been very publicly involved with over the last year or so, hoping in vain that his slicker can keep him protected from the downpour. As much as you can feel bad for a rich and famous 19-year-old with the world at his feet, you really can't help but feel for The Bieb on this one, as he warbles with audible vulnerability over plaintive dueling acoustics.
24. ACE HOOD FEAT. RICK ROSS & FUTURE, "BUGATTI"
Hook man Future and producer Mike Will Made It have proven the most indefatigable one-two punch of early 2013, nowhere moreso than on "Bugatti," in which Future mysteriously yelps about waking up in the recently acquired titular automobile while Will's zooming synths make that sound like the most dramatic occurrence in hip-hop history. Oh yeah, Ace Hood is on the track somewhere too, but you're not all that likely to notice or care that much.
23. ARIANA GRANDE FEAT. MAC MILLER, "THE WAY"
You could very easily forgive Mariah Carey for hearing Ariana Grande's low, breathy singing on the chorus to her debut single and wonder if she herself had recorded the song and just forgot about it. But fact is that Ariana does mid-'90s Mariah far better than 21st-century Mariah has recently, and her Mac Miller-featuring, Big Pun-interpolating pop/R&B jam is so sweet and so much fun that you can easily forgive her the imitaiton. Hey Mariah, don't hate the player, hate the game.
22. BEYONCE, "BOW DOWN - I BEEN ON"
Few of us saw a multi-part, rampage-aggressive, voice-screwed comeback single coming from Beyonce this year, but the Queen has become predictably unpredictable in recent years, and we wouldn't have it any other way. The list of performers who could demand the royal treatment from all listening, then turn themselves into Spring Breakers James Franco bragging about their "gold ass chain," then end things with H-Town parking-lot recollections of listening to UGK and appearing in Willie D videos--all in under four minutes--and not only get away with it, but sound awesome doing it...well, it's not a long one, anyway.
21. HAIM, "FALLING"
The four-member California outfit--three sisters, one not--has become a deserved underground sensation for their bubbly, sunny sort of dreamy pop-funk, as influenced by the Pretenders as by Fleetwood Mac. "Falling" is probably the best of their handful of singles released to date, a shout-along chorus with a whirring guitar part and a twinkling xylophone hook that combine to make it sound like the greatest lost pop hit of 1986.
For songs #20-11, including Bruno Mars and Imagine Dragons, click NEXT.
20. IMAGINE DRAGONS, "RADIOACTIVE"
Finding the halfway point between Linkin Park's "Burning It Down" and Alex Clare's "Too Close," Imagine Dragons' attention-demanding, stadium-ready second single upped the ante from breakthrough single "It's Time" and announced that the group was officially ready to become the fun. of crossover rock/pop for 2013. With a massive chorus and screamingly cinematic production, expect to hear this song in bars and in movie previews for the rest of the decade.
19. TYLER, THE CREATOR, "ANSWER"
It's weird to think of a natural rabble-rouser Tyler, the Creator releasing anything like a "mature second album," but his Wolf album is actually pretty close to that--nowhere moreso than on "Answer," a nakedly emotional retelling of his complicated relationship with his father, also touching on the passing of his grandmother and (if you believe his spoken-word outro) a soured relationship with his girlfriend. Built around a surprisingly stately slow-picked guitar riff and shuffling drums, the song never gets overwrought, and shows how much more there is to Tyler as a songwriter than Bruno Mars death threats and "Bitch Suck Dick."
18. PARAMORE, "NOW"
Paramore's new self-titled album, released today, shows that the group is capable of both sharp pop songcraft and epic rock scope, in ways we never would have expected. Before that, though, the band got back to basics with the absolutely blistering lead single "Now," its searing guitar, crashing drums and anthemic shout-along vocals showing that after a three-year absence which saw the group shed nearly half its lineup, Paramore has only gotten tighter and stronger in the interim.
17. CHVRCHES, "RECOVER"
Synth-pop trio Chvrches built buzz in 2012 with their singles "Lies" and "The Mother We Share," but they should officially bubble over with the release this year of their excellent Recover EP. The title track, a typically sparkling and lurching jam, also features the group's best-yet lyric, about a pivotal moment in a relationship, with a devastating two-part chorus keyed around the instantly unforgettable titular question: "And if I recover / Will you be my comfort?"
16. BRUNO MARS, "WHEN I WAS YOUR MAN"
Perhaps the biggest credit to Bruno Mars and his dominance over pop radio in this decade is that when he follows up a funky, Police-aping rave-up like "Locked Out of Heaven" with a stark, piano-only torch song, neither sounds all that out of place, even though nothing else in the Top 40 sounds remotely like either. That's largely because as undeniable as "Heaven" was a party starter, so is "Your Man" as a heartbreak ballad, sounding relatable and timeless and immaculate and containing at least one note--you know the one--of absolute pop transcendence.
15. J. COLE FEAT. MIGUEL, "POWER TRIP"
A much less broad heartbreak ballad than "When I Was Your Man," but one arguably more affecting in its bleary-eyed, late-night confessional vibe. The song's hook is jarringly raw and strained for a lead single, Cole bleating "She got me up all night / Constant drinking and love songs" as if it was both written and recorded at the end of one of those insomniac benders. J.'s rapping about his unrequited "longest crush ever" is affecting enough, but it's the chorus--contrasted with the always-smooth Miguel's "Would you believe me if I said I'm in love?" crooning--that keeps you coming back to it.
14. JUSTIN TIMBERLAKE, "SUIT & TIE"
It didn't carry with it the shock of the new that Justin's first two lead singles did, and it doesn't care nearly as much about pushing the envelope as it does pushing you out on the dance floor. If you can get over that, you can still feel free to enjoy one of the catchiest songs JT has ever put out, and a jam that kind of makes you want to get married just to have an excuse to shimmy to it in the titular garments (and preferably while also in the swing of love). Even Jay-Z's much-maligned guest verse is growing on us a little. "They ain't lose a daughter, got a son / I show you how to do this, huh!"
13. ANNA KENDRICK, "CUPS"
Hard to imagine how an 87-second a capella cover of a YouTube sensation by a non-professional singer based on an overnight camp cafeteria trick could possibly comprise one of the most likeable pop songs of the year, but those are indeed the circumstances with Anna Kendrick's "Cups," taken from her audition scene in Pitch Perfect. Cute, catchy and inexplicably compelling, "Cups" may not end up as the launching pad for a long and fruitful career for Anna Kendrick in pop music, but it will be a brilliant inclusion on any future mix attempting to feed '10s nostalgia.
12. PHOENIX, "ENTERTAINMENT"
There have been few safer bets in alternative pop/rock over the last decade than the lead single from a Phoenix album, and "Entertainment" is no exception, riding in on a roaring guitar riff and an obviously Eastern-influenced synth riff and eventually exploding into one of the band's typically enigmatic choruses ("Entertainment / Show them what you do to me"). It was mixed on the same console that MJ used for Thriller, and while it may not exactly be the equal of "Beat It" or "PYT," it does provie one of the biggest and best pop head rushes of early 2013.
11. NEW KIDS ON THE BLOCK, "REMIX (I LIKE THE)"
At the height of the recent wave of boy bands, here come the not-so-New Kids to show the young'ns how it's done. Except "Remix" isn't like NKOTB, or any other boy band, has ever done it--a muscular, soulful workout that's far more Bruno Mars than One Direction, with one of the year's most clever pop lyrics and a video that might cause inappropriate dancing outbreaks nationwide. If this is New Kids on the Block 2.0--maybe more like 4 or 5.0--then we gotta say that we like the remix pretty OK ourselves.
For our top ten songs, click NEXT.
10. GIRLS' GENERATION, "I GOT A BOY"
You can hear the cranks of the factory machinations when listening to a lot of K-pop, but that's certainly not the case with Girls' Generation's hyperactive, multi-part pop opus, "I Got a Boy." Probably the only K-pop song ever to be compared to Queen's "Bohemian Rhapsody" (with any fairness, anyway), the alternately coy, strutting and gleeful "I Got a Boy" is guaranteed to leave you dizzy with its rush of disparate but cleverly connected pop thrills, but you'll want to keep listening to it until you can wrap your head around it. Good luck with that, by the way.
9. KENDRICK LAMAR FEAT. JAY-Z, "BITCH DON'T KILL MY VIBE"
Kendrick's blissed-out, laid-back "Vibe" was a gem from the first time we heard it on good kid, m.A.A.d city, but the song's official remix takes the song even further into the clouds, with guest rapper Jay-Z a far more logical older-generation complement to Kendrick than real-life mentor Dr. Dre ever was. Jay sounds as relaxed as he ever has since his Blueprint days trading verses with Kendrick, dropping couplets like "No, I don't 'member you, I don't intend to empty my memory bank / It's a million dollars in it, baby, Hilary Swank," while Kendrick raises his own game to keep up with the legend, invoking everything from Trinidad James to Black Swan to show how sweet it is to be K dot right now. Delivered over that easy-like-sunday-morning beat, we don't need all that much convincing.
8. LITTLE MIX, "WINGS"
It's finally starting to bubble under in the U.S. mainstream, but we wish it would just go ahead and burst already. "Wings" has grown on us as one of the most undeniable pop singles of the decade, slapping you in the face with its booming horn intro, stomping beat and allk singalong chorus--if you turn away for even a second while the video's on, you feel like the Little Mix ladies might jump off the screen and jerk your head back around. Not only do they have songs worthy of the Spice Girls, they have the swagger as well, and if they can't help bring back the girl group to Top 40 prominence, it's hard to imagine who will.
7. A$AP ROCKY FEAT. DRAKE, KENDRICK LAMAR & 2 CHAINZ, "FUCKIN' PROBLEMS"
The song that gave A$AP Rocky his long-overdue mainstream breakthrough, "Fuckin' Problems" is the kind of pop-leaning radio smash (but no so pop-leaning as to result in Flo Rida) that hip-hop has been so badly missing in recent years, with just a catchy chorus, a memorable beat, and generally positive vibes from all involved. (When your "Fuckin' Problem" is your all-consuming love of bad bitches, it's really not that much of a mood-killer.) Not to mention that if you needed one time-capsule song to represent what mainstream rap was like in 2013, you could do a lot worse than a jam in which Rocky, Drake and Kendrick Lamar do some friendly sparring for Hottest Rapper in the Game honors with their respective verses, while 2 Chainz comes off the bench to sing-rap the hook. Throw in a "Mike Will Made It!" vocal ID and you've pretty much got the best of it right there.
6. KACEY MUSGRAVES, "MERRY GO 'ROUND"
As Kacey Musgraves' debut single, defeated small-town tale "Merry Go 'Round" announced the introduction of a fresh new voice to country music, one which didn't celebrate unreservedly all that the culture had to offer, and had the guts to call out some of the hypocrisies and prejudices that can make the genre's oft-celebrated small-town life so stifling. But Musgraves' anti-establishment tendencies wouldn't resonate nearly so much in "Merry Go 'Round" if they weren't delivered with such detail and sensitivity by the singer/songwriter Kacey, who sings like somebody who's really been there--possibly still is--and has no idea how to break the cycle. To call it "refreshing" would be an understatement, to call it "promising" would be an even bigger one.
5. PINK FEAT. NATE RUESS, "JUST GIVE ME A REASON"
A gorgeous ballad courtesy of two of popular music's best current vocalists, we're kind of mad with ourselves that we didn't see "Just Give Me a Reason" coming as the third single off Pink's excellent The Truth About Love, and probably her biggest hit off the album yet. The chemistry between the two singers is excellent, their voices seemingly pushing each other to greater heights as the song progresses, and though the Jeff Bhasker-produced track has more in common with "We Are Young" than "Blow Me (One Last Kiss)," the subject matter--a couple basically begging each other to provide an excuse for them to stay together--is as Pink as it comes. The result is an instantly classing-sounding duet that marks a worthy addition to both artists' increasingly impressive back catalogues.
4. DRAKE, "STARTED FROM THE BOTTOM"
Like Take Care advance single "Headlines," "Started From the Bottom" wasn't an immediate grabber--there's no big hook to speak of, the chorus is a little one-note and repetitive, and the song's short run time came and went without making a huge impression. But as was also the case with "Headlines," "Bottom" was a creeper, burrowing its way under your skin with its swirling, piano-led beat and snare-heavy shuffle, and its mantra-like hook, which quickly turned into a classic hip-hop catchphrase with its matter-of-fact simplicity. It's more intriguing than it is catchy, but it's also more intriguing than anything else on the radio, and most of all, it does what all lead singles should do--leaves you chomping at the bit to hear the new album.
3. DEMI LOVATO, "HEART ATTACK"
You feel short of breath just listening to "Heart Attack," so committed is Demi's vocal to expressing just how nutty this romance is making her that she seems to completely forget about respiration. "Attack" is as addictive as last year's "Give Your Heart a Break," but goes in the complete other direction lyrically, her hyperactive wail sounding even more suited for bemoaning just how much she REALLY DOESN'T WANT TO FALL IN LOVE DAMMIT NO than how much she wants a guy to let her try a little tenderness, especially as the drum machine goes nuts and the violins scrape faster, faster underneath her. Few songs about stubbornly not falling in love will ever be this much fun.
2. TEGAN AND SARA, "CLOSER"
OK, this song had already been out a little while, but we didn't totally fall for it until it started getting a little further exposure with increased play on VH1 and in commercials, and especially once its parent album Heartthrob came out, still our favorite pure pop record of the year to date. Always a duo with razor-sharp pop instincts, even when they were more of an indie proposition, Tegan & Sara go for the jugular on "Closer," as shimmering, hooky and undeniable a pop song as you're likely to hear in 2013 from the first "All I want to get is...a little bit clo-seee-errrr." By the time the night sky changes over and the the chorus kicks in full throttle ("IT'S! NOT! JUST ALL PHYSICAL!"), you wonder why it took nearly a decade from them to get from "Walking With the Ghost" to this, and you're willing to slug anyone who even thinks of calling them sell-outs.
1. JUSTIN TIMBERLAKE, "MIRRORS"
Regardless of your thoughts about "Suit & Tie," about The 20/20 Experience, about the whole JT Mach III story that dominated pop music in the first three months of 2013, you had to give it up for one thing: You'd never heard anything like "Mirrors" before. An eight-minute, metaphor-heavy ode to a soulmate with a crowd-pleasing (and crowd-participation-demanding) chorus, a beatbox-and-string-heavy beat led by an echoing guitar riff, and a three-minute outro that sounds like the original song melting into a puddle of love--we'd come a long way since "Senorita," certainly. It's totally bizarre, and it totally works--moving, captivating, stirring in the way that precious few pop songs a year truly are. It's the kind of song where it frustrates you how many words there are to remember in the chorus, because you want to be able to sing along to it as soon as possible. If this was all you had left us with from your second comeback, Justin, it would have been enough.
UPDATE: THE BEST SONGS OF APRIL 2013!
PLUS: THE 15 BEST SONGS SET TO RULE THIS SUMMER!
Agree with our #1? Think we missed something super-obvious from 2013's first quarter? Have a list of your own to share? Let us know all about it, here or @Popdust on Twitter!