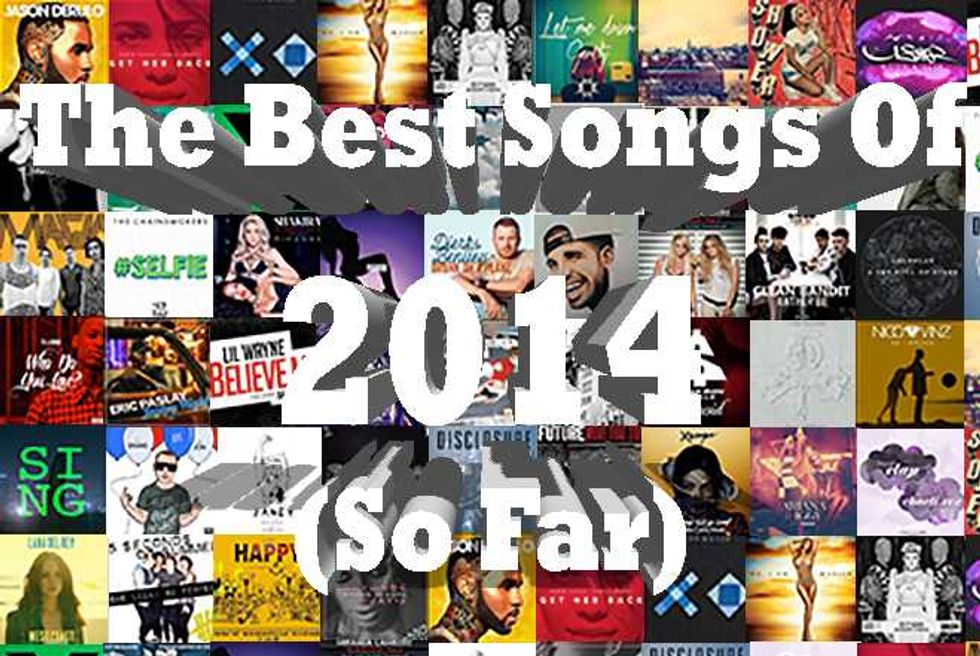 We may have just come out of the most patriotic of American days this past weekend, but if you look at the Billboard charts these days, it's far more World Cup than Fourth of July. As pointed out by John Cunningham on Twitter, the top five of the Hot 100 last week included five lead artists of different nationalities--Australian, American, Canadian, British and Norwegian, to be specific. The songs are as diverse as the geography, too: Trap-and-Gwen-Stefani-influenced hip-hop, jazzy throwback R&B, reggae pop, classic soul balladry and...well however you wanna classify "Am I Wrong." Not to mention that all five artists are newbies to the top five, and only one of them had even sniffed the Hot 100 before 2014.
This is pop music in 2014, and it's a pretty cool thing. Hegemony has all but vanished from the top of the charts, and we're overrun with unlikely crossover hits, fun fluke one-offs, and new potential powerhouses that who may soon be as dominant as the megastars they've temporarily supplanted. However, it's not like the pop elite has gone silent, either--a couple of our biggest stars have cast a shadow over 2014 as well, reminding us how far the Iggy Azaleas and Sam Smiths of the world still have to go to get on their level.
With all that in mind, here's Popdust's list of the Top 50 songs of the first half of 2014, with a link to a Spotify playlist of all available songs at the bottom of the final page. Enjoy your Independence Day weekends, and celebrate all that's wonderful about pop music in America right now.
50. ROBIN THICKE, "GET HER BACK"
So Paula was a little tone-deaf as far as divorce albums go, and even lead single "Get Her Back" seems to miss the point a little bit. But the song's restraint and understated groove are surprisingly compelling, and nobody in contemporary pop breaks out the hushed falsetto quite like #Thicke.
49. JASON DERULO FEAT. SNOOP DOGG, "WIGGLE"
As stupid, catchy and stupidly catchy as "Talk Dirty," but without any of the racial awkwardness. A deserved smash hit for an artist that's now had way more of them than any of us could have possibly predicted five years ago.
48. JOHN MAYER, "XO"
When an artist as polarizing as John Mayer deigns to take on the Queen, and not even the biggest Twitter haters manage to get up-in-arms about it, you can bet that it's a pretty damn good cover.
47. ARMIN VAN BUUREN, "PING PONG"
An unapologetic rip-off of "Animals"? Sure, but so are most of Martin Garrix's subsequent singles, and none of them are half as much fun as this.
46. MARIAH CAREY FEAT. NAS, "DEDICATED"
In which Mariah and Nas embrace their imminent pop middle age with good-natured aplomb and a groove worthy of the old-school jams they fetishize. Bonus points to Mariah for not getting too caught up in back-in-the-dayness to know that it's mostly just nostalgia talking, bonus points subsequently lost by Nas for forced use of the word "Draconian."
45. ROKYSOPP & ROBYN, "DO IT AGAIN"
The long-awaited return of the underground darling did not disappoint, especially not with Norwegian dance-pop countrymen Royksopp in tow. "Do It Again" was the title track and arguable highlight of the collaborative EP, but if you're a pop fan and haven't heard and loved the whole thing by now, you might wanna get on that before reading the rest of this countdown. We'll wait.
44. LA ROUX, "LET ME DOWN GENTLY"
"Let Me Down Gently" wasn't ever gonna be the crossover smash that "Bulletproof" was, mostly because its appeal is more of a slow burn--hell, the beat doesn't even kick in until halfway through the song's nearly six-minute runtime. But it's just as compelling a song, complete with '80s sax, "Unbreak My Heart"-style breathiness, and an undeniable, surprisingly affecting chorus ("You're not my life, but I want you in it") at its core.
43. AMERICAN AUTHORS, "BEST DAY OF MY LIFE"
If this is indeed the first and last we hear of American Authors, we thank them for helping us kill time as a society in between Imagine Dragons albums, and wish them well on their way to the eventual '10s nostalgia circuit.
42. BECKY G, "SHOWER"
17-year-old pop rapper Becky G dials the in-your-face brattiness back and lets her song breathe a little bit, and is justly rewarded with the first solo pop hit of her career. Had it really taken this long for singing in the shower--one of the fundamental rituals of pop worship--to form the center of a Top 40 hook? Pity.
41. USHER, "GOOD KISSER"
Comparisons to previous lead single "Climax" will not do this song a ton of favors, but comparisons to the majority of contemporary R&B will. Usher's singles remain more fun, more insidious and more self-possessedly adult than any of his radio peers, and "Good Kisser," with its multi-tracked harmonies, hypnotic bass bubbling and extensive cowbelling is no exception. Album soon, please.
40. JOHN LEGEND, "ALL OF ME"
Fact: By the time you finish reading this sentence, another six American couples will have danced their first dance as newlyweds to this song. Hope John Legend is getting royalties off the booming sales at Zales and Jared.
39. DISCLOSURE FEAT. MARY J. BLIGE, "F FOR YOU"
If Disclosure deserves credit for something beyond tapping into the considerable house diva potential of the Queen of R&B, it's gotta be the resurrection of the monotonous vocal style from Funky Green Dogs' "Fired Up!" In case you forgot (or never knew), that song knocks.
38. ED SHEERAN, "DON'T"
Ed still has much to learn from his pal Taylor Swift about writing a truly eviscerating post-relationship song, but he does share her gift for catchy choruses and instantly memorable hooks, as well as her ability to get pop audiences playing guessing games about celebrity subject matters. (Sheeran swears the song isn't about Swift herself, and we have no choice but to believe him if we want to be able to sleep at night.)
37. JUSTIN TIMBERLAKE, "NOT A BAD THING"
Not that we weren't mostly in on the seven-minute disco-funk-pop epics, Justin, but y'know...nice little love song...under five minutes...every now and then...not such a bad thing itself, is all we're trying to say. JT is right about to kick off yet another leg of his The 20/20 Experience World Tour, for which you can find tickets for every Justin Timberlake Concert here.
36. FUTURE ISLANDS, "SEASONS (WAITING ON YOU)"
"I'll take all of that you got!" Amen, Dave. Amen.
35. JHENE AIKO, "THE WORST"
"Don't take this personal / But you're the worst, you know what you've done to me." Only one other artist in hip-hop or R&B could combine self-pity, passive-aggression, genuine hurt and true anger into two lines in a chorus right now, and it shouldn't surprise you to hear you'll be seeing his name a handful of times before this list is over.
34. JAKE OWEN, "BEACHIN'"
We should probably be exhausted with country stars extolling the virtues of their home territory via rapped verses and a sung chorus--it has been three years since "Dirt Road Anthem," after all. But man, when it comes in a song as blissed-out as this--oohwee, that guitar lick-it's hard not to long for this song's lyrical cliches (white sand, cold cans) to become your reality right quick. Don't worry, be happy, indeed.
33. CALVIN HARRIS, "SUMMER"
To whoever convinced Calvin Harris that it was time for him to starting singing again, we owe you a sincere debt of gratitude. All it took was one croaked "When I met you in the summer," and it's like getting to hear "Feel So Close" for the first time all over again.
32. LORDE, "TEAM"
Could this song actually hold up better than "Royals" some years down the line? Unconfirmed, but half a year into the pop reign of "Team" and we're still nowhere near sick of this song--which certainly bodes well for the longevity of the second hit of an artist most tabbed as a sure one-hit wonder.
31. MAGIC!, "RUDE"
Yes, it's a very silly song made by some very silly dudes, but if you can't find the joy in an adorably catchy and oblivious song by a bunch of goofy white Canadians, we're not sure how any of you could have possibly survived the late '90s.
30. THE CHAINSMOKERS, "#SELFIE"
2014, everyone. You won't believe how quickly all of this will end up sounding impossibly quaint and naive.
29. SHAKIRA FEAT. RIHANNA, "CAN'T REMEMBER TO FORGET YOU"
When a sexy and totally skankin' collaboration between two of the world's biggest pop stars can top out at just being a minor U.S. hit, you have to wonder if it's just been too long since the last ska revival in this country. Might be getting near time to sound the Two-Tone alarm.
28. BEYONCE, "PARTITION"
The creepingly seductive highlight of Beyonce's self-titled album made for an unlikely single, but "Partition" won audiences over the course of 2014's first half, its booming bass, nocturnal synths and unexpectedly explicit lyrics becoming sneakily unavoidable on radio and elsewhere. It took a dream team of writers and producers--about eight of 'em, most with very familiar names--to create "Partition," but the final product was easily worth the effort.
27. DIERKS BENTLEY, "DRUNK ON A PLANE"
Like the Samuel L. Jackson meta-action flick its title evokes, "Drunk on a Plane" is about exactly what you think it's about, and is all the more winning for its simplicity and directness. Bentley sounds like he's having so much fun extending the song's scenario to its inevitable conclusion, raving about his "mile-high flight attention," that you wonder why more country jams don't box themselves into a specific, relateable and totally irresistible songwriting scheme like this.
26. DRAKE, "DRAKE DAY"
"Last night I tried some raw oysters." Like Johnny Manziel and Andrew Wiggins in their respective lines of work, Drake continues the rap game with the hunger, energy, and borderline-naivete of a rookie, still bringing his A-Game even on throwaway promotionals that'll likely never be commercially released. We can only hope he's still this much the man another five years from now.
25. MIRANDA LAMBERT & CARRIE UNDERWOOD, "SOMETHIN' BAD"
Country's not quite big enough for a Miranda Lambert and Carrie Underwood duet at maximum wattage, so it's understandable the two turned to Def Leppard-style arena rock for their blockbusting collab. It's a great fit for them, anyway--all heel-snapping, face-smacking ballsiness, which no two women in country are better suited to handle--and you have to imagine the producers of Nashville are smacking their heads that they didn't secure the song for a pivotal Rayna and Juliet duet in season three instead.
24. CLEAN BANDIT FEAT. JESS GLYNNE, "RATHER BE"
We certainly wouldn't have tabbed a turn-of-the-century UK house resurgence as the likely next big thing in dance music. But if these are the early fruits--the recent crossover success of Disclosure, Naughty Boy, Duke Dumont and now this jaunty piano-and-string-led number with nearly bottomless likeability--sign us up for the two-year plan, please.
23. COLDPLAY, "A SKY FULL OF STARS"
We've been begging Coldplay to go full EDM for so long now--so much so that we soaked up the Tiesto and Swedish House Mafia remixes of Mylo Xyloto jams as if they were new singles themselves--that we feel almost unready for it now that a Coldplay club banger is here, and just as glorious as we'd always anticipated. You did us a solid with this one, Avicii, and we will remember this when we are suffering through your next attempt to fuse house music with polka or gypsy hymnals or whatever.
22. YG FEAT. DRAKE, "WHO DO YOU LOVE?"
The five-word chorus, the three-tone bass pattern and the seven-note bass riff. You could have had Ryan Seacrest and Carson Daly rapping on this thing and it still would've banged out of car stereos all through the summer. That it was YG and Drake instead was a nice plus, but ultimately inessential.
21. ERIC PASLAY, "FRIDAY NIGHT"
If you're going to have a hit song with a title like "Friday Night," it better be exciting from its first notes, sound great on a bathroom radio, and have a chorus that's an instantly compulsory singalong. Check, check, and check. Well done, Eric Paslay--Johnny Kemp should have your invitation to this year's Weekend Song Hall-of-Fame induction ceremonies in the mail presently.
20. LIL WAYNE FEAT. DRAKE, "BELIEVE ME"
"Believe Me" is Lil Wayne's best single in years, largely because it's not really a Lil Wayne single--he mostly sounds like a guest on his own track, with Drake getting the chorus and most of the best lines ("One Direction numbers"!) and the real star of the song being the minimal, almost unsettling bass-and-drum crawl of the Boi-1da and Vinylz beat. Still, Weezy isn't without his moments here, and mostly, it's just awesome to see boss and lieutenant trading verses like old times over a beat and hook that doesn't overwhelm either--just two solid rap bros that happen to be two of the biggest stars on the planet.
19. SAM SMITH, "STAY WITH ME"
What's really interesting about Sam Smith's epic sleepover anthem is that it's actually runs but a scant 2:52--a conspicuously short time for a big pop ballad in 2014. But the UK balladeer packs every word and every chord with such urgency and enormous depth of feeling--and he gets a good deal of help from the gospel choir on those chorus title chants--that the song never feels the slightest bit clipped. Sam Smith knows the importance of a good elevator pitch--short, precise, getting the point across--even in the bedroom.
18. SIA, "CHANDELIER"
One of the most important behind-the-scenes figures in recent pop music steps back in front of the microphone as a lead artist, and the results are as weird and compelling as you'd expect. The verses are barely intelligible, swallowed in a pool of auto-tune and Sia's own mumbling--at least partly intentional, given the song's roots in Sia's history with alcoholism--but then Sia swings in with that wrecking ball of a chorus, barely keeping one of the most off-kilter pop songs of the year from completely drifting off its axis. The video, MTV's best one-woman show since Robyn's "Call Your Girlfriend," explains little, and we wouldn't want it any other way.
17. WIZ KHALIFA, "WE DEM BOYZ"
It sounds like a recipe for the worst song of the year: Wiz Khalifa spending an entire song warbling stream-of-consciousness lyrics about sex and drugs in auto-tune, interrupted only by endlessly repetitive chants of him screaming "HOLD UP HOLD UP HOLD UP / We dem boyz!" It's impossible to tell why it works, but work it does--there might not be a better rap song this summer to crank to maximum volume and absolutely lose your shit to, hollering along with every "HOLD UP HOLD UP!" But that's at least a quarter of the greatest pop music out there for you--so stupid that it just might work.
16. TY DOLLA $IGN FEAT. B.O.B., "PARANOID"
The most conspicuous thing about "Paranoid" is the sheer amount of space in it. The gaps of silence in between plinks of the "Show Me Love"-inspired synth hook are as massive-sounding as any of the more overstuffed hip-hop beats this season, and Ty Dolla $ign's oddly gorgeous self-harmonizing about his duplicitousness on the chorus certainly keep it from drifting into aimlessness. Not only a totally unnecessary and kind of off-brand guest verse from B.o.B. can weigh this thing down.
15. HOW TO DRESS WELL, "REPEAT PLEASURE"
Sam Smith may outsell him 20 times over, but if you're looking for the white man who made the best R&B-influenced album of 2014, it is certainly Tom Krell, better known as How to Dress Well. HTDW's penetrating falsetto--really, that thing gets in there--had long made his vocal productions must-listens, but he's added a tunefulness and pop sensibility to his work, as best seen in total jams like the What Is This Heart? highlight "Repeat Pleasure," that takes his work right into the stratosphere. It's like the Weeknd mixed with early '90s Michael Jackson, and if you wouldn't have guessed that that's the blend of music you'd need in your life right now, one listen and you'll be properly informed.
14. NICO & VINZ, "AM I WRONG?"
In a summer of unlikely hits, perhaps none has thusfar have been more unpredictable than Nico & Vinz's "Am I Wrong"--it's not often that you see the upper echelon of the Hot 100 broken into by a latin-tinged reggae fusion track made by a duo of Norwegians. But a couple listens to "Am I Wrong?" and it stops seeming all that unlikely--it speaks the language of pop music, filled to the brim with hooks and the kind of overstuffed exuberance that makes for great radio takeover jams at this time of the year. It's a good enough formula that Maroon 5 have already basically ripped it off for their own new single, so you know they're doing something right.
13. ED SHEERAN, "SING"
We hadn't gotten a ton of previous indication that Ed Sheeran wanted to be on more of a Justin Timberlake career track, but one Pharrell beat and all of a sudden he's trying to make the next "Like I Love You." What's more, he's doing a pretty damn good job of it--the falsetto, the choppy acoustic riff, even the half-decent sing-rapping, it's all very JT 2.0. Since the original version's too busy trying to make the cheesy pop version of Dark Side of the Moon to bother with this kind of fare anymore, we're grateful to Ed for making the effort. Sing!
12. DJ SNAKE & LIL JON, "TURN DOWN FOR WHAT"
You'd think the man responsible for the compulsory shout-along hooks for crunk-time party classics like "Get Low" and "Shots" would have long stopped even trying to top himself, but in "Turn Down for What," Lil Jon might have found his masterpiece. 40 years from now, there'll still be DJs who drop this in a set, lead up to the titular yawp, hold the mic to the crowd and listen to 20,000 drunk idiots scream it back to them. Nobody will be 100% sure what it means then, either, but it'll still sound cool as shit.
11. IGGY AZALEA FEAT. CHARLI XCX, "FANCY"
"First things first, I'm the realest." OK, that one might not make it past the polygraph, but even with a mostly forgettable and sporadically downright fraudulent Iggy Azalea verse, "Fancy" is still one of the year's best (and obviously biggest) jams, thanks to the faux-DJ Mustard boom-bap of the Invisible Men beat, and the instant connection of the chorus, provided by the eternally cool (and eternally magnanimous with her hooks) Charli XCX. Even Charli's bridge ("Let's get drunk on the minibar!") carries more swag with it than 95% of rap songs you'll hear in clubs this year--next time, she gets to be Cher in the music video.
10. DRAKE FEAT. SOULJA BOY, "WE MADE IT"
"In 2007, I sat in the lobby of Motown and waited / Now I walk into the building and go off like "N---a, we made it!" It's triumphant, for sure, but that PurrpDogg beat is so ridiculously booming and swaggering that the whole thing comes off as seductively malevolent, like the coolest supervillain on the block giving you a tour of his badass, tricked-out compound. There's no real joy in it, because from the sound of "We Made It," Drake's been too rich and too successful for too long to really see it as anything but status quo. Now he's just handing out business cards, stunting on them haters.
9. DISCLOSURE FEAT. SAM SMITH, "LATCH"
It wouldn't be surprising if we looked back in a decade or so and viewed "Latch" as the most important single of 2014. Not just because it introduced the US to its next new singing sensation in guest star Sam Smith, but because it was the first dance megahit of the post-EDM era to be obviously concerned with songcraft, emotional connection and lush atmospherics, more than when the drop was going to hit or how huge the thousands of synth layers were going to sound. Not that there's anything wrong with huge drops and thousand-layered synths, but we've certainly had plenty of that lately, and in 2014, we might be ready for something different, as the deserved slow-burn success of "Latch" certainly would seem to indicate.
8. FUTURE FEAT. PHARRELL, PUSHA T & CASINO, "MOVE THAT DOPE"
The key to making a good drug-dealing song, at least as evidenced by "Move That Dope," is to make it sound like a business operation at maximum efficiency. There's no excitement, exactly, for pushing in "Move That Dope," it's just four rappers moving the package along the assembly line, while taskmasters whisper "Young ni--a, move that dope" and "Ah...push it..." in the background like the singers chanting "OOH!" and "AHH!" in the chorus to "Chain Gang." It doesn't make the game sound glamorous, it just makes it sound brilliantly streamlined. Consequently, "Move That Dope" might not inspire anyone to become a drug dealer, but it might launch a thousand careers in operations management.
7. MICHAEL JACKSON, "LOVE NEVER FELT SO GOOD"
The crazy thing isn't just that L.A. Reid and Epic Records had an MJ song this good in the can for so long without releasing it, it's that Michael recorded a song this good at any point since 1992. "Love Never Felt So Good" doesn't just sound reminiscent of Michael's best Off the Wall jams, it hits all the same high notes as them, the kind of notes that just get under your skin and get you moving and feeling before you totally understand what's even happening to you. It's the kind of song that reminds you "Oh yeah, there's a reason why everyone agrees this guy was the best do ever do this," and makes you sad at the thought that Michael made have still had a whole album of these left in him if things had gone differently in his personal life those last...20 years or so.
6. ARIANA GRANDE FEAT. IGGY AZALEA, "PROBLEM"
Ariana Grande seemed to be on the doorstep of megastardom by the end of 2013, just one song away from going completely over the top. One listen to "Problem" and it was pretty clear that song had arrived--between Ariana's gleeful cooing, Big Sean's thankfully low-volume chorus contributions and that absolutely unstoppable sax riff, there was no question this thing was going to go supernova. Even Iggy Azalea's appearance is welcome this time around, kept short and sweet and clever enough: "I got 99 problems but you won't be one" might be copped from another rapper, but it's still the most memorable line of hers we've heard to date.
5. CHARLI XCX, "BOOM CLAP"
Tired of just giving hits away to lesser artists, the best underground pop star of the 2010s finally decided to have a smash on her own. A high-profile appearance on the Fault in Our Stars soundtrack certainly helped, but "Boom Clap" shouldn't have needed it--the song is so perfectly catchy and evocative and bursting with youthful passion that it could've inspired a YA novel franchise on its own. Naming a song after an onomatopoeia is always risky if the song doesn't hit with that forcefulness the title implies, but the heart-massaging "Boom Clap" need not worry about these issues, or anything else, really. If this isn't the first of a dozen such hits for Charlotte Aitchison as a lead artist, then I guess we didn't deserve her as a country anyway.
4. LANA DEL REY, "WEST COAST"
Lana Del Rey didn't just shy away from the megasuccess of the EDM remix of her "Summertime Sadness," she ran screaming from it and locked the door on it as soon as she got inside. "West Coast" is about as far away from a club-ready remix of anything that Lana could've done, a song that starts off slow and groovy and gets even more down-tempo on the positively narcotic chorus. It won't make as many bachelorette karaoke nights as a result, but it might be her best song yet, a legitimately breathtaking ballad that doesn't just evoke the memories of Lana's heroes of bygone days, but is as transfixing and alluring as most of their classic work.
"West Coast" marked the moment that Lana forever moved out of the shadow of being an SNL punchline, as well as the moment when it became obvious that none of the shenanigans involving the authenticity of her image and the occasional controversy-courting comments she makes in her art and her interviews really matter. Fact is, nobody else is making music like this right now, and even if they were, nobody could do it quite like Lana Del Rey anyway.
3. 5 SECONDS OF SUMMER, "SHE LOOKS SO PERFECT"
Combining the best elements of One Direction, the Jonas Brothers and Blink-182, 5 Seconds of Summer crashlanded on U.S. shores in 2014 with the best boy band single in years, and have declined to relent in their takeover since. Not only are the riffs and the production head and shoulders above the fare produced by most teen-poppers, but the lyrics are on a complete other level: "Your lipstick stain is a work of art / I got your name tattooed in an arrow heart" basically could've appeared in an early '80s Squeeze hit. (Not to mention that everyone knows that a "mixtape straight out of '94" is the way into any girl's heart--one whose heart is worth getting into, anyway.)
Clever as the lyrics may be, the best and most important line in the song is just "HEY-EY-EYYYYYYYYY!!!," the post-chorus moment where the guitars and backing vocals rise in unison and remind you of everything from "All the Small Things" and "The Middle" to "Burnin' Up" and "What Makes You Beautiful." 5 Seconds of Summer are poised to become the biggest sensation in American pop music this year, and if they never give us anything better than "She Looks So Perfect," it'll still be richly deserved.
2. PHARRELL WILLIAMS, "HAPPY"
An underrated thing about the most universally agreeable pop song of the last decade: Its refusal to demand that you get on its level. You can clap along if you feel like a room without a roof, but if the room you feel like happens to have some sort of covering to it, that's OK too. And maybe that's why "Happy" really does sound so goddamn happy--because the happiest people don't need your agreement to validate their own feelings. They're just cool, so if you're cool, then that's cool. Pharrell will be just fine regardless, and can't nobody bring him down.
If Pharrell insisted on every listener being as ecstatic as he was, "Happy" would probably still be a hit, but maybe not as big as one. Because nobody's that happy all the time, even while listening to a natural endorphin-releaser like "Happy." But because "Happy" welcomes you to the party even if you're feeling a few shades bluer than Mr. Williams, it's a song for all people in all seasons. Let that be a lesson to you other performers and DJs out there who insist on seeing every fucking hand in the building go up for you as you hit your climax. Be cool. Be happy.
1. BEYONCE FEAT. JAY Z, "DRUNK IN LOVE"
If you were to count the number of pop songs over the last 15 years where at least half the lyrics had achieved some degree of iconic stature, at least half of them would bear the name of one of the two artists listed on "Drunk In Love." No surprise, then, that "Drunk in Love" should be the latest entrant to that club, and boy does it work for its membership: "Grindin' up in that cloob," "Eat the cake, Anna Mae," "We be all night!," "Cigars on ice," "If I do say so myself," "Boy, I'm drinkin'," "Ain't got the time to take drawers off," and, of course, "Serfbort."
Basically, "Drunk in Love" is already its own chapter in the pop encyclopedia, and Beyonce's first hit since "Single Ladies" to be the kind of culture-defining smash that a lesser artist would base their entire career off of. (Yonce has like eight of 'em, maybe more if you count Destiny's Child hits.) Years from now, when everyone has forgotten about the elevator business, the underwhelming sales for the On the Run Tour, and everything else that threatens to put a chink in the armor of America's second-most-beloved power couple, we will still remember every lyric to "Drunk in Love," and we will still be all night! LOOOOOOOVE.
Got some thoughts about our top 50 songs of 2014's first half? Want to submit your own Spotify playlist? Think you know the song that's gonna unseat "Drunk in Love" in the year's second half? Tell us about it in the comments, or tweet us @Popdust to let us know how you feel.