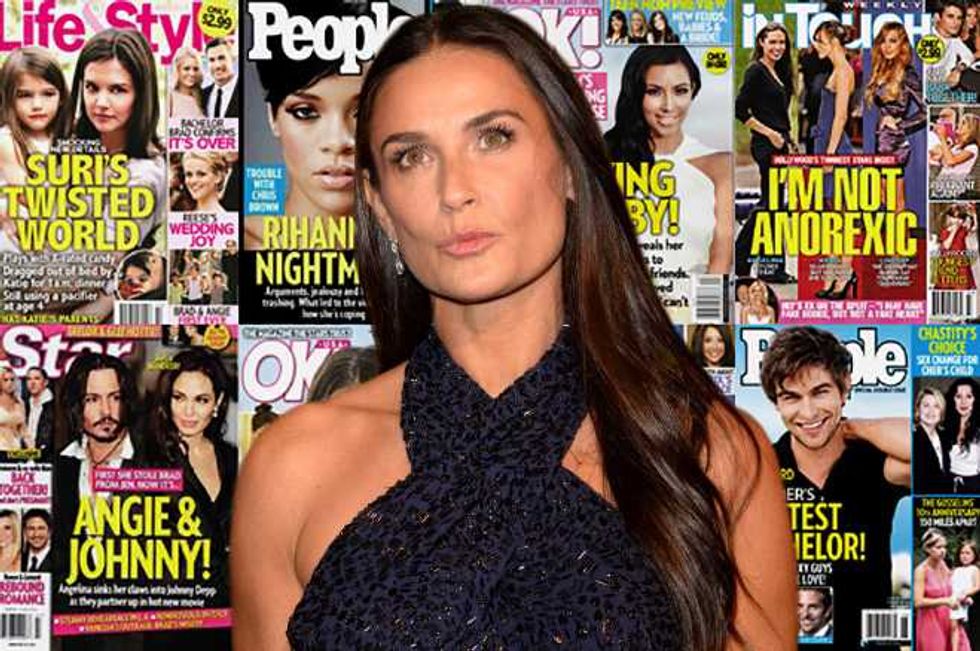 Since Demi Moore stubbornly continues to do nothing of any import, as Popdust noted here, the tabloid press is working overtime to fill in the void.
"Demi Moore Adoption Claim Rubbish, Sources Say" blares the MailOnline, ever ready to debunk non-existent stories even at the expense of its own made-up headlines.
So, no, Demi will not be adopting a baby in Mexico, not that anyone expected her to, but now you can cross that off the list of things she might be doing in an alternate universe. Instead, Demi might be opening a non-profit yoga retreat in Tulum, a Mexican tourist destination known for its Mayan ruins. Sure, what the hell, why not?
Or wait, according to another tabloid quoting another unnamed 'source' Demi is planning a trip to India to escape the fanfare of her ex's wedding, which otherwise might bring on a relapse. The India story is getting the most traction, even though Ashton Kutcher and his expectant girlfriend Mila Kunis have yet to set a wedding date. Demi is psychic, another source explains (I will name that source as me, since I just made that up.)
So, in summation, "The wound of her divorce is still fresh," according to one 'insider', and "Life is looking good for Demi right now," confides a different 'source.'
Got it, she's miserable and happy, but not adopting just now.
What else may Demi be not doing, besides planning to adopt?
Her future appears to be full of possibilities or rubbish, 'friends' are saying!