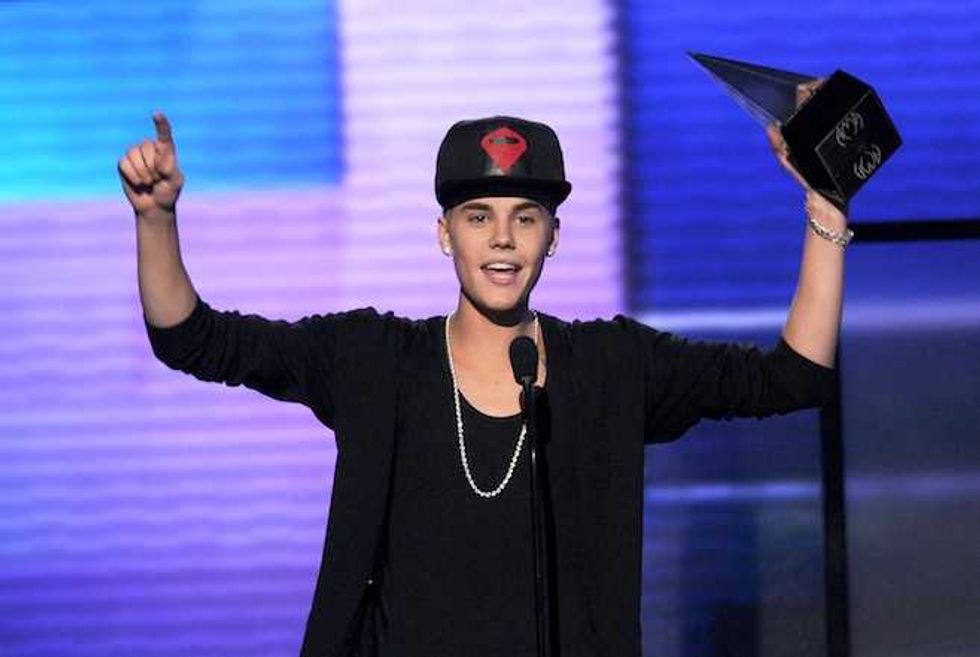 If personal struggles have had Justin Bieb stressed, he now has three new bright and shiny things to catch his reflection reassure him that all that believing has indeed paid off. Taking home three awards during Sunday's American Music Awards, including Artist of the Year, Bieber used his multiple opportunities in front of the podium to focus on the positive AND promote his mom, Pattie Mallette. Yes, she's single, fellas.
The 40th annual show was heavier on elaborate performances that awards or actual tight races, and spent every post-commercial break looking back on some of the best performances in its history. Who needs a real 'N Sync reunion when YouTube clips starring Justin, JC, Lance, Joey and Chris live on forever?
Aside from The Bieb's big night, Taylor Swift left the surprised face at home to unveil her darker, wub-wub-wubbier side, while Scooter Braun sat back and counted the money his respective acts are currently raking in. Read on for our take on everything from must-see talking points to the utterly cringeworthy.
1. BEST WAY TO START A SHOW: JUSTIN BIEBER THANKING HIS HATERS
Taking time away from the Believe tour paid off, as Bieber's 2012 album earned him three awards total, including Pop/Rock Male Artist of the Year. Awarded the night's first trophy, Bieber defeated the ubiquitous likes of Pitbull, Flo Rida and his big bro, Usher, and accepted the shiny piece of hardware from his surrogate big brother, Ryan Seacrest. But it was the genuine look of satisfaction of relief that we noticed most, as Bieb used his first opportunity in front of the microphone to send a message to all who doubted him: "First of all, I want to say this is for all the haters that thought maybe I was just here for one or two years, y'know, but I feel like I'm going to be here for a very long time." The feeling that Bieber has overcome great obstacles in his transition into an 18-year-old artist who wants to expand beyond shrill-inducing bubblegum pop is a large aspect of his current live show, and the hidden message in 80 percent of his hashtags.
Say what you will about his obsession with asserting his place in the world, but you've got to love a show that starts out with a "haters" drop in the first 10 minutes.
2. WORST USE OF A "MEDLEY" OPPORTUNITY: USHER
Kicking off the show with the words "Usher" is usually a safe bet and one likely to stir up some excitement. "You Don't Have to Call" into "Caught Up" into "I Need a Girl"? Or, "Burn" into "Confessions" into "U Got It Bad"? The possibilities are endless, which is why it was disappointing to see Usher transforming tracks from the legitimately underrated Looking 4 Myself into an awkward laser show. His choice of "Numb," "Climax" and "Can't Stop Won't Stop" wasn't bad—"Climax" will always be a highlight—but excessive choreography took away from the vocals.
3. BEST WAY TO MAKE AMERICA FORGET ABOUT THAT OTHER BOY BAND: THE WANTED
Dressed in dapper suits and sticking themselves in empty doorways, the guys flaunted their range on the impressively falsetto-rich "I Found You," likely to be the lead single from their forthcoming full-length U.S. release. Max slipped in a spare "ass" lyric and Nathan showed off a little spontaneous choreography before killing his solo—popping neck veins and all. Sure, One Direction wasn't there to defend themselves, but watching TW perform alongside to clips of 1D's shaggy-haired "What Makes You Beautiful" seemed to put them in a class all their own.
4. WORST ATTEMPT AT ENTHUSIASM: NICKI MINAJ
Queen Nicki won an AMA for Best Rap/Hip-Hop Album for Pink Friday: Roman Reloaded, and yet couldn't seem more displeased about having to get up to claim it. From dragging her poor friend to help her trot across the stage to her clenched-jaw mumbling ("Hey, guys, thank you very, very much"), it seems like she'd much rather be home watching the conclusion of Sunday Night Football.
She made up for it a little by the time her second walk to the podium came around, bringing fellow Young Money soldier and category nominee, Tyga, and ignoring young Aubrey yet again. (Do we need to talk about something, guys?) Still, she spent most of the time searching for her Barbz—who really should be everywhere, right?—and plugging the release of The Re-Up. At least Terence the Hairdresser finally had his day.
5. BEST EXECUTION OF THE FEMALE CROTCH-GRAB: KE$HA
From writhing on the floor like Madonna to picking up drumsticks to lead a troop of percussionists, not many are doing weird and unique like K-dollar sign-A these days.
6. MOST WTF PERFORMANCE: SWIZZ BEATZ, CHRIS BROWN, LUDACRIS
Swizzy was your headlining performer here (huh?) and together the group sang "Everyday Birthday" to the AMAs. As expected, Breezy took off his shirt.
At least Chris is Brandy's boy.
7. BEST SINCERE REACTION TO A WIN: LUKE BRYAN
Yes, he raised the roof, and no, he wasn't being ironic about it. Nicki, take notice.
8. MOST SHAMELESS PRESENTER PAIRING: GAVIN DEGRAW AND COLBIE CAILLAT
If you're wondering if these two still get invited to stuff like this, please take note that they're filming a video together this week. "Shamelessly plugging ourselves here," explained Gavin "I got beat up on the streets of New York last year so what do I have to lose?" DeGraw.
9. BEST INTEGRATION OF DUBSTEP INTO A MASQUERADE BALL: TAYLOR SWIFT
We've been loving "I Knew You Were Trouble" for a while now, so it was great to see Taylor ditch the other Red standards and deliver us something more along the line of dark twisted fantasies and Eyes Wide Shut remixes. She is almost 23.
10. MOST UNEXPECTED CLOSER: MC HAMMER
Scooter Braun promised us a surprise guest, and the show's announcer hinted that an "international superstar" would be taking the stage by the night's end. Hyuna? G-Dragon? Eh, we should have known from Psy's Hammer pants. The K-pop sensation closed the night with a rapturous live rendition of "Gangnam Style," getting everyone from anonymous ABC assistants to Heidi Klum out of their seats. The biggest thrill came when MC Hammer took the stage to work in a mashup of his "2 Legit 2 Quit," allowing both men to defy normal leg movements with their impromptu dance-off.
Check out the full list of winners, as well as performances you may have missed, below.
Artist of the Year: Justin Bieber
New Artist of the Year: Carly Rae Jepsen
Pop/Rock Female Artist: Katy Perry
Pop/Rock Male Artist: Justin Bieber
Pop/Rock Band, Duo or Group: Maroon 5
Pop/Rock Album: Justin Bieber, Believe
Country Female Artist: Taylor Swift
Country Male Artist: Luke Bryan
Country Band, Duo or Group: Lady Antebellum
Country Album: Carrie Underwood, Blown Away
Rap/Hip-Hop Artist: Nicki Minaj
Rap/Hip-Hop Album: Nicki Minaj, Pink Friday: Roman Reloaded
Soul/R&B Female Artist: Beyoncé
Soul/R&B Male Artist: Usher
Soul/R&B Album: Rihanna, Talk That Talk
Alternative Rock Artist: Linkin Park
Adult Contemporary Artist: Adele
Artist, Latin: Shakira
Artist, Contemporary Inspirational: tobyMac
Artist, Electronic Dance Music: David Guetta