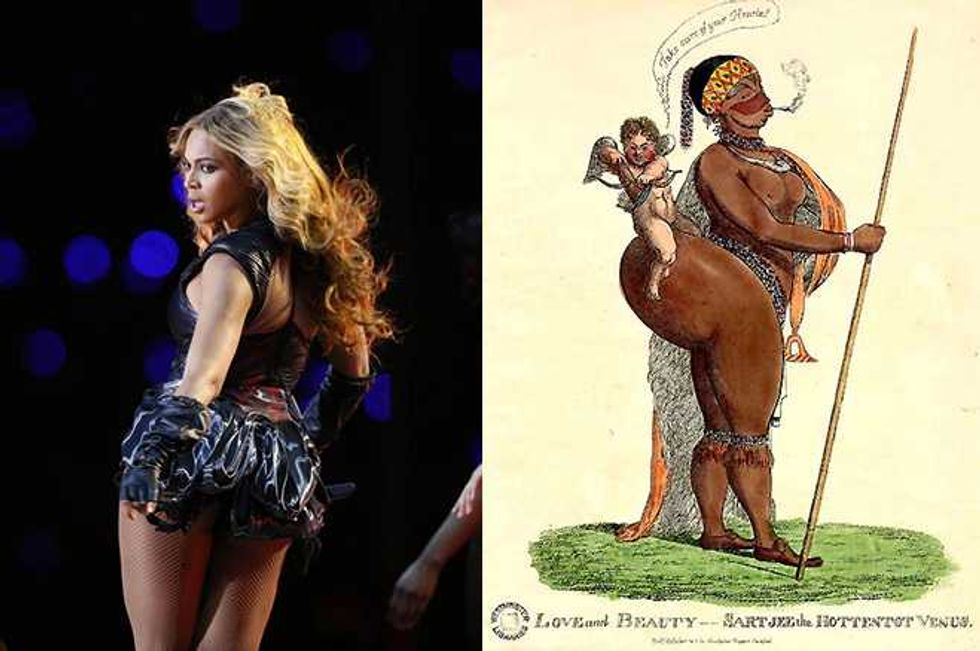 A 'report' by The Sun that Beyonce is writing and starring in a movie about a famous African circus freak known for her huge buttocks is now circulating around the internet as actual news!
You have to love The Sun for this gem. And let's hear it for all the news outlets who are reporting the hoax story!
Not only is the story being dutifully repeated, it has already received an angry response from a South African chief who says Bey is not fit to tell the story!
This is like a game of telephone gone berserk, and one can only marvel at the astounding credulity of everyone involved.
Saartjie "Sarah" Baartman was the most famous of at least two Khoikhoi women who were exhibited as freak show attractions in 19th-century Europe under the name Hottentot Venus. The large buttocks was actually a genetic characteristic called steatopygia. Baartman was born in 1879 and sold in her 20's to a London circus. She was subjected to years of humiliation and after her death, her brain, skeleton and genitalia were on public display in Paris for more than 150 years.
It's a harrowing and important story by all means.
However, how likely is it that Beyonce would volunteer herself to portray a victimized circus attraction with a huge butt?
Last year, it was 'reported' that Beyonce was starring in a remake of A Star is Born, a rumor that spread like wildfire until Beyonce's spokesperson had to deny it.
But this story is so much better, it's almost in a league of it own.
Getting back to the disgruntled chief of the Ghonaqua Peoples, the First Indigenous Peoples of South Africa,  Jean Burgess stated to South African news outlet News24:
[Beyonce] lacks the basic human dignity to be worthy of writing Sarah's story, let alone playing the part. Ignoring the fact that the KhoiKhoi is alive and that Sarah's story would have an impact on how we are portrayed, is a mistake of great magnitude.

Why Sarah Baartman? Why not a story about an Indigenous American woman? I can only see arrogance in her attempt to tell a story that is not her's to tell
Why indeed, Chief Burgess.
You will have to take it up with The Sun, which also reports that Bey has assembled a team of acting coaches and writers to help with the project.
Yep, uh-huh, and I am the Queen of Sheba!