MUSIC
"Are you down for some of these milk and cookies?"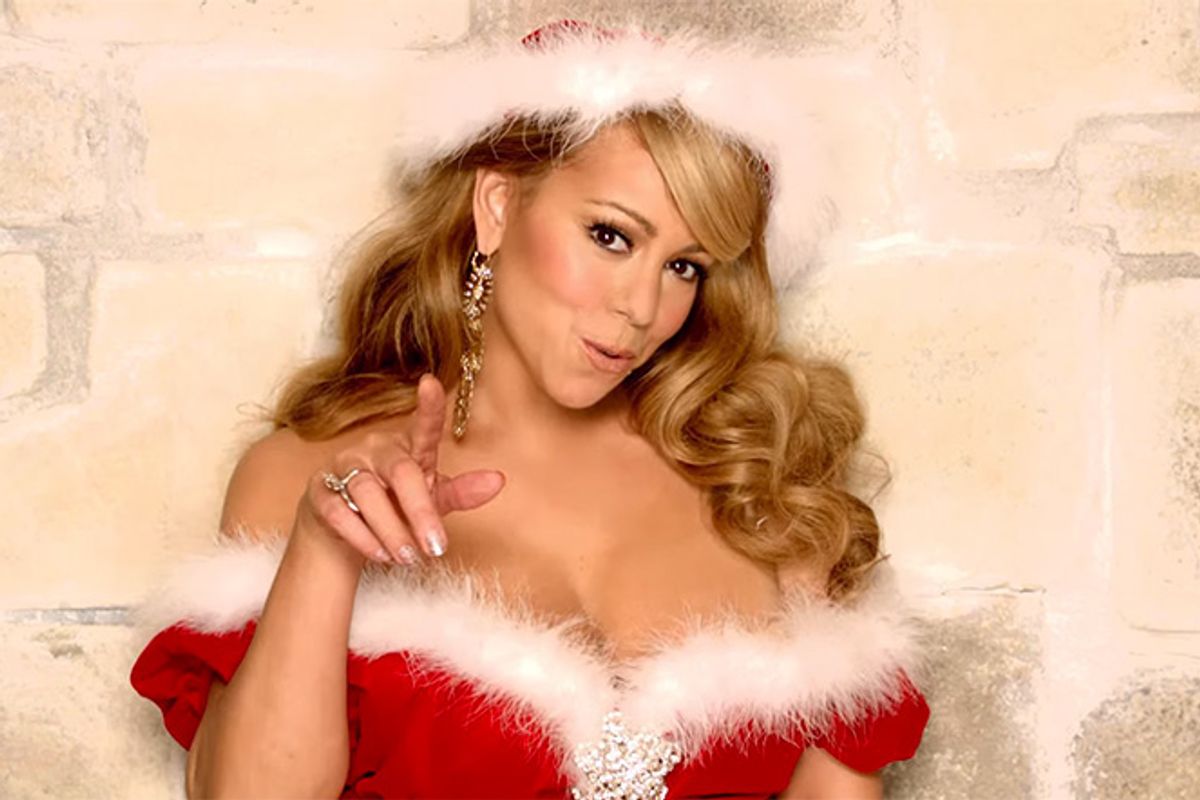 For some reason, almost every pop star out there has released a Christmas album at some point in their career. Heck, the holiday season seems to be when Mariah Carey achieves peak relevancy. But singing innocent songs about drinking hot chocolate and riding sleighs can get a little boring. Thankfully, pop stars have found a way to turn Christmas into an affair that will definitely get you put on Santa's naughty list. For example, Ariana Grande's track "December", from last year's surprise EP Christmas and Chill, is as much an R&B banger as it is holiday cheer. Check out our favorite bangers to cuddle up to under the misletoe below:


5. "Merry Christmas, Baby" by Christina Aguilera
Best Naughty Lyric: "Santa Came Down the Chimney"
There's just something about this candle-lit performance, filled with Christina crooning, that screams sultry and inappropriate. Everything is made even creepier with footage of Xtina as a child thrown throughout the video.
4. "Christmas Eve" by Justin Bieber
Best naughty lyric: "I'm the one that wants to take you on a sleigh ride now"
This XXXmas tune is more of a sweet slow-love song than it is something to sing around the fireplace. It gives tons of 90s Usher feels and almost impossible to believe Justin was only 17-years-old when he released this track. He was always fast for his age...


3. "Christmas Tree" by Lady Gaga
Best Naughty Lyric: "Let's fa la la la"
Who knew "Christmas tree" could be turned into such a naughty euphemism? This oft-forgotten about track was released in the early stages of Gaga's career, when she worked extensively with Space Cowboy and chugged out delicious, catchy LES-ready pop tracks.
2. "8 Days of Christmas" by Destiny's Child
Best Naughty Lyric: "On the 7th day of Christmas my baby gave to me/ A nice back rub and he massaged my feet"
This 2002 Destiny's Child song is a shameless ode to materialism and being pampered. While the shameless consumerist lyrics are naughty enough, the really XXXmas part are the girls risqué Santa outfits. Ho, ho, ho!
1. "December" by Ariana Grande
This is the greatest Christmas song ever recorded and I am willing to go to battle with anyone and everyone over this battle. Ariana used her husky vibrato and cute girl image to give us a tune that makes us yearn for a winter cuddle buddy and want to hit the dance floor. In fact, the entire "Christmas and Chill" EP was slept on, in my opinion. The Grammy's should create a "holiday album" category just to give a award for this release. Mic drop.