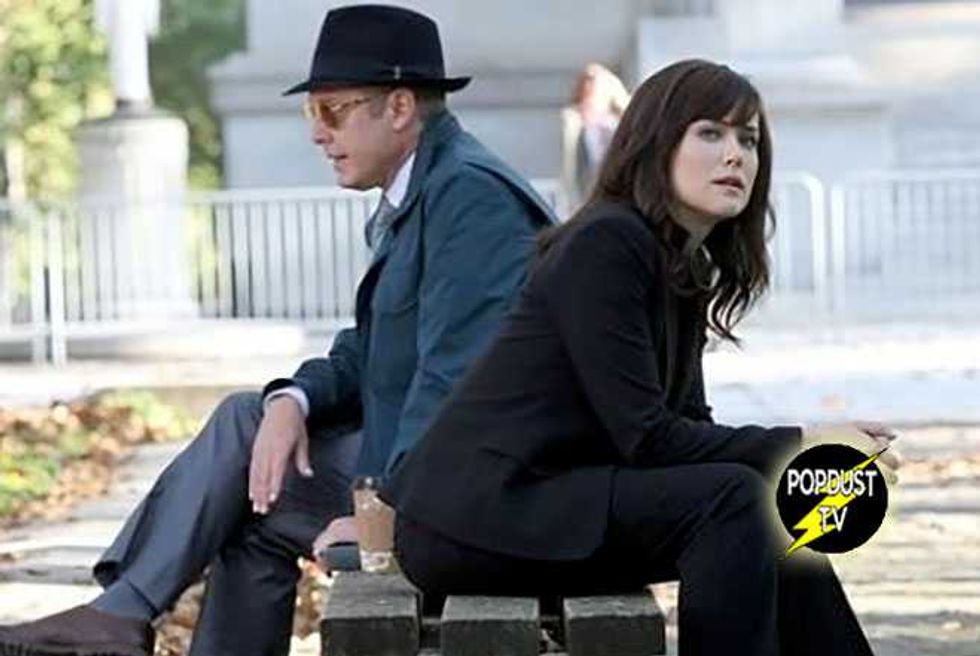 This week's all new episode of The Blacklist begins when a priest saying mass in a church in Uzbekistan is taken hostage by a group of mercenaries and their leader. It turns out that this priest isn't a priest at all, but a CIA operative named Burke.
Cut to Liz back in DC giving the microchip that she found in her stuffed teddy bear to Aram to see if he can figure out what it is. Red appears wanting to talk to Liz, but she's none too pleased with him thinking that the only reason he cares so much about her is because of The Fulcrum. He tells her to put all that aside because he has a new case involving an associate of his, Ruslan Denisov. Red tells her that Denisov leads a group called SRU—Supreme Rebublic of a Free, Righteous and Independent Uzbekistan. Denisov funds his operation by kidnapping senior execs of foreign corporations and holding them for ransom, but this time he decided to kidnap a CIA agent.
The CIA (meaning Hayworth) want nothing to do with this case and deny that Burke is even a CIA agent because it's illegal for agents to pose as religious clergy. The FBI takes over and Liz and Ressler go to Uzbekistan to investigate. When they check into their hotel, who's having drinks in the lobby?? Red, duh! That man is EVERYWHERE.
When Liz and Ressler get into the elevator to go to their rooms, they are taken hostage by the SRU and taken to Denisov. Denisov explains to them that he wants Anneca Oil, an American oil company, to repair a leaking pipeline that they built through the country years ago that is polluting the water supply and killing his people. Anneca denies that there is anything wrong with the pipeline, so to prove his point Denisov kidnapped a VP from Anneca and submerged him in the polluted water. When he showed the VP to Liz and Ressler, he had sores and boils all over his body.
Later, Liz and Ressler speak to another VP from Anneca named Walker who denies any wrongdoing on the company's part and insists that it was actually Denisov who created the leak in an attempt to extort money from Anneca. Spoken like a true VP.
While negotiations for Burke's release are being discussed, that prick Hayworth tells the local Uzbekistan police where Denisov is hiding out. The police raid the building killing several of Denisov's men, but neither Denisov nor the hostages are there—because Red gave them the heads up! He knows that Hayworth is a piece of shit who would do anything to cover his ass.
When Denisov finds out that several of his men have died, he wants to kill Burke too, but Red talks him out of it because he sees the bigger picture. Why was Burke in Uzbekistan to begin with, he asks? After Red threatens to really kill Burke unless he gives him some information, Burke tells him about a man named Zhabin. He was a Soviet government official back in the day who sold the oils rights to Anneca for a shit ton of money. They locate Zhabin and find that he's kind of bat shit crazy, but he has some very interesting information.
Red brings Zhabin to a meeting with Liz, Ressler and Walker. Red explains that Anneca built another pipeline before this shitty one that was even shittier and poisoned thousands of people. Walker eventually agrees that the company will pay reparations and repair the pipeline, but Red tells him that Denisov wants Anneca to leave Uzbekistan forever otherwise he'll go public with the whole situation in 24 hours. But before they leave they have to build some schools and clean up their damn mess.
Later when the FBI is recovering Burke from Denisov, Hayworth has some CIA assassins hiding in the woods ready to kill Denisov and capture Red. But while they're waiting for the okay from Hayworth, Cooper storms his office and tells Hayworth that he better back the f off his case.
While all this was going down, a guy named Detective Wilcox is in DC investigating the disappearance of Eugene Ames, the harbor master that Tom killed when Liz was keeping him on the boat. Liz had given Ames her card when she made up a fake reason for being at the docks, and Ames' wife then gave that card to the detective.
Wilcox calls Liz to ask her some questions, but she's all, "I'm not at liberty to say." Not exactly what detectives like to hear. Later, Wilcox brings in Samuel for questioning – that huge, scary guy that Liz hired to watch Tom on the boat. Wilcox breaks him and Samuel shows him where Ames' body is buried in exchange for immunity. Not. Good.
Oh, and Aram returns the microchip to Liz without much luck. He says it's a late 80s beta recording device, but he doesn't know how to access the data on it.
What did you think of this week's episode of The Blacklist? Sound off in the comments below!