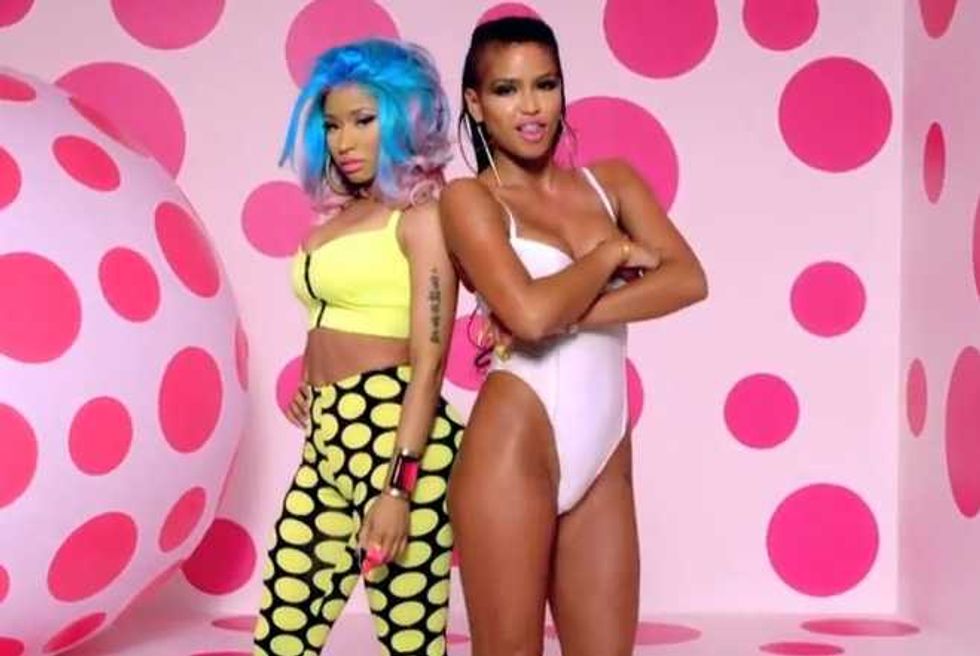 Nicki Minaj's latest video for "The Boys" employs her preferred color palette: Easter egg pastels. Perhaps there's an endorsement deal with Paas she hasn't thought of before? (You're welcome.) We've seen her depend on pinks and blues, extending from her hair to her day-glo body paint in an instant classic like "Super Bass," as well as her extraterrestrial out-of-water arrival in this year's "Starships." This time she  makes room for a co-star, welcoming new friend Cassie to share the stage in the Colin Tilley-directed clip as they embark on giving a tutorial in how to make certain boys—the kind who've probably done you wrong or will soon do you wrong—jealous, and maybe a little scared for their well-being.
In further celebration of the femme fatale, the video borrows from Lady Gaga and Beyoncé's "Telephone" by opening with newspaper headlines warning that a dangerous and violent flame-thrower is on the loose. Foreshadowing: Scorned women are not to be ignored! Or, fellow reality competition judges should not take Nicki's on camera freak-outs so lightly. You never know what kind of heat she's packing.
Below, the faces (among other things) that Nicki believes will shower her in attention and stop any in her orbit from leaving her unattended around flammable goods.
Luckily Sassy Cassie is a quick learner.
Nicki's faces almost steal the show, but is anyone more confident than Cassie? Check it out below.