Top Stories
Nintendo sets a new standard for plug-and-play consoles.
For just $60 you can buy virtually an entire era of gaming culture.
While there are a few issues, which I'll get to later, the NES Classic is a nugget of 24 karat gaming gold. Anyone looking to expand their overly modern palette or simply to swim in familiar waters is sure to find plenty to love in Nintendo's superb first-party take on the retro plug-and-play.
The Hardware
The Console
The NES Classic looks like one of those deceiving stocking stuffers one might have gotten as a child around Christmas, which despite never claiming to be anything beyond a metal tin full of mints or chocolates, still bitterly disappoints when it's not as colorful a toy as it might look. All of this is to say, of course, that the NES Classic is small. At only 5" across and a little over half of that tall, the NES Classic looks more like a replica NES for display purposes only, but much like its bootleg arduino-based predecessors, the Classic packs a whole lotta punch with simple electronics, a little bit of plastic, and mostly air. It might look like an out of place baby cousin next to your other consoles, but it'll look great on your desk next to books or memorabilia.
In terms of performative equipment, it's unbelievably simple. The NES Classic features a single HDMI port that outputs crisp 720p visuals and top-of-the-line audio. This is a huge improvement over its plug-and-play competitors which still function on AV cords that some new TVs don't even have ports for, not to mention that it actually includes an HDMI in the box.
The Controllers
It also has two controller slots that use the Wii U controller port. This doesn't make a ton of sense, considering that the Wii U is soon to be replaced by the Switch and that it means you cannot use the much more appropriately long cord-ed OG controllers, but it's a nice nod of loyalty to the Wii U customers who might want to use the NES Classic controllers on their Wii U retro titles.
The controller itself is a perfect recreation of the NES controller, down to the screws according to some reviewers, although I was not a first gen NESer so I can't tell you much about the finer points. It's a beautiful piece of gaming history that also functions with the same familiar reactions and resistances of its predecessor.
[rebelmouse-proxy-image https://media.rbl.ms/image?u=%2F564x%2Ff3%2F15%2Fd7%2Ff315d785c45741aaba4220941c1e8ef8.jpg&ho=https%3A%2F%2Fs-media-cache-ak0.pinimg.com&s=225&h=dc2e3e3b9157c25241f2a38a503a3540396cc26c16b7ef9658e2a2850a6d0f77&size=980x&c=4185652544 expand="1" image-library="0" pin_description="" caption="" photo_credit="Polygon.com on Pinterest"]Polygon.com on Pinterest
The biggest negative of the controller, for the whole console in fact, is the ridiculously short cord. It's the appropriate length for adapting PC gamers who might be sitting in front of their monitor at their desk. But it totally interrupts the comfort of a console gamer who wants the Classic to work with their TV/couch situation. There are, of course, janky third-party extension cords and wireless options, but that sort of detracts from the attractiveness of the $60 price tag.
You could, also, solve the problem by bringing the NES Classic closer to you and using a longer HDMI to reach the TV, but this is obviously less than ideal.
The Software
The UI
The user interface on the NES Classic is, like the rest of the system, aggressively simple. It's a button by button side scroll through a list of 30 games. You press the A button on the game and you're ready to play. There is no internet connection on the Classic so you don't have to worry about this crawling interface cramping the style of a store or expanded library.
It looks great and gives you a clear view of the task at hand. It also features one capability that makes the console so convincingly superior to its competition. The suspend point feature lets you pause the state of any game and store it for later, just like your favorite retro-emulators. This is a bit of a game-changer. By pressing the reset button once, you prompt a drop-down menu that let's you take one of four slots to store the distinct state of your game at a certain point. This means you can save at any moment, regardless of and in addition to any in-game save mechanism. Want to see how many different combos you can try to beat that boss? Want to make better check points for your edited speed run? Want to replay that heart-wrenching cut scene over and over? The suspend point feature gives you more freedom than ever would have seemed likely or possible from a first-party device. It's a really nice addition to a retro collection and it gives the whole console a feeling of modern convenience.
This GIF from Polygon demonstrates the suspend point feature in action.
The Games

I'll say it again, I'm not a NES generation gamer, but other than Metal Gear and Contra, you'd be hard pressed to name many games missing from the Classic's collection. It's a bona fide library of bangers. All of these game have a special place in the culture and give plenty of reason to get in there and get mashing. This set will remind you where so many familiar and long-lost game mechanics came from. It's truly impressive how many ways developers used the sparse set of commands available on the NES controller.
Without further ado, here are the games available on the NES Classic:
Balloon Fight
Bubble Bobble
Castlevania
Castlevania II: Simon's Quest
Donkey Kong
Donkey Kong Jr.
Double Dragon II: The Revenge
Dr. Mario
Excitebike
Final Fantasy
Galaga
Ghosts'n Goblins
Gradius
Ice Climber
Kid Icarus
Kirby's Adventure
Mario Bros.
Mega Man 2
Metroid
Ninja Gaiden
Pac-Man
Punch-Out!! Featuring Mr. Dream
StarTropics
Super C
Super Mario Bros.
Super Mario Bros. 2
Super Mario Bros. 3
Tecmo Bowl
The Legend of Zelda
Zelda II: The Adventure of Link
...Right? Wow.
These games also look better than they ever have before. There are three display modes for the NES classic including "Pixel Perfect" which sets the games in a more modern, square-looking aspect ratio. This is the standard mode and it looks incredible. In "Pixel Perfect" the retro games come through looking more like modern retro-style games like Undertale. However, understanding its audience, Nintendo included two more display modes that give the games more of their original vibe: "4:3" which restores the original aspect ratio and keeps the enhanced colors and renders, with a bit of stretching and "CRT" which overlays display lines onto the game so they look just like they did on your old CRT box.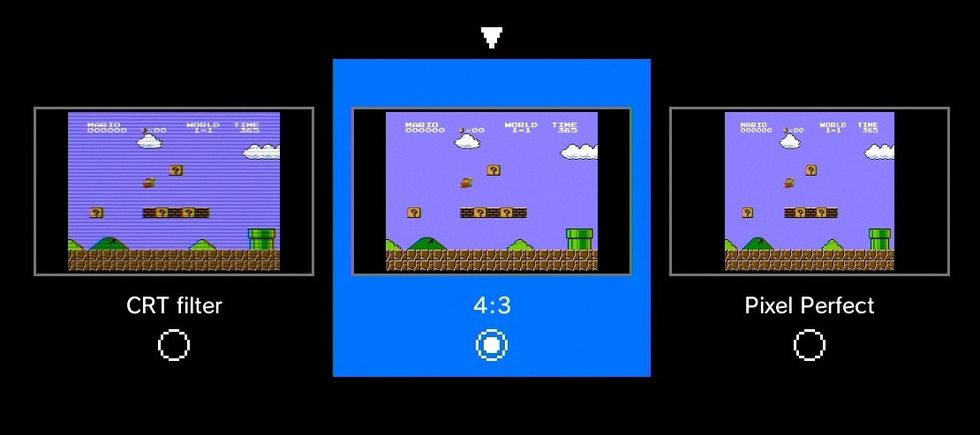 There is however, one potentially major setback: display lag. Old game consoles and CRT televisions had virtually no display lag, that is a noticeable difference in the time it takes to send a command from the controller and have it happen on screen, and that allowed for down-to-the-wire decision making. This made for more demanding boss fights when developers chose to take advantage of this capacity. It can make boss fights that require perfect timing like Grim Reaper in Castlevania and Mike Tyson in Punch-Out!! nigh impossible to win. However, some modern TVs have settings just for games that can reduce display lag and it shouldn't affect you too much in RPGs or even platformers. I don't have the game setting on my TV and I didn't notice the lag at all. However, hardcore fans or original NESers may have a little trouble adjusting for this.
All in All: 9/10
I hate to sound like a total industry shill here, but the NES Classic is a steal. There are problems with the length of the controller cord and the potential for display lag, but it's hard to imagine that anyone who enjoys or has the capacity to enjoy video games wouldn't find hours of fun in this package. It's really the perfect price range for the holiday season, too, which I'm sure was the goal behind the push for the $60 price tag.
While we can't download new games for the device because it has no means of internet connection, I find it hard to believe that we would have been better off with the alternative. If there were room for monetization of individual titles through, say, a download store, I don't think we would have seen Nintendo or their developer partners putting forth all of these extremely high quality titles in one ready-to-play package. I think the simplicity of this product lent itself to its exceptional quality.
Whether you're buying for yourself or the gamer in your life, I would thoroughly recommend the NES Classic to anyone in the market this holiday season.
From Your Site Articles
Related Articles Around the Web