Culture Feature
The Craziest E3 Press Conferences Ever
Let's re-acquaint ourselves with some of the strangest press moments from E3 over the years.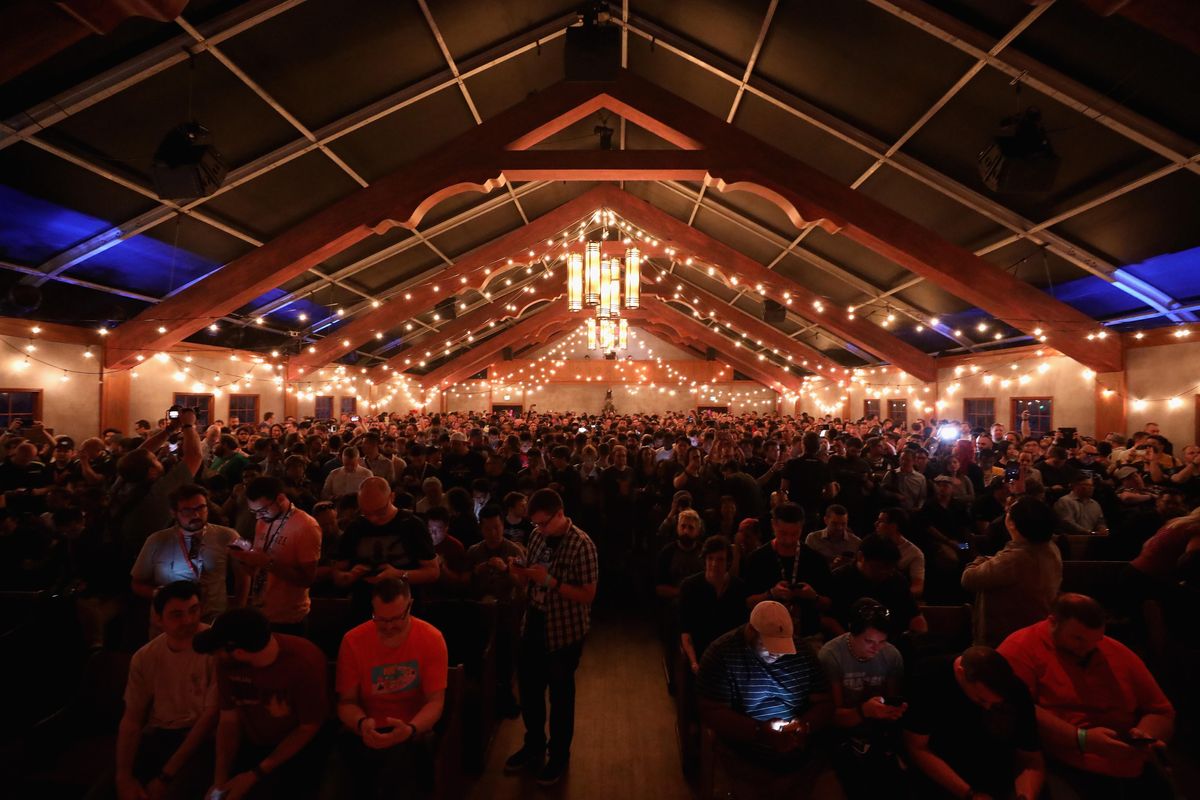 Getty
In a normal year, the E3 Expo usually has a good amount of awkward moments.
The hiccups usually come in the form of press conferences, which are both the biggest crowd-pleasing spectacles of the weekend and the feats that require the most coordination. But considering E3 was entirely online this year, the press conferences mostly went off without a hitch. With that said, the weekend still featured some awkward moments, such as when Microsoft announced that they're building an actual Xbox mini-fridge. Still, we miss the good ol' days of technical mishaps and cringey public speakers. Let's re-acquaint ourselves with some of the strangest press moments from E3 over the years.
---
Mr. Caffeine Ruins Ubisoft Press Conference 
In 2011, Ubisoft decided they would put their 2011 E3 presentation in the hands of Aaron Priceman, who introduced himself to the audience as Mr. Caffeine, and it was a disaster. He mispronounced Tom Clancy's name, made bizarre jokes about dicks and rabbit poop, and kept relying on the Wayne's World flashback sound to drive points home throughout the presentation. He eventually became associated with the phrase "Doodly Doodly Doop" online, which he repeatedly muttered throughout the presentation to indicate the sound of "time traveling." He also tried to get the audience to do it, even when they clearly didn't want to.
Jamie Kennedy Ruins The Activision Press Conference
When comedian Jamie Kennedy took the stage at the Activision press conference during E3 2007, he almost immediately started souring the audience's mood. He forgot his jokes about a minute into the presentation and didn't do anything to try and recover, and when he invited developers from Tony Hawk's Proving Ground to the stage, he basically just insulted them. "I wanna ask you about the name of your company Neversoft," he said to one developer. "It's weird. Is it just a bunch of programmers walking around with hard-ons?" The jokes only got worse when Tony Hawk took the stage and fully deteriorated by the end when the audience started heckling him. Then after that, he started doing push-ups?
Sony's 2006 Press Conference
Sony's PS3 reveal at E3 2006 went off the rails almost immediately. The hefty price tag of $599 was a buzzkill early on, and Sony's Kaz Hirai yelling out "Riiiiiddge Raaaaaccceeerrrr" was something we'd all love to forget. The most hilarious fail came with the reveal of Genji: Days of the Blade, which producer Bill Ritch advertised as featuring "famous battles that actually took place in ancient Japan," only for the next slide to show a giant mutant crab as one of the enemies players would face. "So here's this giant enemy crab," Ritch said without missing a beat.
The Battlefield 4 Premiere
Back in the day of in-person press conferences, technical flaws were just part of the game. When you have a live press conference that's also being streamed to millions of people around the world, something is occasionally bound to go haywire. Most people can easily shrug it off, but In 2013, so much went haywire so fast in the DICE reveal for Battlefield 4 that it was frankly hard to watch. The demo started to launch with no sound, then failed to launch at all after a reboot, and after a couple of minutes of fiddling and awkward mumbling the crowd started to heckle the speaker, and overall grew restless. The game eventually kicked into gear, but by that point, everyone was just kinda uncomfy.
Reggie Fils-Ame
During Nintendo's press conference in 2004, executive Reggie Fils-Aime took the stage. "My name is Reggie," he said. "I'm about kicking ass, I'm about taking names, and we're about making games." Nintendo wanted to transform its image at this time from something youthful and playful to something assertive and confident. The exchange was awkward at first, but by the press conference's halfway point, Reggie Fils-Ame's no bullshit attitude was extremely compelling. "While others are talking, Nintendo is acting" is just one of the many hype phrases he threw out to get Nintendo fans pumped for the future. He has remained one of Nintendo's most memorable characters ever since.
The Infamous Konami Press Conference
At their 2010 E3 press conference, Konami opted out of having a professional host altogether, instead allowing the game developers to speak for themselves. A nice idea in theory, except for the fact that no one gave the developers PR training. What transpired was incomprehensible. Tak Fuji, Naoki Maeda, and Thomas Nagano altogether were just horrendously ill-prepared for their big E3 moment. They butchered their presentations with now quotable lines like "you will be sucked" and "one million troops...WOW" in such a grueling way that it was almost full-on satire. Maybe their press conference was so bad it was good?