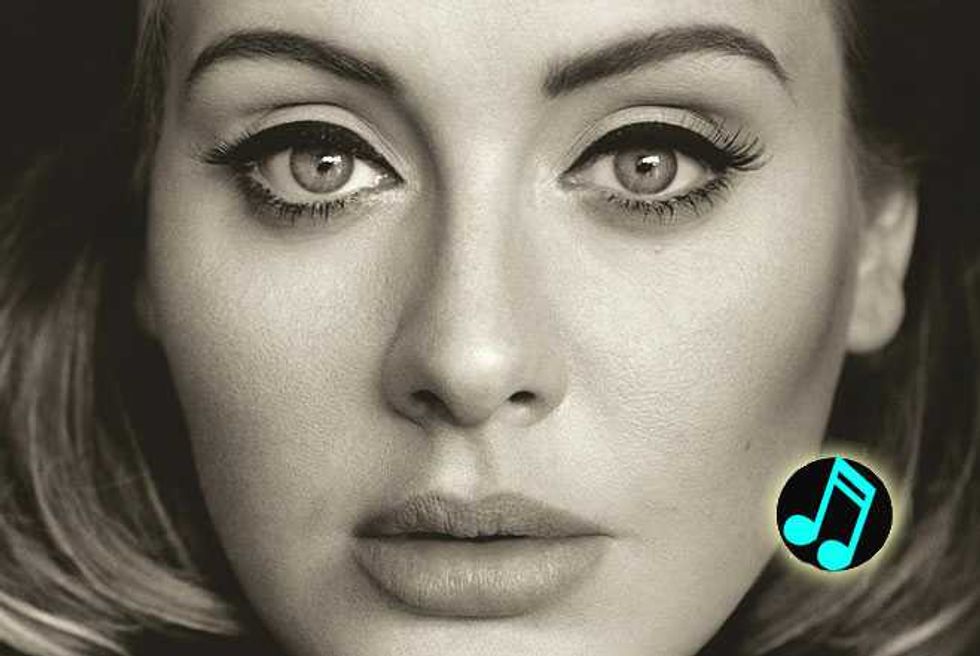 adele 25 album streaming study
"Access is the future," Spotify founder Daniel Ek said on the day of the streaming service's U.S. launch in 2011.
It was a typical summer afternoon in mid-July in Aspen, Colo. The world's top influencers, thinkers and innovators gathered for Fortune Brainstorm Tech, which began in 2001, to exchange ideas that could advance the way we perceived and lived in the world around us.
Adele Punk'd Adele Impersonators By Pretending To Be…Herself!
"The main reason people want to pay for Spotify is really portability. People are saying, 'I want to have my music with me,'" continued Ek, who launched the service in his native homeland of Sweden in 2006 before unleashing on the rest of Europe two years later. 10 million users in seven European countries were estimated at the time, 1.6 million tapped into the paid tier; the global total now stands at more than 75 million free users and 20 million paid subscribers.
To put it into perspective: that is one new subscriber every three seconds over the past year (as of October 2015).
Adele Lets Ex Know She's Over Breakup With Yet Another Breakup Song
"As we grow, the amount of royalties we pay out to artists, songwriters and rights holders continues to climb faster than ever," a statement reads. "We have now paid more than $3 billion USD in royalties, including more than $300 million in the first three months of 2015 alone."
Breaking down the exact payout, according to the type of artist (Global Superstar v Niche Artist, for example), reveals a promising trajectory, but not one without severe implications for the songwriters and session musicians behind the scenes.
Adele's 'When We Were Young' Will Rip Your Heart Out—Listen Now!
As Taylor Swift attested in a Wall Street Journal op-ed last year, months before the release of her multi-platinum full-on pop record 1989 (which shifted one million copies first-week out and hit five million in U.S. sales alone earlier this year), "Music is art, and art is important and rare. Important, rare things are valuable. Valuable things should be paid for. It's my opinion that music should not be free, and my prediction is that individual artists and their labels will someday decide what an album's price point is. I hope they don't underestimate themselves or undervalue their art."
Months later, the powerhouse, whose stake in the game is a bigger piece of the pie than 90% of the artistic community, removed her entire catalog from Spotify—signaling to the world, to the gatekeepers, to the consumers, that music, indeed, is far more salient than dollars and cents. Her assumptions as the indie ambassador are foolhardy, but it is a nice starting point.
Listen Up, Haters—Rita Ora Sings Adele's Hello
Later, in an interview with Yahoo!, she directly addressed services like Spotify, which boldly maintains "we pay out nearly 70% of our total revenue to rights holders; we retain approximately 30%."
"If I had streamed the new album, it's impossible to try to speculate what would have happened," Swift said. "But all I can say is that music is changing so quickly, and the landscape of the music industry itself is changing so quickly, that everything new, like Spotify, all feels to me a bit like a grand experiment."
It is that risky experiment that has brought us to the current dismal state in which we now find ourselves trapped. Songwriter Kevin Kadish, who co-wrote Meghan Trainor's All About That Bass, has only earned $5,679 from the song's more than 178 million streams, as of September 2015.
Sam Smith Wants You To Stop Calling Him The 'Male Adele' Now
"That's as big a song as a songwriter can have in their career and No. 1 in 78 countries. But you're making $5,600. How do you feed your family?" he prodded during a roundtable session at Nashville's Belmont University.
The discussion overturned the cobbled stones of copyright issues in the digital and streaming age, topics that have harrowing impact on his livelihood. Breaking it down to the basics, he said, typically, one million streams results in a meager $90 paycheck.
"I'm not willing to contribute my life's work to an experiment that I don't feel fairly compensates the writers, producers, artists, and creators of this music. And I just don't agree with perpetuating the perception that music has no value and should be free." Swift, regardless of her public tango with sheepishly scrubbing YouTube clean of concert videos and her erroneous conjectures on African-American women winning awards, declares that while creation is a form of expression, it is a means to an end, a way for thousands (if not millions) of individuals to put food on the table and a roof over their heads.
Rolling In The Dough: Adele Makes $127,000 Per Day!
Songwriters, especially, it seems, dwell in the dark, cold, self-starving basement level of the business model. The economics is quite simple: streaming, at its current placement, is not a lucrative, or even viable, way to make a living.
In 2015, there have been only two million-sellers. Swift, undeniably, tops with the most, a healthy 1.463 million, as of August 2015. Drake (If You're Reading This It's Too Late) clocks in at 1.007 million, after a 495,000 first-week.
Similarly, debut sales weeks offer up something a bit more alarming (in terms of pure albums). Drake & Future's What a Time to Be Alive surprised with 334,000; The Weeknd's Beauty Behind the Madness moved 326,000; Kendrick Lamar's To Pimp a Butterfly floated in with 324,000 (despite an eight-day early release glitch); Luke Bryan's latest Kill the Lights dropped 320,000 (down from 528,000 with 2013's Crash My Party); Dr. Dre's Compton blasted with 276,000; Meek Mill's Dreams Worth More Than Money sparked 239,000; Mumford & Sons' Wilder Mind hit with 231,000; Zac Brown Band's Jekyll + Hyde shifted 214,000; 50 Shades of Grey soundtrack sketched out 210,000; Meghan Trainor's Title nabbed 195,000 (the best debut week for a solo female); Fall Out Boy's American Beauty/American Psycho began with 192,000; and the story plummets from there.
Music Monday—Tunes To Get Your Drink On To
New No. 1-bowing projects from Selena Gomez (Revival), who notched her first-ever Radio No. 1 with Good for You, and breakout a cappella group Pentatonix (self-titled), for example, failed to generate sales north of 100,000. Those sets notched 85,000 and 88,000 first-week totals, respectively.
Note: On this week's Billboard 200 chart, to post Sunday (Nov. 22), Justin Bieber's and One Direction's latest will surely reinvigorate the industry. They are expected to both move several hundred thousand copies apiece, to battle it out for the top peg.
More to the point: we have Adele. After nearly a five-year span between albums, since 2011's diamond-selling 21, the British singer-songwriter drops her long-awaited 25 follow-up.
Listen To Aretha Franklin's Painful Cover Of Adele's 'Rolling In The Deep'
The demand hangs in the hair as potently as the screams, cheers and tears during a Swift arena show. The byproduct of the millennial generation, Adele has mastered the art of eluding the public conscience. She is always on our minds, but she took just enough time off for the craving to be too much for the industry to carry on its own.
Hello, the first sampling of the project, serves as the bridge between the past and the present, the last vestiges of her former lover's hold on her pristine vocals. This week, the brooding ballad spent its third week at No. 1 on the Hot 100 (now with 2.2 million total downloads and a No. 1 slot on Pop Radio Songs), a testament to her strength as a storyteller and sales titan.
On 25, she projects even more of her soul than she ever has onto simply-constructed piano progressions and images of loss and regret. Despite the album's title, she's now 27, and she's lived more life than most pop stars. During her Radio City Music Hall performance this week, the crowd erupted with such crazed intensity, it was evident that a legend was being born.
Music Monday—The Ultimate Chillaxin' Playlist
Insider sources tipped Billboard.com off on current album shipments and early sales reads: 3.6 million will be transported to brick and mortar stores with an expectation of more than one million purchased copies, coupled with nearly the same amount, digitally. That brings the needle of her first-week to (at least) 2.5 million, usurping *NSYNC's throne of 2.14 million in 2002 with No Strings Attached.
Adele is the culmination of years of executive board meetings, ornamented around an artist so compelling, so vigorous and so lucky in an industry severely undervaluing the female artist. She's an anomaly, by all meaning of the word.
Music Monday — Happy Birthday Miley Cyrus!
At this point, it does not really matter what the final number Nielsen Music reports next weekend; it'll be massive and drive home the idea that "less is more," indeed. Swift was the last artist to have the sturdy brand power to shift more than a million copies in an album's first week.
As a counterpoint, the former country chanteuse has cast her image everywhere, even on pizza boxes. Adele's mystique is part of the package, calculated interview opportunities and a sparse rollout only feed the beast. She fuels the public desire, simply, and allows the music to do the talking.
Music Monday — The 10 Best Songs All About Monday
As streaming continues to spiral the music industry into a pitiful state of mind, Adele has opted out of streaming 25, at least initially, "according to three people with direct knowledge of the plans for the release," as reported first by The New York Times.
With this latest development, her decision could certainly push the anticipated sales figures even further through the proverbial glass ceiling. By Christmas, the record could be four-times platinum.
Spotify, too, has issued a statement on the matter, stating,  "We love and respect Adele, as do her 24 million fans on Spotify. We hope that she will give those fans the opportunity to enjoy 25 on Spotify alongside 19 and 21 very soon."
Music Monday—The 20 Best Bob Marley Covers
The curious case of Adele is a textbook study of the power of one singer's ability to capture consumers' minds, hearts and pocketbooks.
No one else on earth could possibly do what this humble, hilarious, sometimes adorably vulgar, superstar can and will do.
Adele's 25 is now available on iTunes.
Stay tuned for music updates. Be sure to follow @Popdust and @JasonTheScott on Twitter!