FILM & TV
"Ladies and Gentlemen, it's The Eric Andre Show!"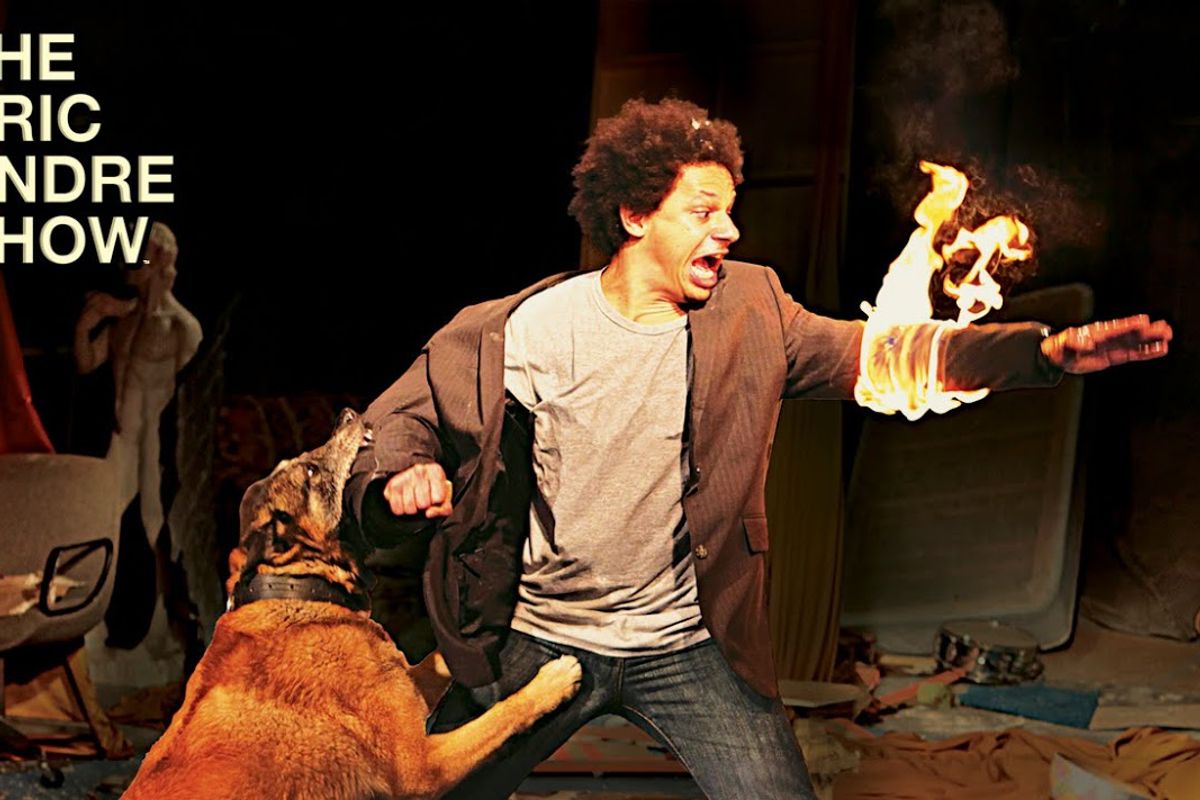 The Eric Andre Show / Adult Swim
When you google Eric Andre, one of the first results is his name next to his current girlfriend, Rosario Dawson, and a plethora of articles asking how such a weird man could lock down such a beautiful woman. Those familiar with The Eric Andre Show are not surprised by his manic comedy, sometimes so absurd and nauseating it's hard to watch, but that's the point: a talk show so unwatchable that you end up watching it anyway. So while Andre's love interests are shocking—giving hope to all the goofy men worldwide—his comedy is even more startling, a chaotic mix of absurdism, shock humor, pranks, celebrity interviews, and lots of public vomiting. And in an even weirder turn of events, Eric Andre has garnered a cult following and his show, one of the worst shows on television, is lauded amongst household names in comedy like Jimmy Kimmel, Chris Rock, and Seth Rogen to name a few.
On The Surface
Home to the stoner-esque late night programming of Adult Swim (someone cue a Flying Lotus music bump), The Eric Andre Show is an absurdist talk show modeled after public-access programs on cable. The show is intentionally filmed to appear low-budget and often uses scrap pieces from drywall to build the set, most notably, Andre's desk that he breaks on most—if not every—ten minute episodes. Hour-long interviews with noticeably uncomfortable A-list and B-list celebrities are condensed into two to three minutes of mayhem, packed with awkward and inappropriate commentary from Andre and his co-host Hannibal Buress (who's the perfect stoned foil to Andre's lunacy). For bigger names, Andre enlists unknown actors (who appear to be chosen from an open call) for clumsy, if not, excruciating, celebrity impersonations: an Asian man who impersonates Jay-Z, a Black man who impersonates Reese Witherspoon, a malnourished and slurring Russel Brand, and a George Clooney impersonator that slightly passes for a relative of the Clooney family if you squint your eyes. The objective is to be as insane, loud, and aggressive as possible—trying to make sense of any given episode is not the point. If Andre isn't physically tormenting his guests by filling their seats with rotten clams, heating lamps, or dripping water on them from the ceiling, he's psychologically tormenting them and pushing their personal boundaries.
Deeper Meanings
Analyzing The Eric Andre Show is probably the funniest thing a person could do, but the show itself deserves recognition for its destruction and perversion of everything normal and comfortable in traditional TV. A modern deconstruction of the late night talk show, The Eric Andre Show is the antithesis to polished, family-friendly shows like The Late Night Show with Stephen Colbert, The Tonight Show Starring Jimmy Fallon, and Conan. As an anti-talk show, Andre is able to parody talk show conventions and strip celebrities down to their normal, everyday selves. Nothing is more cathartic than watching T.I. or Steve Schirripa attempt to stave off Andre's advances until finally succumbing to all-American rage. (Who can forget watching The Hill's Lauren Conrad walk off set due to Andre's one-to-many body fluids?) And there's Eric Andre's brand of absurdism that's always a result of some type of mental break or existential crisis relating to death—and anyone familiar with the streets of NYC knows this type of performative madness is something you see on the way to work while buying your eight dollar coffee at Starbucks. Existentialism is a big part of The Eric Andre Show, a companion to Andre's opening monologues and street sketches (filmed in NYC and Los Angeles), there's never a dull moment—because really, how does a man this crazy live in society?—and credit must be given to Andre's physical comedy and unrelenting stamina. The experience can be hellish, with viewers never fully aware of what's staged and authentic (particularly the guest reactions), and each episode feels like an unnerving fever dream. The 1980's studio vibe enhances the psychedelic and feverish experience of the show, almost like a weird instructional video on how not to make a TV program.
Classroom Takeaways
Are you looking to ranch it up or find a Sprite sponsorship? Do you have a penchant for Kat Williams slicked, straightened hair, or untamed afros? Do you enjoy watching Hannibal Buress eat weird foods behind celebrities, while Eric Andre applies lipstick? If you answered yes, then The Eric Andre Show is your guilty pleasure, a home to your wildest inclinations and TV viewing pleasures, and maybe even an in-house Questlove.
POP⚡ DUST Score: ⚡⚡⚡⚡⚡
---
Shaun Harris is a poet, freelance writer, and editor published in avant-garde, feminist journals. Lover of warm-toned makeup palettes, psych-rock, and Hilton Als. Her work has allowed her to copyedit and curate content for various poetry organizations in the NYC area.
---
POP⚡ DUST | Read More About Film/TV...
WTWD? | Questions on Season Eight of The Walking Dead: Episode 5
DOOMSDAY CLOCK is The Watchmen sequel that has us asking, "Why DC?"
BOX OFFICE BREAKDOWN | What's coming to theaters this weekend?
Oh My! Is George Takei the new Kevin Spacey?
---