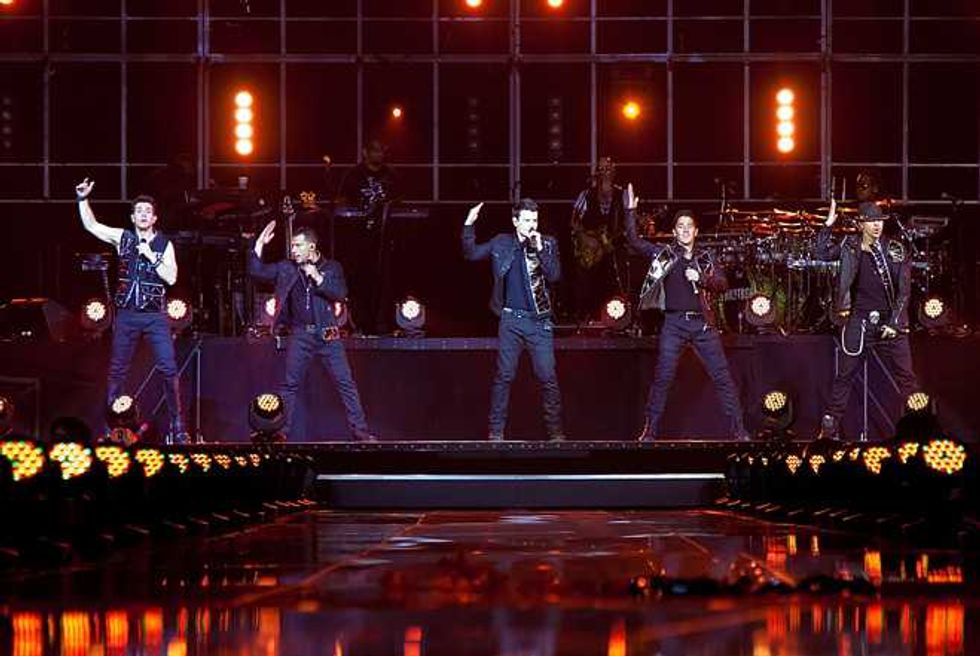 On Five Photo History, Popdust explores the history of an artist, in five pictures! First up: New Kids on the Block, the hottest boy band of the early '90s, who after a years-long hiatus are currently putting out some of the best music in their career.
1980s: The Beginning
Michael Ochs Archives/Getty Images
The New Kids in their early days, performing in a humble gymnasium.
1991: Super Show
At the peak of their fame, NKOTB played the pre-kickoff show at Super Bowl XXV in Tampa. (This was the same Super Bowl Whitney Houston performed the National Anthem, and where Scott Norwood's field goal attempt went wide right. It was an eventful night.)
1994: The Beginning of the End
Vinnie Zuffante/Michael Ochs Archives/Getty Images
NKOTB attended the American Music Awards in early 1994 just as the bottom was about to fall out. As mainstream taste shifted to grunge and rap, the band fourth album Face the Music flopped. Rather than continue on at their diminished level of fame, the boy band decided to break up later that year.
2000s: Separate Ways
The New Kids found varying levels of success in their post-boy-band days. Joey McIntyre and Jordan Knight launched solo careers that thrust them back into the spotlight for a time. (Danny Wood's own efforts were less fruitful.) Donnie Wahlberg became a respected character actor. Jonathan Knight got involved in real-estate.
Now: A Creative Rebirth
David Surowiecki/Getty Images)
With their teenybopper fans now grown adults, NKOTB decided to give the boy-band thing another shot in 2008. And it worked! The band sold out arenas, including this one at Mohegan Sun in 2011, and partnered with the Backstreet Boys for a time to create the man-band supergroup NKOTBSB.