The Great Boy Band Hair-Off, Round Two: Pretty/Girly And Too Much Hair Regions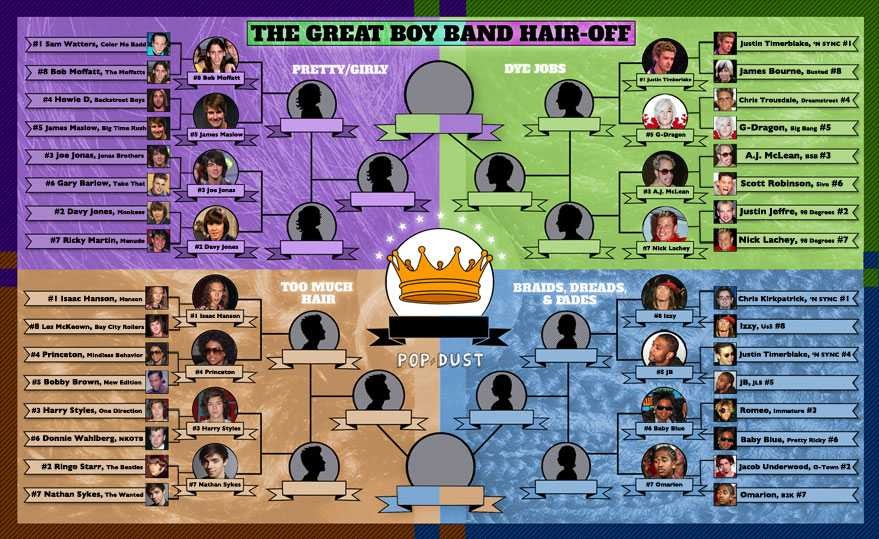 Over the next week, we're going to be squaring 32 of the all-time greatest boy band hair cuts—individual members of boy bands that is, with some groups having multiple eligible members (and one or two members having multiple eligible haircuts)—off against one another, with the goal of crowning the greatest boy band haircut of all time. From Davy Jones of The Monkees' Proto-Bieber 'do to Justin Timberlake's stringy Ramen-noodle look from his 'N Sync days to Harry Styles of One Direction's soon-to-be-iconic swoop, haircuts from all eras of boy bands are in play.
Our first round saw a great number of lower-seeded upsets, launching today's biggest stars over classic and cult coiffure role models alike—so much for our strange fascination with Chris Kirkpatrick's skunk nest. A total of two Number One seeds fell to the bracket game floor, just like the strands of their once-fabled hairstyles did many years ago.
Next up: Round Two of The Pretty/Girly Region, where heartthrobs of the 21st century aim to take down their '90s predecessors and the man who may have started it all, plus the Too Much Hair Region, where not one but two British dreamboats go head-to-head. As we embark on Round Two, decisions will only get more difficult—and more fun—so be sure to check back for our remaining regions later today and keep up the vote. Examine the matchups below, and then vote in the polls underneath to decide who you want to advance to the next round. It's the first-ever Great Boy Band Hair-Off—forget all the camaraderie and chemistry that usually defines the boy band experience. This March, there can be only one.
Previous Regions: Pretty/Girly, Too Much Hair, Dye Jobs, Braids, Dreads and Fades