CULTURE
Witness a forbidden love played out in the public comment section of a Facebook profile picture.
Who could have ever guessed that the greatest love story of the Boomer generation would play out in the comment section of a public Facebook profile picture?
Now shared over 19,000 times, the viral romance of Bill and Linda plays out like a modern, boomer take on Romeo and Juliet.
It all started when Bill––just a regular, horned up, single Boomer from Wisconsin––changed his public Facebook profile picture to WWE superstar Roman Reigns.
---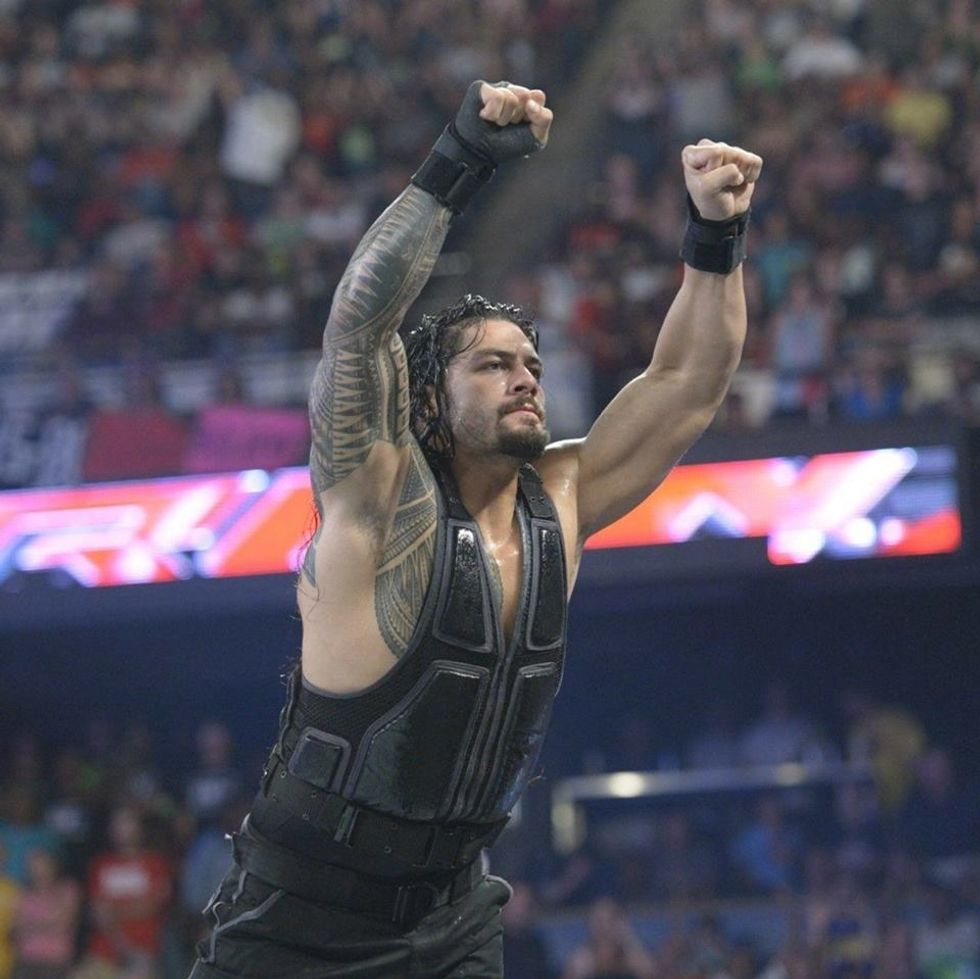 The image laid dormant for over a year, "liked" only by some lady named Lindsay, some dude named Matt, and also Bill's Mom.

Then, Linda flowed into Bill's life like a stream of syrup sloshing onto a pancake at Waffle House. How did she find Bill's profile? Did she think he was actually Roman Reigns? Whatever the reason, love works in mysterious ways. Linda responded to the picture with a robot thumbs up. Then she asked Bill if he had "hangouts" and wanted to go there to talk.
Bill responded, "Bars," presumably because he thought Linda was asking him where he liked to hang out. This brief interaction was enough for Bill to realize he loved Linda, which he expressed with two "I Love You" emojis. Linda asked if he really did.
"Yeah baby," said Bill.
Linda accepted Bill's feelings. In fact, she loved Bill too. But fate had a twist in store. Linda was married. Bill asked her outright about this hitch in their plans. Linda admitted she was married, but not happy.
"...he's mental and calls me names and s**t baby," Linda explained.
Bill suggested that she move to his hometown of Oshkosh, Wisconsin, but Linda told him that she didn't drive. This really turned Bill on for some reason.
"Oh s**t I am getting a hard-on," Bill said.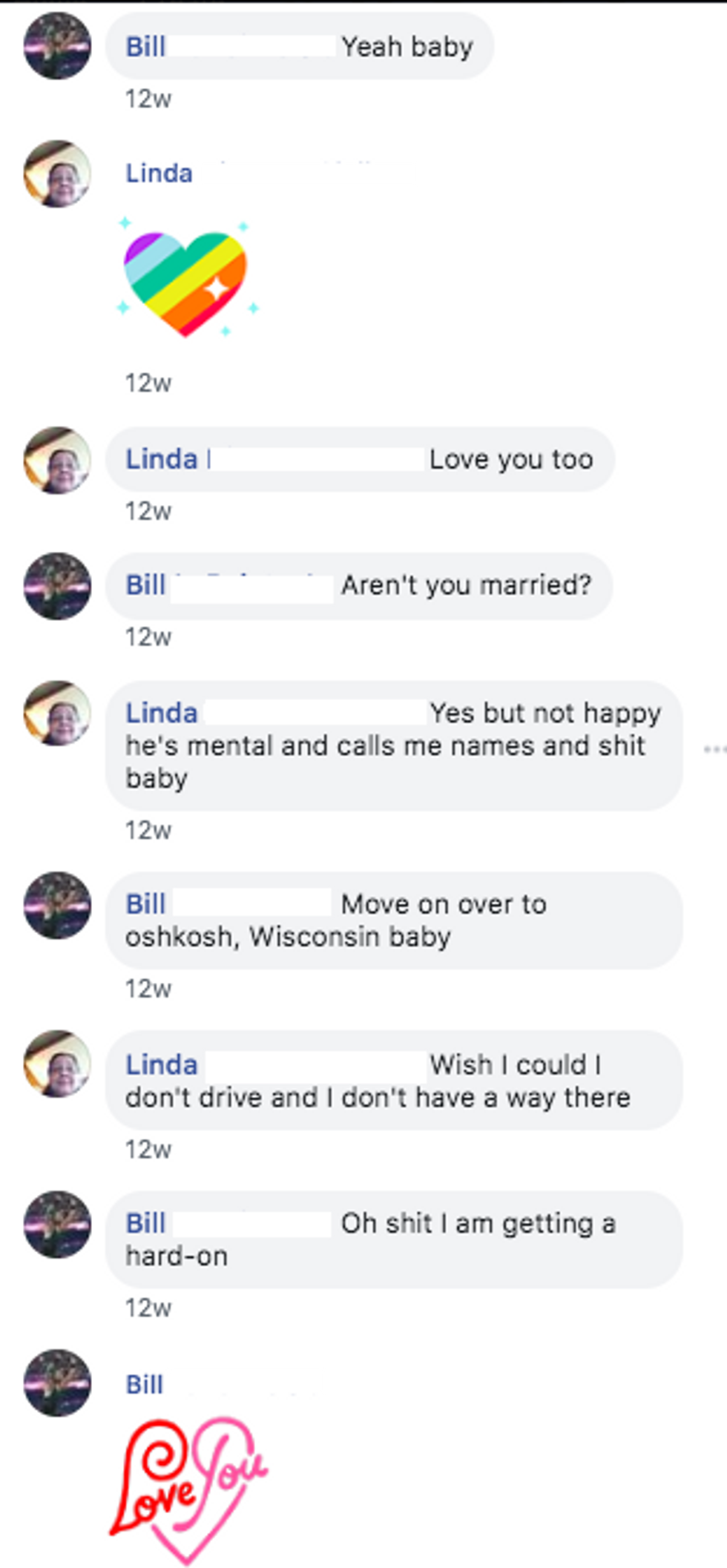 Linda liked this. Bill continued to talk about his "hard-on" and then suggested that Linda should get a divorce. Linda agreed, so Bill wanted to talk dirty.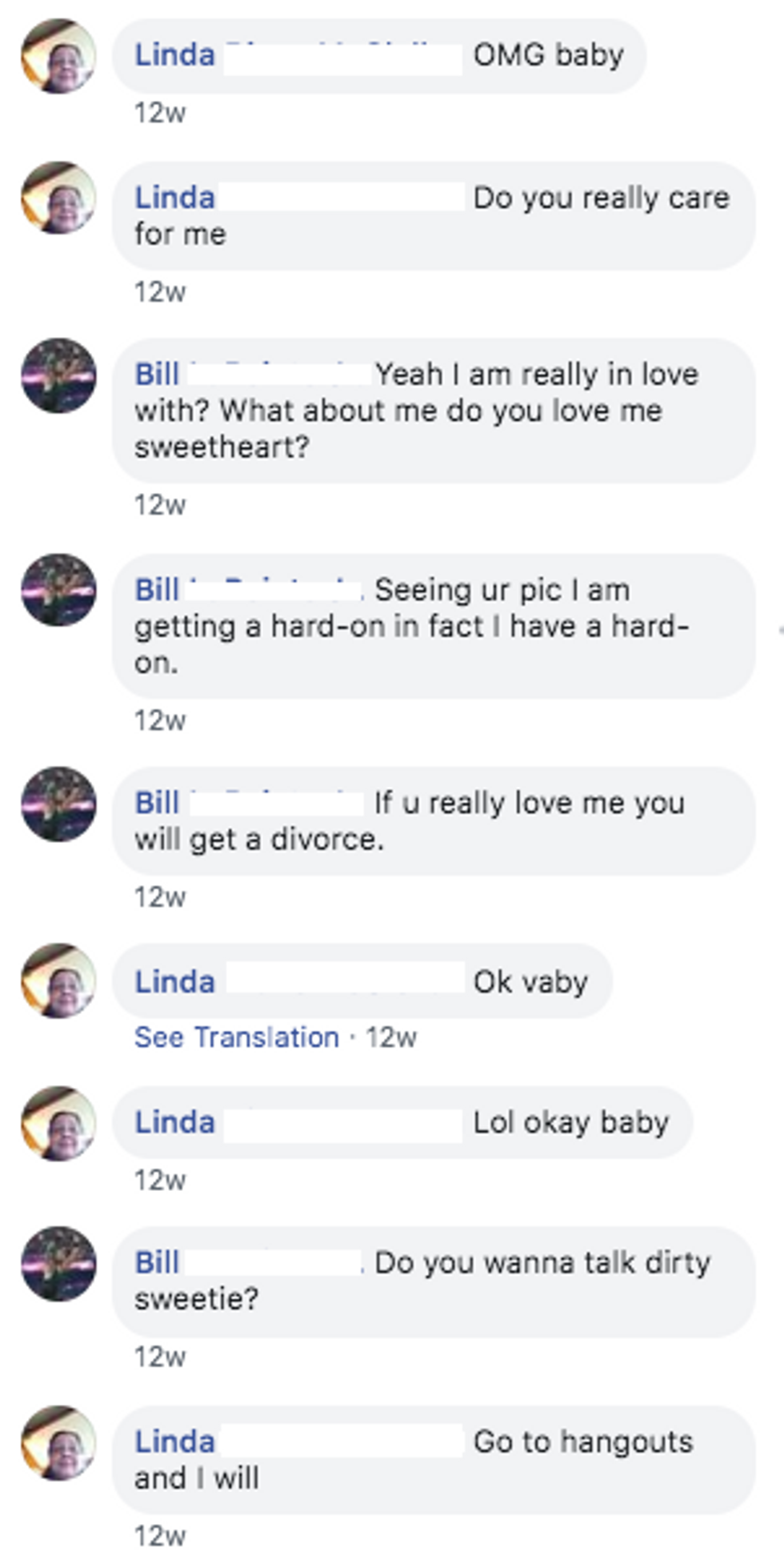 Linda agreed to talk dirty in "hangouts" but quickly decided that this public Facebook profile picture comment section would be just as fine a venue. And so they did.
"Want to suck your big d**k," said Linda.
"I'll f**k ur t*ts, a** p***y and mouth," replied Bill, so excited that he forgot to continue using punctuation.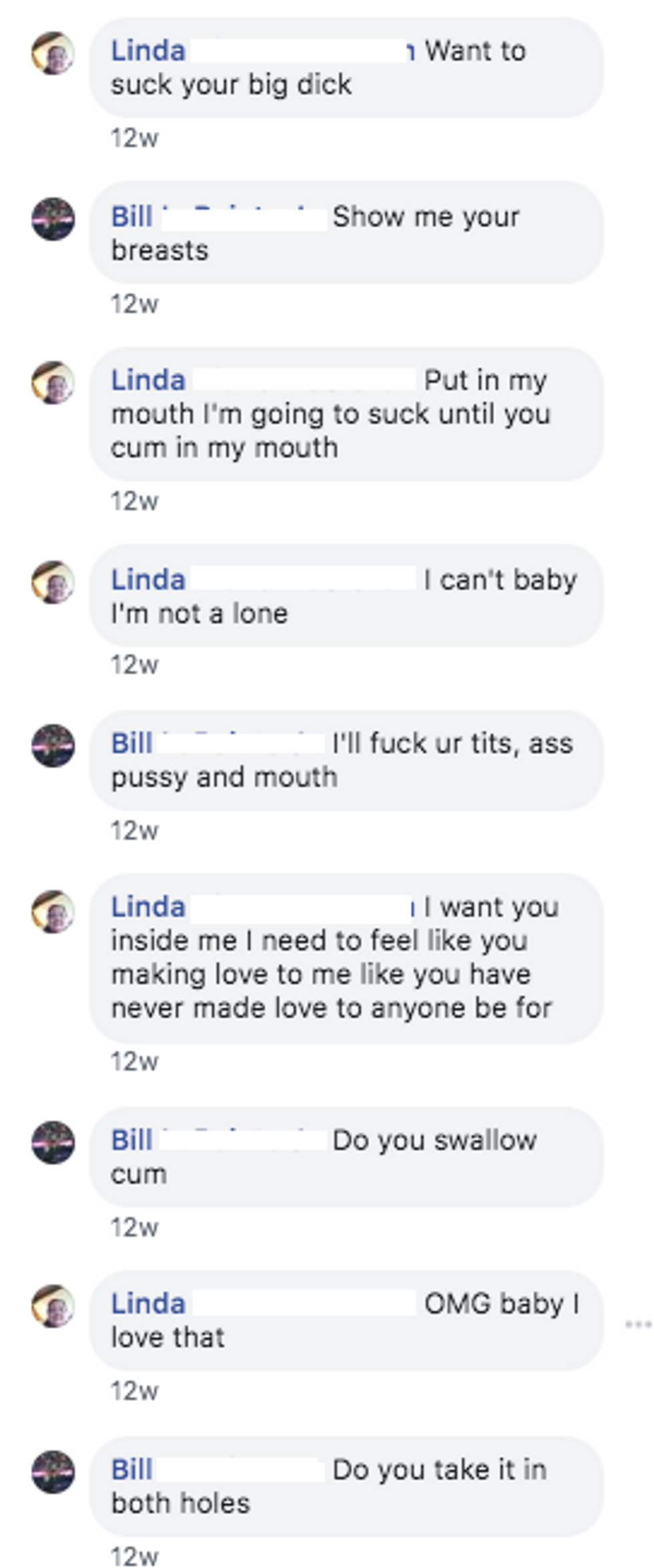 Their romance took a sad turn when Bill mentioned that he wanted to impregnate Linda.
"I have sad news about that," said Linda. "I can't have baby's [sic]."
Bill took the news well enough.
"I wanna f**k ur breasts," he replied, before suggesting they exchange pictures.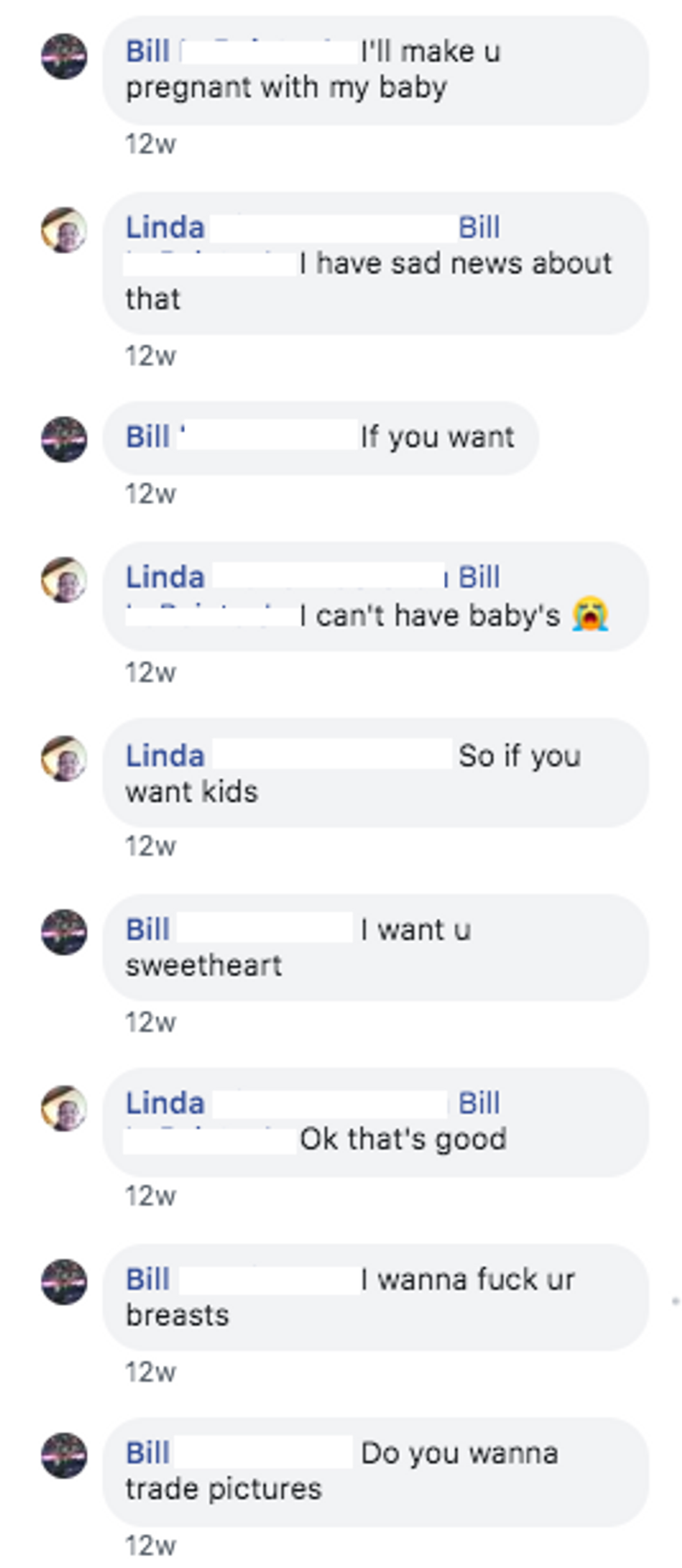 So Linda did.
"Okay get ready for my t*ts," said Linda in, again, the comments section of a Facebook profile picture open to the public. Then she posted a naked selfie.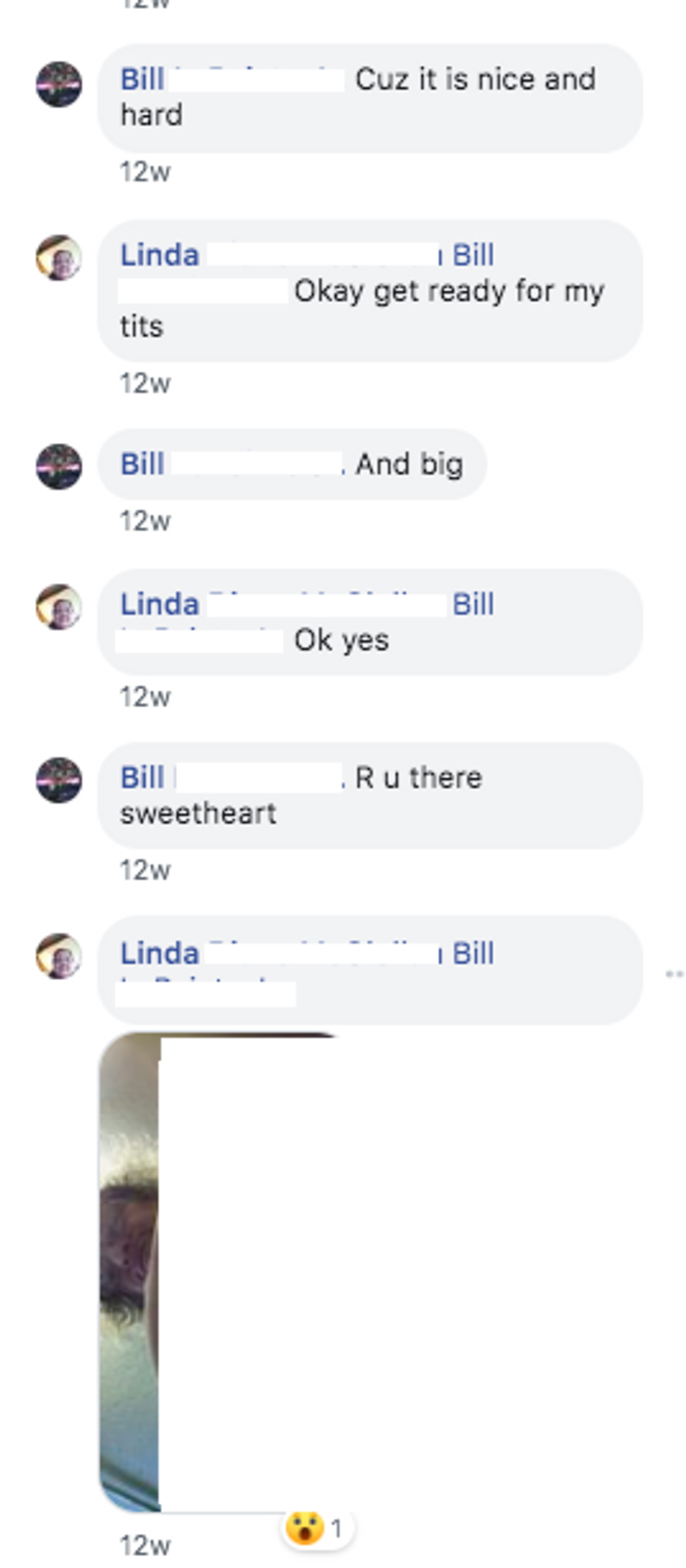 But after a lot more sex talkin', Linda seemed to have some doubts about Bill's true intentions.
"Is sex all you want me for?" she asked.
"No," assured Bill. "I wanna get to know you better."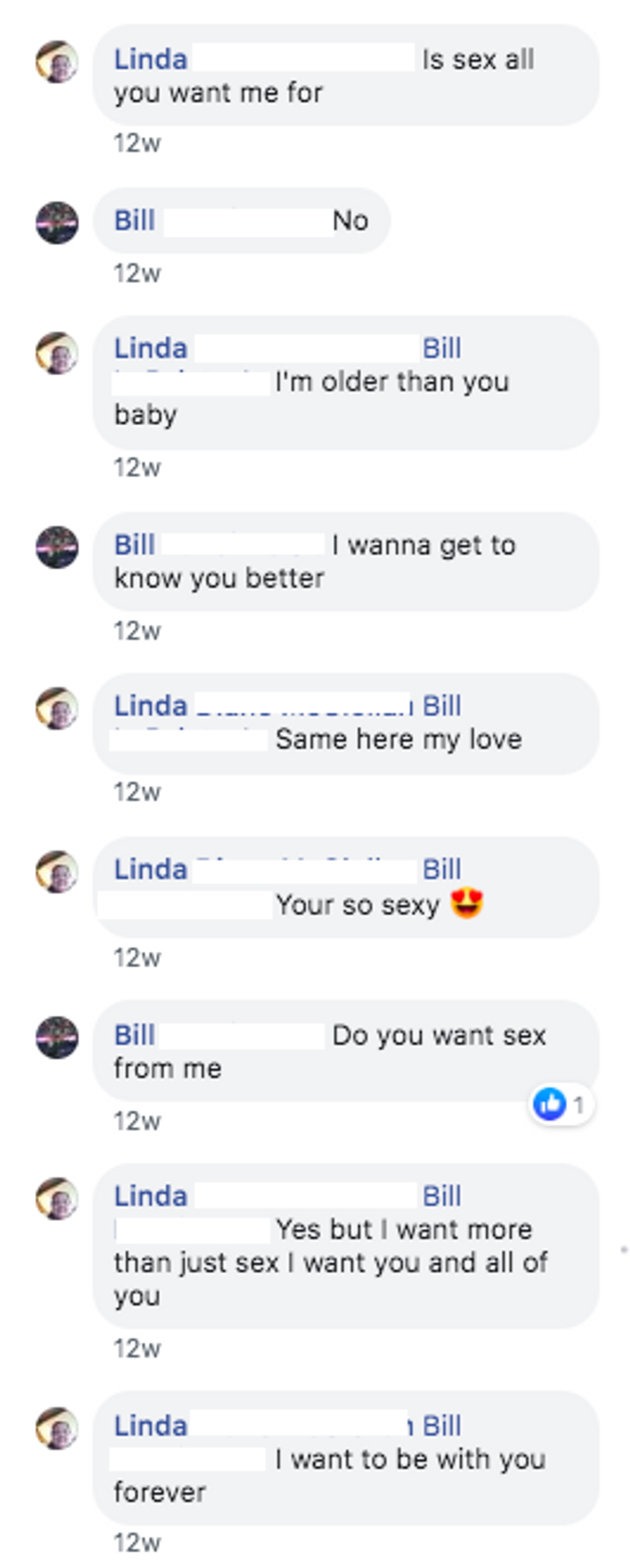 But Bill was lying. He admitted this a few comments later: "And I kind of lied about getting to know you better. I just want sex from you and only you."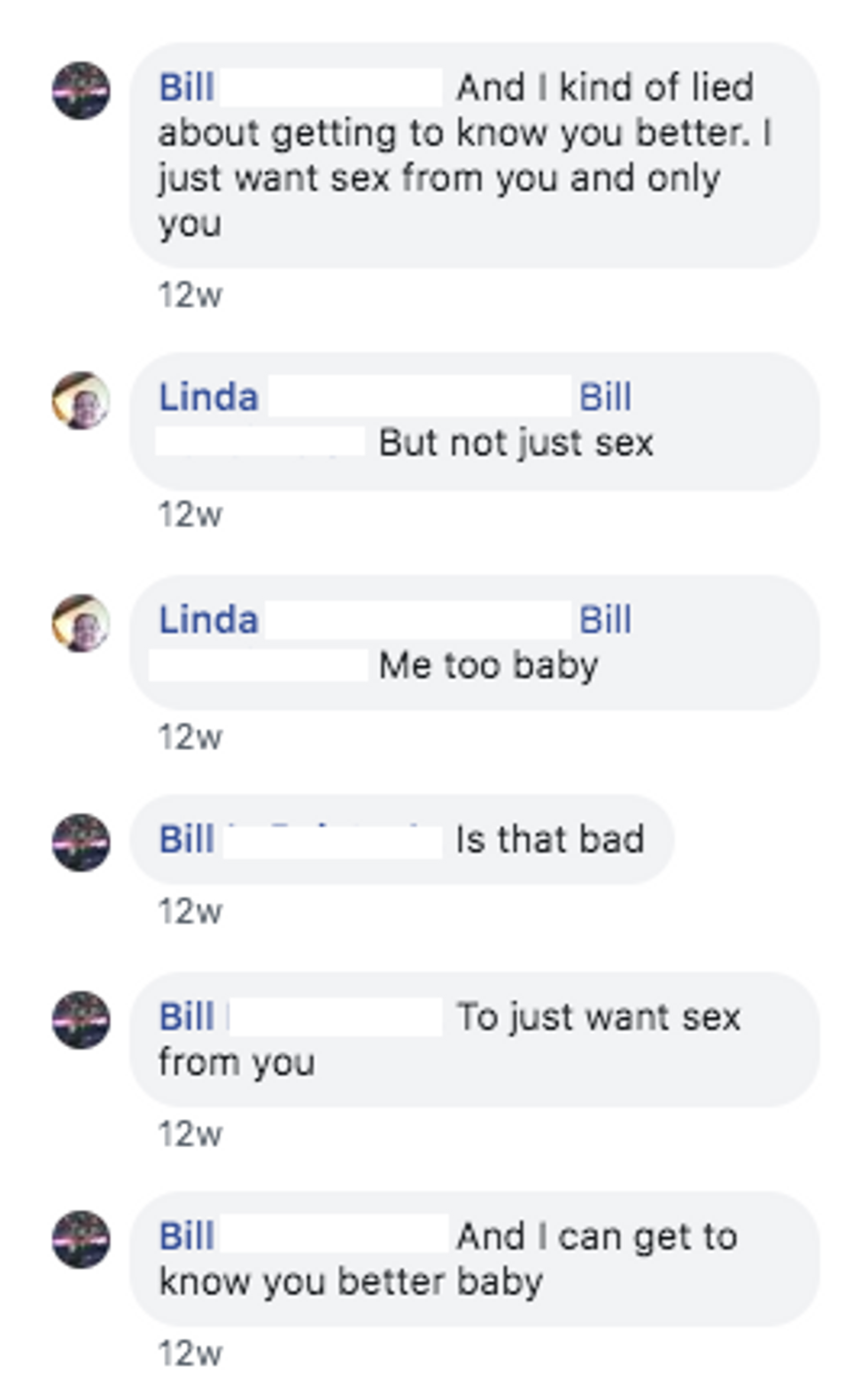 Linda remained undeterred. Their love was too strong. This made Bill very excited.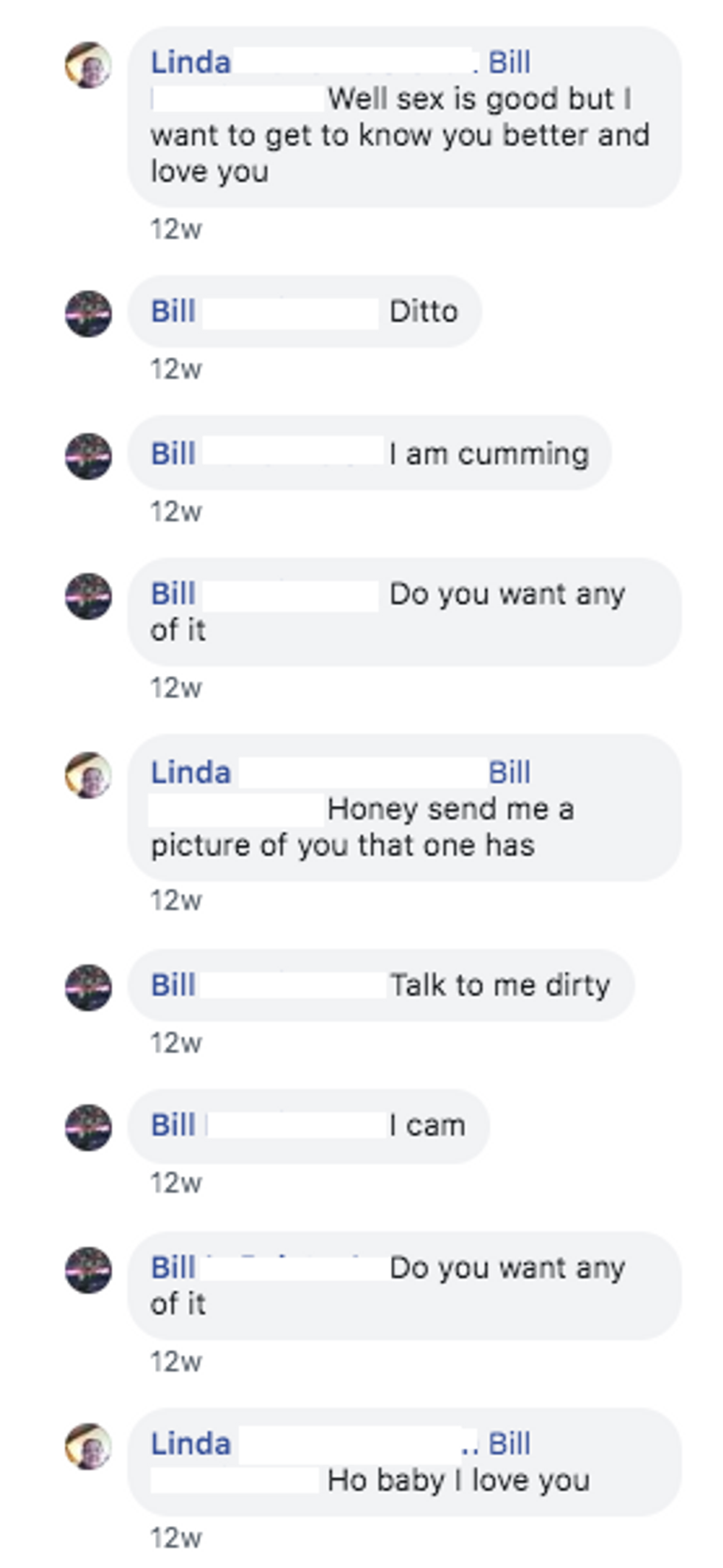 Bill repeatedly asking Linda if she wanted any of his expulsions really seemed to make her yearn for their future together.
"I fell [sic] like I am in a dream that you're not real," she said.
"Me too," replied Bill.
But then, a seed of doubt sprouted in Linda's brain.
"Your [sic] not playing me are you?" she asked.
"I'm not playing u babe," promised Bill.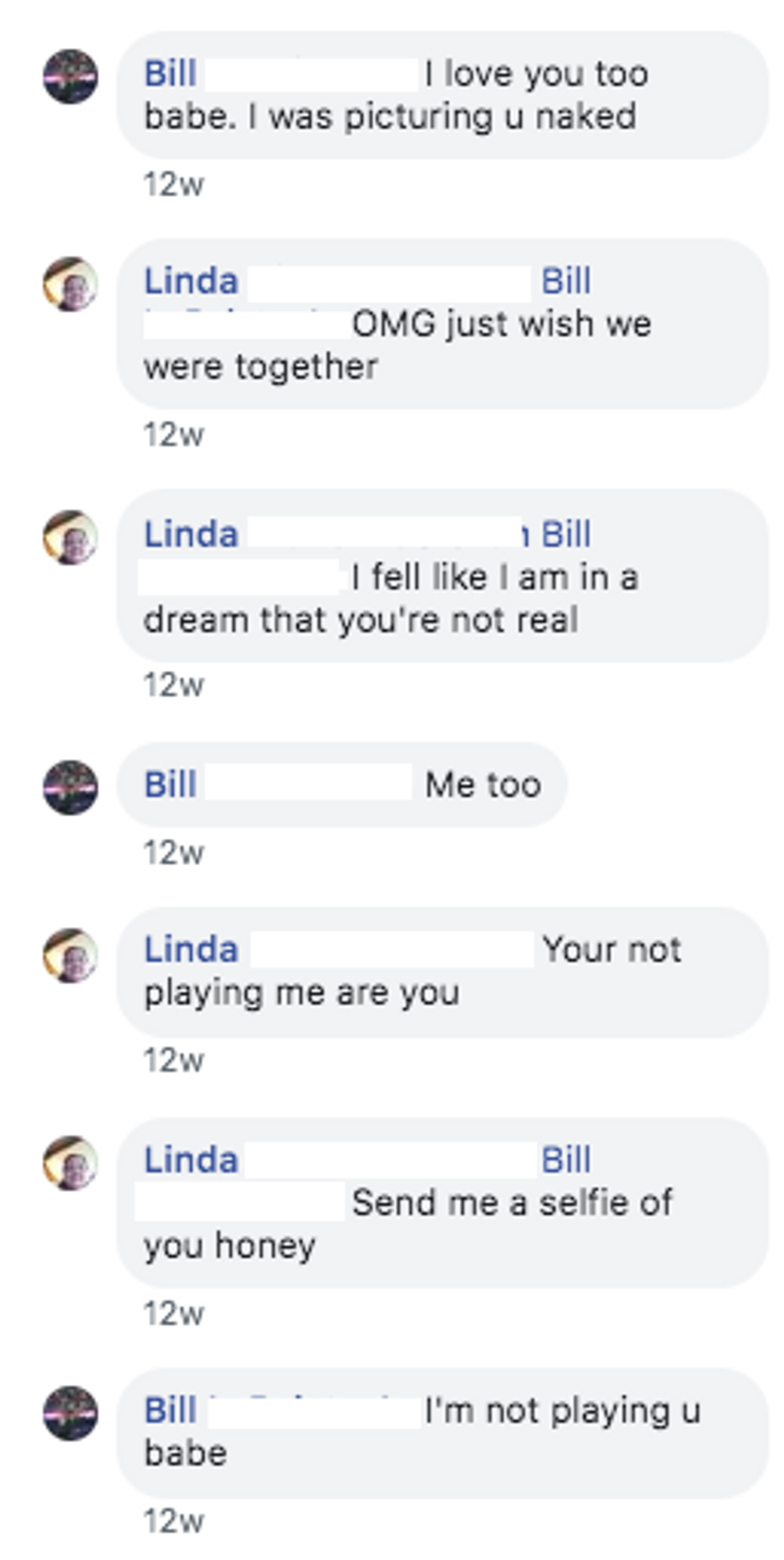 It was too late. The doubt had festered. Linda wanted to know if Bill was talking to other women. Bill admitted he was, but they were only friends "at this time."
Luckily, Linda accepted Bill's explanation, and together, the couple weathered the storms of jealousy.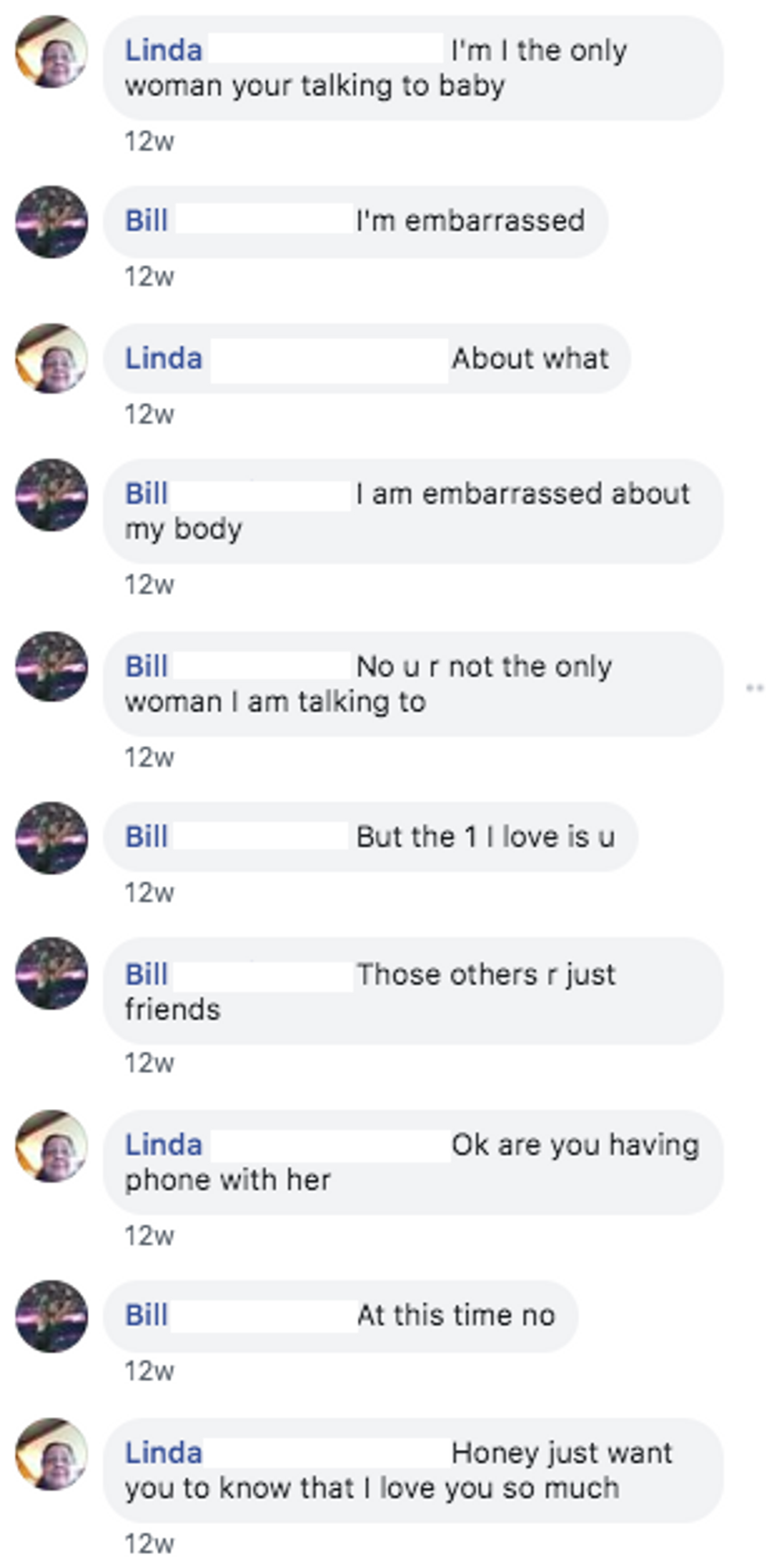 Linda wanted to know why Bill wanted her.
"Cause it so sexy," Bill told her.
"What so sexy?" asked Linda, not understanding.
Bill responded with an emoji of a confused referee for some reason.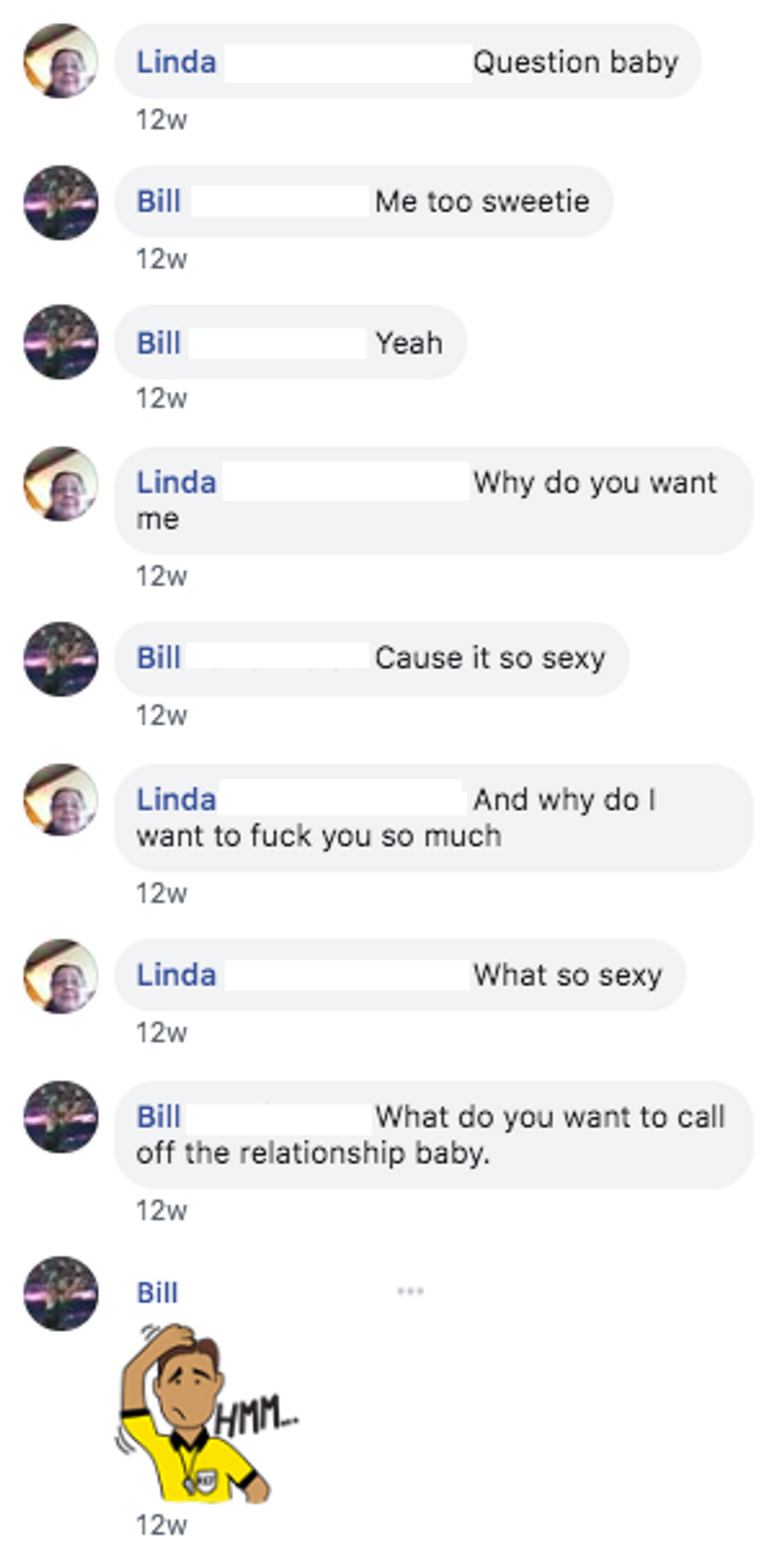 Finally, the wait was too much to bear. Linda yearned for Bill's big Boomer arms.
"Well come get me," she begged.
"Hurry up with the divorce please," Bill insisted. "As long as you are married no sorry about that."
Sticking to his guns, Bill proceeded to ask if Linda wore a thong. Linda did not, but clarified that she would be willing to.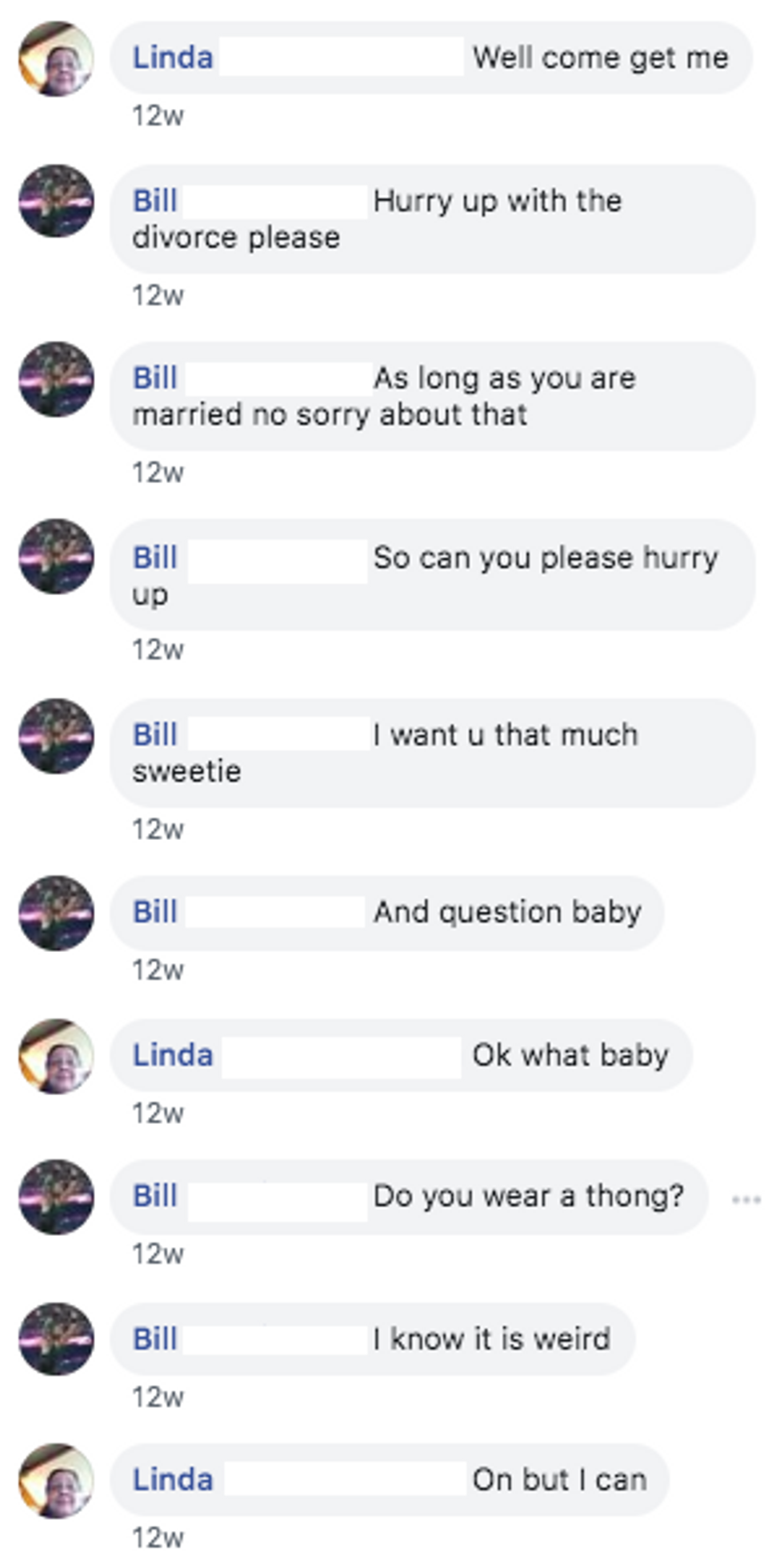 But true to Romeo and Juliet, fate is never kind to star-crossed lovers. And so Bill and Linda met their bitter enemy in the form of Bill's relative, Sharon.
"Do you realize that all your conversations are public?" commented Sharon. "Everybody is reading them as you type them grow up both of you."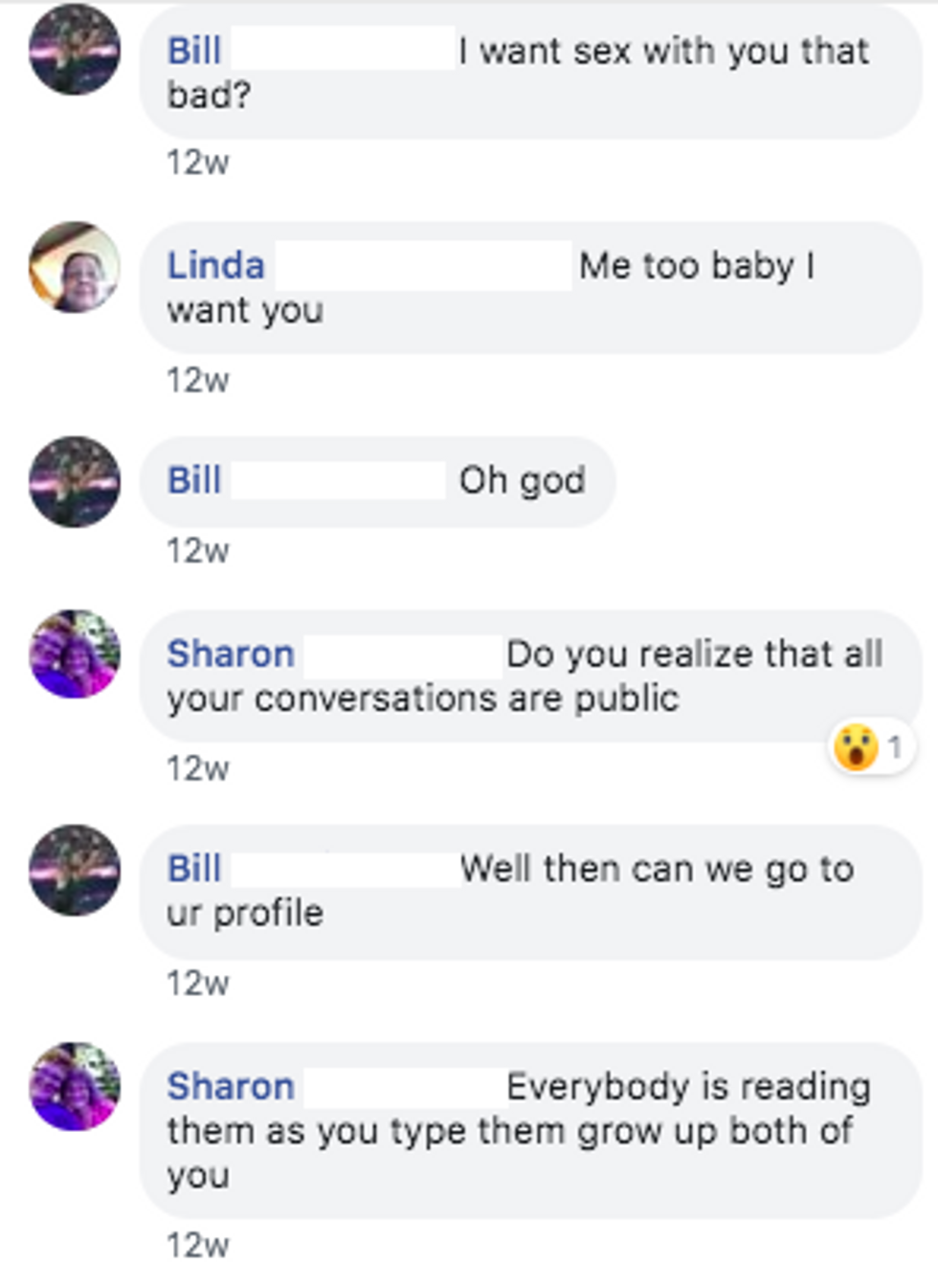 Bill suggested that they move things to Linda's profile, which was also public. Linda said she couldn't get into her account, even though she was already commenting from it.
Linda professed her undying love, sending Bill a kiss emoji. But it was too late.
"I was playing u," said Bill.
"What," said Linda.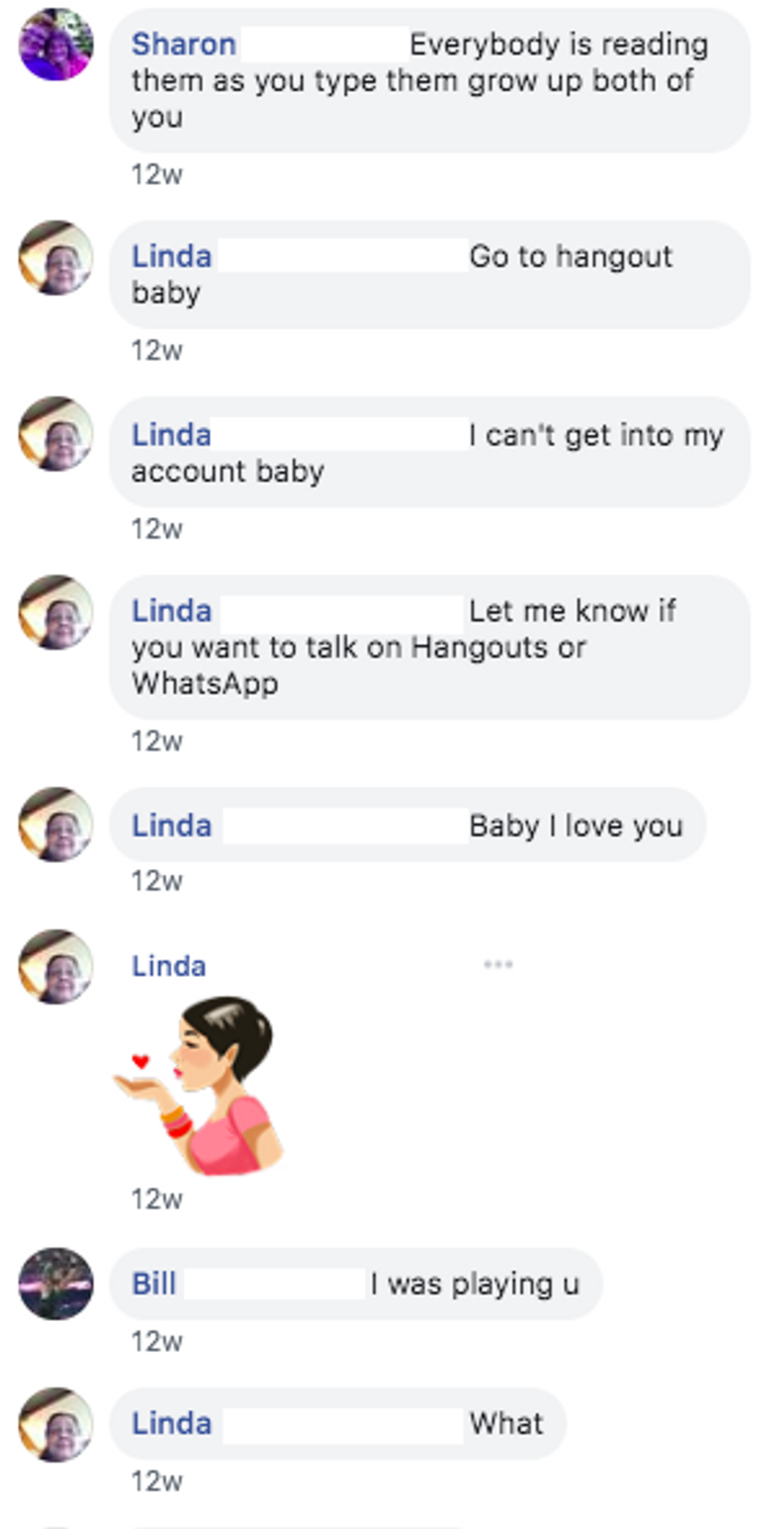 Thus concluded the forbidden love of Bill and Linda, the greatest Boomer romance of all time.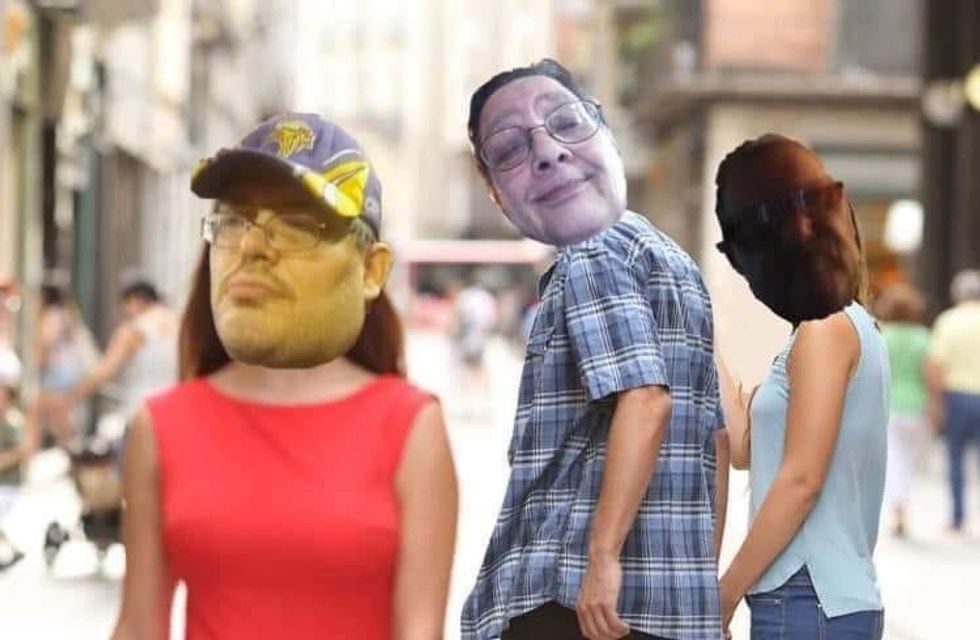 Linda pining after Bill instead of her husband.