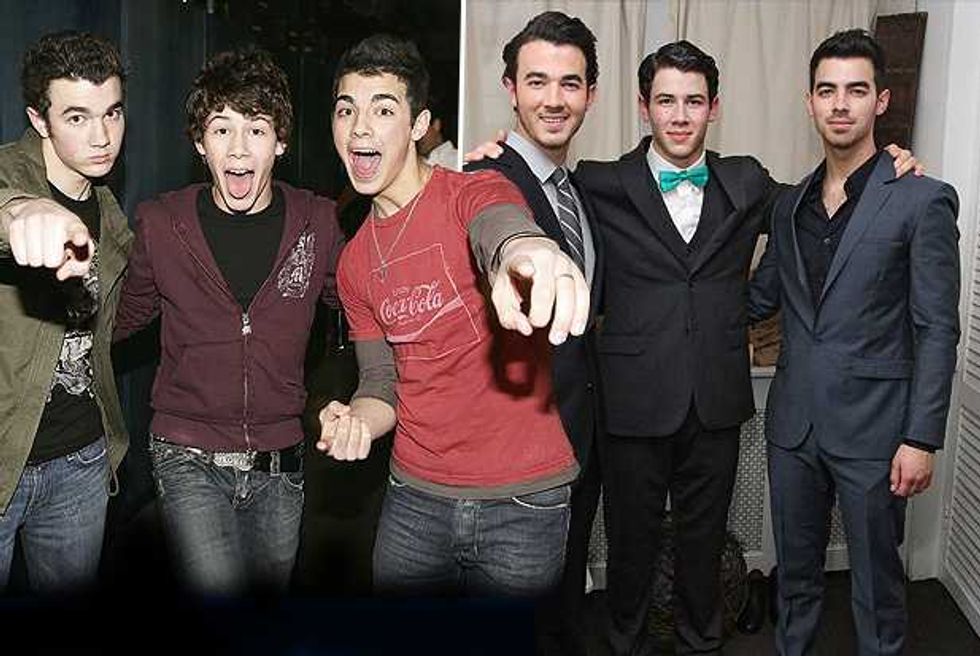 The Jonas Brothers are back! Sort of. News of the the group's split from Disney and Hollywood Records, paired with their impending reality show, Married to Jonas, has officially put the brothers back in the headlines. While the latter will exist under the successful umbrella of Ryan Seacrest-branded programs, it does feel like the final step in a cautionary tale of once-powerful pop stars who've more than fallen out of the limelight. How much did House of Carters do for Aaron or Nick Carter's careers? For three talented brothers who pretty much paved the way for the crazy fandom groups like One Direction and The Wanted are experiencing today through sold-out concerts and 3-D movies, when did things go wrong? Are we supposed to believe failed solo careers, Broadway runs and nights out with Wilmer Valderrama were really their ideas and not a result of what the industry was shutting them out of? Popdust has gone through the good times and the bad, identifying how the trio had everything imaginable, and what may have contributed to their eventual descent into the Land of Contact Lens Commercials.
LANDING ON THE COVER OF THE ROLLING STONE
At the time, the band were the youngest artists to become the face of the storied magazine. With poses like that, this underage, goody-goody trio still had what it takes to make girls scream, and parents feel OK with buying it as future wallpaper.
NONSTOP TOURING
Along with opening for Avril Lavigne, their sold-out North American and world tours set new records in ear plugs sold and chaperon drink consumption.
BECOMING PART OF THE DISNEY MACHINE
The boys starred in the Disney Channel movie Camp Rock, its sequel, and later their own series, JONAS L.A., following the release of their first two albums. Not only does the House of Mouse open doors, it hooks you up with girlfriends, too. (Hi, Demi.)
TALKING ABOUT SEX (OR LACK THEREOF)
As Britney Spears taught us, any mention of your virginity as a teen star sets you up for judgment, ridicule and an extremely close watch on your late-night activities. Russell Brand made the boys and their jewelry the punchline to a joke during his hosting gig at the 2008 Video Music Awards, allowing their religious beliefs and non-existent sexual histories more important than the new music they were trying to promote.
LETTING A BODYGUARD RAP ON THEIR SONG
Yes, the unnecessary rap verse of "Burnin' Up" belongs to none other than Jonas security team member, Big Rob. If Justin Bieber can get Ludacris, and Big Time Rush can land Snoop Dogg, the Jonas Brothers—in their heyday—would at least be available to get five minutes in the studio with...T.I.? He loves kids!
PROMOTING SOMETHING CALLED A "BONUS JONAS"
When your pizza-eating, rascal of a younger brother starts stealing some of your fans with his own tribute sites, you know you're not working hard enough.
DUMPING FAMOUS GIRLFRIENDS
Obviously the break-up between Joe and Taylor Swift only helped the latter skyrocket to the top of the world's Best Teen Songwriters and Best Jilted Young Women lists, but mega-couples like Bieber and Selena Gomez have proven that there's power in the number two. (We know you got there first, Nick!) Plus going on to breeze through the likes of Demi Lovato and Ashley Greene before the ripe old age of 22 doesn't do much for that family-oriented reputation.
GETTING MARRIED
Kevin was probably hoping that when fans saw he was mature enough to wed at 22, they'd continue to support him and his good morals. In reality, his marriage only further separated him from teen heartthrob status while making him look like a big horndog who wanted to get to the rainbow on the other side of that purity ring.
CANCELING PERFORMANCES BECAUSE OF GERMS
The trio reportedly canceled a concert in Mexico to protect themselves from swine flu. Touring is where artists make their money these days, and true artists don a mask. Suck it up and don a mask!
ALLOWING THE MOST TALENTED MEMBER TO START A SOLO CAREER
Nick has the voice, the musical talent and the good hair genes to attract throngs of screaming females and their mothers. So when he mumbles about wanting to start a side project without you, you do everything in your power to stop it from happening. Hanson didn't let Taylor slip away!
FLOPPING AT SAID SOLO CAREER
You're not alone in failing to remember 2010's Who I Am.
STILL TRYING WITH THE SOLO CAREERS
Or 2011's Fastlife, for that matter.
SHILLING FOR TOURISM BUREAUS
For every moment spent with Betty White, they still have to live with the fact they worked on the same project as Kim Kardashian.
ALIGNING THEMSELVES WITH QUESTIONABLE ENDORSEMENTS
He can see clearly now, yet all our interest is gone. But then again those of us who thought the career of Claire Danes was D.O.A. upon first mention of "Latisse" ate sizable crow when she won a Golden Globe.
MAKING WEIRD CAMEOS ON FLEDGLING TELEVISION SHOWS
Sadly his appearance would have been better if this May-December romance actually happened.
HANGING OUT WITH WILMER VALDERRAMA
Did the sad stories of Lindsay Lohan and Demi Lovan teach you nothing?
SIGNING UP TO BE BROADWAY'S THIRD CHOICE
A seasoned performer on the Great White Way, Nick signed on to nearly a six-month run in How to Succeed this winter, but has failed to completely replicate the mayhem (or ticket sales) brought on by Darren Criss, or the show's original star, Daniel Radcliffe—someone we didn't even know could sing.
RECEIVING PUBLIC LAP DANCES FROM FORMER CRUSHES
The Wanted should consider themselves lucky. This was embarrassing for all involved.
PARTING WAYS WITH THEIR LABEL
The trio "amicably ended" their partnership with Disney and Hollywood Records this month, a phrase that generally has a good chance of standing for "dropped." After 17 million albums sold, the brothers are now free to roam about as unsigned artists for any company that's interested. Don't all jump at once.
STARRING IN A REALITY SHOW
An E! show that follows the trials and tribulations of the older brother's life in suburban New Jersey? Hope you're ready to become the next Hank Baskett, Kevin.
While they haven't recorded an album together in three years, there's still hope for a return to JoBro glory, with Joe hinting at the possibility of a comeback and the group unveiling an optimistic hashtag (#JonasBrothers2012) on Twitter and a brand new logo for their official website. But with all the time spent on Broadway, the aisles of Home Depot and in VIP with pop's most notorious form of human kryptonite, not to mention a new crop of boy bands up for the task, it's hard to imagine things—hair, specifically—will ever be the same.