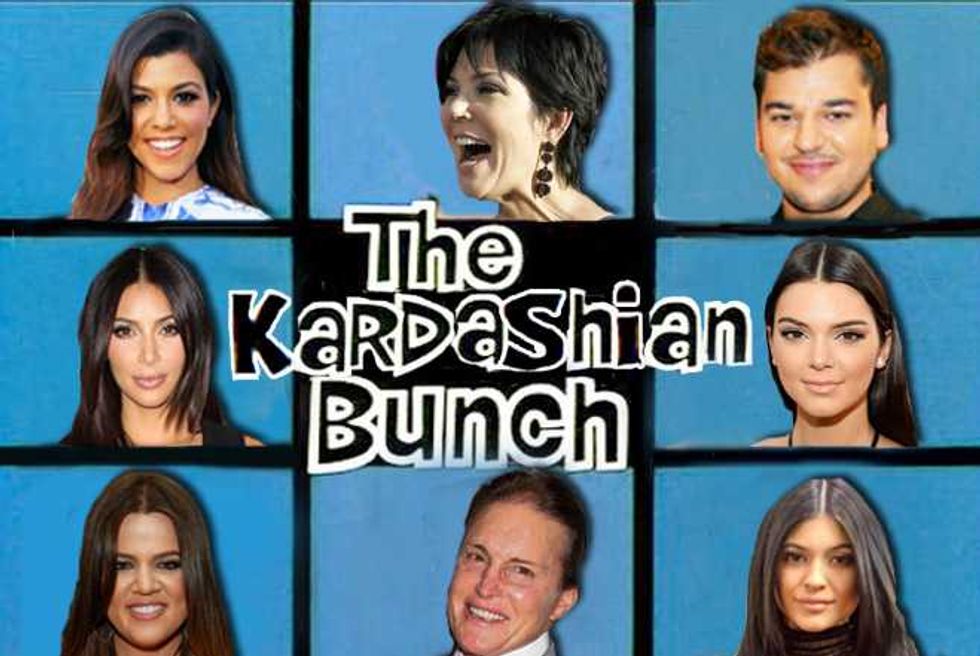 I want to talk to you all about the Kardashians.
But before you start violently typing out your pre-scripted opinions about their existence and prominence, I want to talk about someone else: Edie Sedgwick.
Edie Sedgwick was one of Andy Warhol's "Superstars"; a group of his friends who he decided one day to make famous, as an exercise of his theory that "everyone will be famous for 15 minutes."
Edie Sedgwick wasn't a trained actress, or a singer, or a model, or anything of the sort. She was just pretty. And for no other reason than her association and close relationship with Andy Warhol, became famous. The logic being that since Andy was famous, anyone who he hung out with would become famous by association, regardless of whether or not they did anything to deserve the spotlight.
Fame is the most contagious disease there is.
Edie Sedgwick died of a drug overdose at 28. Had she of lived on, she would have easily been a household name. For no discernible reason whatsoever.
I bring this up in order to highlight an important fact about our entertainment industry—being a celebrity does not require a particular talent or skill, or any real actions of notoriety. At its core, fame is nothing but an exercise in social nepotism.
Your fame is measured by who you know, not what you know. If you have a relationship with the people who own the means of production (and in this came, fame is what is being produced), then you can achieve celebrity status for no other reason than a social association.
This is not a recent development signaling the end of times. It's literally always been like this. Except now, you've got more and more people purposefully gaming the system. And with the advent of the internet and reality TV, your ability to access people's lives has increased tenfold, thereby increasing the demand for celebrities. We need more people to vicariously live through so that we can temporarily escape our dull, demanding lives. Idolatry is human nature.
We, the general public, turn people into celebrities. You cannot turn yourself into a celebrity. In order for you to become "famous" as it were, it requires attention from the general public. If nobody cares about you, or if nobody wants to see you, then you cannot be a celebrity.
We create these careers, and we can end them just as swiftly. So if anyone receives attention that you deem unwarranted, it is not their fault. It is the fault of the people giving them attention; yourself included. Don't hate the player, hate the game.
Sometimes someone's celebrity is earned; we give them that status to celebrate an accomplishment or feat that we hold highly in terms of societal importance. Or you can just be a backup dancer in a shark outfit at the Super Bowl. Or make a sex tape with a washed up R&B singer. Humans are fickle and unpredictable like that.
Enter the Kardashians.
The Kardashians are the true American dream, whether you want to admit it or not. A family full of strong, independent, matriarchal, sex positive immigrant women who date and marry black men, with, Bruce Jenner, the stepfather in the family, transitioning into a woman. And, they're the most well known family in America. If that is not social progress, I don't know what is.
So where's the beef? Why the hatred and vitriol? None of them are in and out of rehab. None of them have any trouble with the law. None of them are having random children. They're not bigots, they're not murderers, rapists, adulterers, etc. So why are they so hated? Why is there such widespread ire against the Kardashians?
Well, most of it probably has to do with the fact that they're a family full of strong, independent, matriarchal, sex positive immigrant women who date and marry black men, with the stepfather in the family transitioning to a woman.
Just being honest.
But a lot of it has to do with this idea that they did not "earn" their fame the "right" way. That they got to this mountaintop the cheap way. The sleazy way. By gaming the system. By taking Andy Warhol's formula and morphing it into a 21st century model for success.
And to that I say: get the fuck over it. Honestly. If they had no worth and no social capital then they wouldn't be as wildly as successful as they are today.
Kim Kardashian is not the only girl from money to make a sex tape with a B-List celebrity. But she is the only one to parlay those 15 minutes into her own video game. She took a shitty sex tape and turned her entire extended family into entrepreneurial multi-millionaires in their own right.
That is absurdly smart of her. To try and downplay her accomplishments, hard work and efforts because you simply can't fathom a world in which Kim Kardashian isn't functionally retarded says more about you and your biases than it does about her.
These attempts to mitigate the Kardashians' success, or to downplay their work ethic. come from this patriarchal notion that there's no possible way that these women worked and earned their current place in society without simply sleeping their way to the top. There are too many people who have sucked way more dicks than Kim Kardashian who can't afford a cheeseburger for that to be true.
At some point, your personality, wit and work ethic has to kick in for you to have that kind of success.

 Was it maybe a little easier due to their last name and wealth? Of course it was. I'm not implying that anyone in that family sold crack to get to where they are. But they've been able to elevate themselves into a completely different echelon of fame and celebrity, and that was self made.
Let the Kardashians cook.