Top Stories
MUSIC VIDEO | The rock band release the Vegas-stripped visual for their new lead single.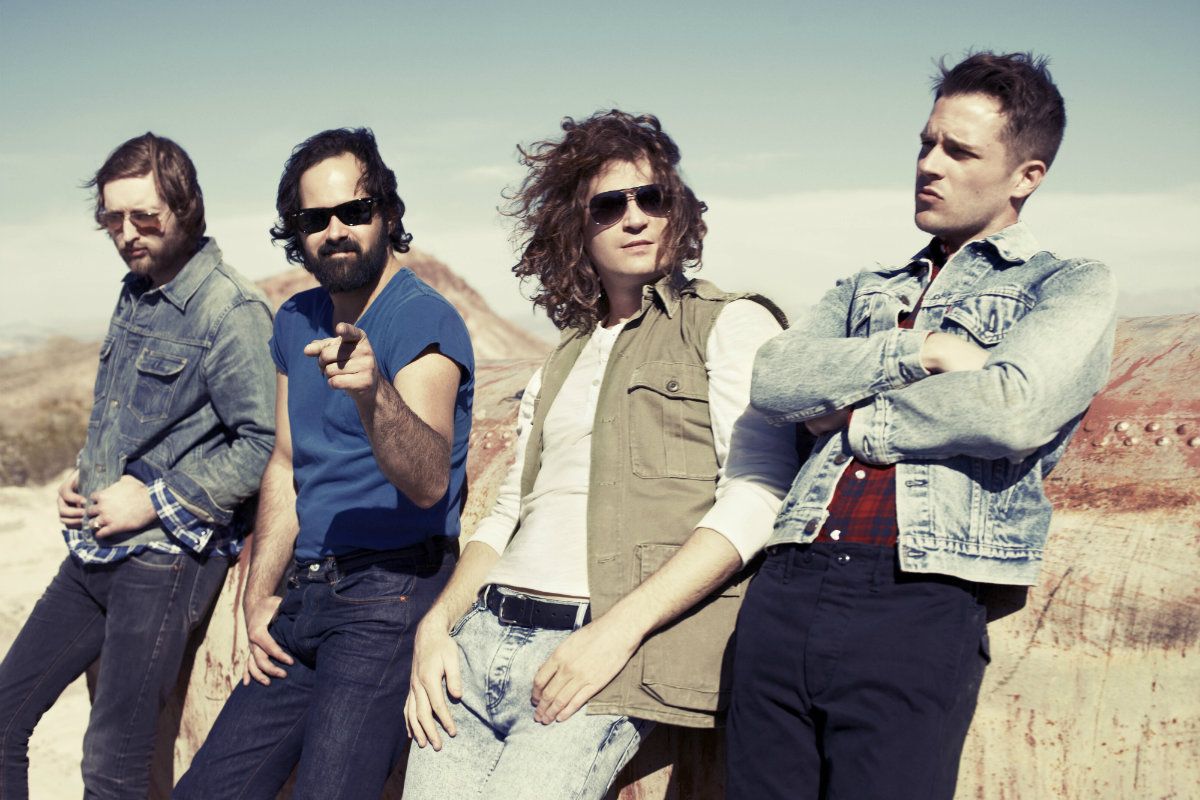 A down-home country boy takes Sin City by storm.
What happens in Vegas, stays in Vegas. That unspoken rule of conduct has been Sin City's mantra for decades. Along the illustrious strip, out-of-towners make a bid to win big, get their rocks off with whatever vices they can find and often don an alias. The Killers frontman Brandon Flowers lives the rockstar lifestyle, taking it to extremes in the latest visual for "The Man," a classic-rock-decorated pop track. His regular life is one strewn with beer cans, VHS tapes, choking dust and a vibrant America flag blowing valiantly overhead. But when he steps into a classic, fine-lined tuxedo, he becomes a whole new man--and even his cavalcade of friends agree. A country outlaw hits the big city, and things go off without a hitch. "I got skin in the game," he brags, as the footage twitches between his more humble life and his snoozy Vegas act.

"I got news for you baby, you're looking at the man," he later sings, bravado for days. But as the story is revealed, you quickly learn he's portraying an array of characters, from the country boy to the washed out, gun-toting reject and a high-class socialite, who has plenty in common with Leonardo DiCaprio's Jordan Belfort from The Wolf of Wall Street. His lower-class self slumps it on the couch, only dreaming he is the man. The dazzling strip lights dance in his head, but it's all for naught. Meanwhile, his friends eventually ditch him, and he gets kicked out of the casino.
The clip is directed by Tim Mattia, who has worked with everyone from The 1975 ("A Change of Heart"), country troubadour Chris Stapleton ("Fire Away"), Zedd & Alessia Cara ("Stay"), Halsey ("Colors"), Sam Hunt ("Take Your Time") and Troye Sivan ("Blue Neighbourhood" Trilogy).
The song serves as the first single from the band's new album Wonderful Wonderful, produced by Jacknife Lee.
Watch the clip below:
On "The Man," Flowers spoke with Entertainment Weekly about crafting it and the album, at large. "Those songs came and it was like, 'These are more tender or contemplative than we've ever been, how did we get to this point?' Reflecting on that was where 'The Man' came from," he said. "In your head, it's about being tough and bringing home the bacon, but what I've come to find is it's really more about empathy and compassion."
He continued, "Right now, to a 9-year-old, a 7-year-old, and a 6-year-old at home, I'm Mike Tyson — and I don't want to go down."
Last year, Flowers issued his acclaimed second solo album, The Desired Effect.

---
READ MORE ABOUT MUSIC...
WATCH | Calvin Harris, Katy Perry, Big Sean & Pharrell catch all the "Feels" in new video
LIVE | XYLØ come "Alive" with new single, plot first headlining tour
LISTEN | Finn Matthews pulls back with "Wouldn't It Be Nice"
---