The Little Hours (Gunpowder & Sky)
Dir. Jeff Baena
Starring: Alison Brie, Dave Franco, Aubrey Plaza, Kate Micucci, John C. Reilly, Molly Shannon, Fred Armisen, Jemima Kirke and Nick Offerman
---
History class was once very serious. It was once taught by humorous cretins that looked like John Hughes villains and beat everyone with rulers and consisted of explaining the grave seriousness of everyone who ever lived. Rebelling this bulwark was stuff of Monty Python and the Holy Grail and The Life of Brian and were, accoridnly, treated as acts of great subversion. In the years that followed, this formula has run over much of the library of historic myth: Drunk History has inspired legions of knock-offs, Hamilton was the sensation of our decade. Jokes can now be made and feel tired in the age of bad wigs and generally bad fashion choices.
Which makes the world of Giovanni Boccaccio's multi-volume The Decameron perfectly ripe for a big picture adaptation, which Jeff Baena (I Heart Huckabees, Life After Beth) has partially accomplished in The Little Hours, a comedy that takes one of The Decameron's tales and fills it with some of the most recognizable faces of the past decade of television. There is Alison Brie (Mad Men), there is Kate Micucci (Scrubs, Big Bang Theory), there is Jemima Kirke (Girls) and, why not, Fred Armisen (SNL, Portlandia) stops by as a high-ranking catholic. And amid this noise, Nick Offerman and the very busy Aubrey Plaza (both of Parks and Recreation) swing in to helm the movie's funniest moments. But unlike the bible or the life of the fellow on the $10 bill, The Decameron is already funny, naughty business without the TV talent; Joan Acocella, in her review of Wayne Rebhorn's latest translation of Boccaccio's genre-inventing novel, called it "probably the dirtiest great book in the Western canon." In one of its tales, a cheating wife offers her lover a peek up her skirt while the husband is busy preparing a barrel to be sold. Elsewhere, it is debated whether a woman's "fur" merits "a good shaking." Neither of these tales make Baena's story, nonetheless.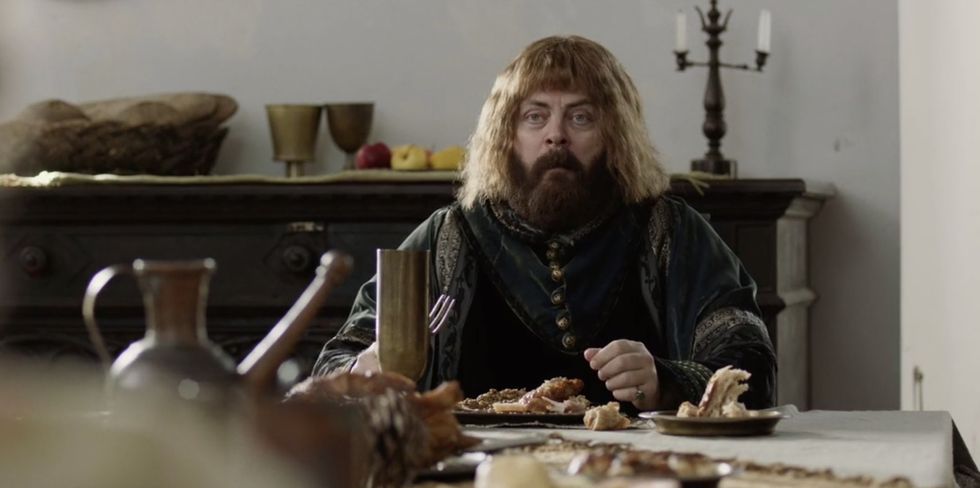 Nick Offerman in 'The Little Hours'(Gunpowder and Sky)
The Little Hours contains, instead, the tale of a solider (Dave Franco) who gets it on with the wife of the local lord (Offerman) and is rescued by an abbot (John C. Reilly) who hides him in a nunnery as a deaf-mute. Brie, Micucci, Plaza, et. all. are among its many nuns, who he bangs. Offerman's get up, returning with facial hair after his disasterly shaven turn in John Lee Hancock's The Founder , brings to mind an audition reel he might have made to join the team at Game of Thrones as some warrior of the far north. But what sells the character is the return of the perfectly droll mid-American flat tone he did so well on NBC, proving how brilliantly it works on either side of the bureaucracy. Just read this dinner monologue he gives his philandering wife (Lauren Weedman):
I'd like to think we've had a nice life. I think I surround you in a lifestyle that is pleasant and luxurious. I enjoy this pheasant. As soon as Florence gets here, we'll be eating chicken like a bunch of fucking Croatians. I sent another messenger to Florence, messenger came back. He's dealing with the Gwelf soldiers. He's got Florence, he's got Aarezzo. He doesn't have Pisa yet, but he will…And then he's coming for us. So, my dear, enjoy this lavish lifestyle, your two dresses, your pheasant, your lentils, live it up. It's coming to an end.
The topical jokes ("fucking Croatians," the incessant eating of pheasants, which I resolutely believe people haven't done for the last century) are held by the drone of medieval literature, the rambling that has scared straight so many from Chaucer. The sprinkled in profanity betrays some of the Drunk History influence and there are some of the tired clichés of historical comedy, i.e. Jewish jokes and the like, but The Little Hours does no disservice to its cast, each riff on their beloved TV personalities and Baena's pristine direction give them a worthy stage. Kirke, famous for playing Jessa on Girls, tells her nun friends that "being touched by a man is the greatest pleasure on earth," Armisen follows with an enjoyable appearance as neurotic bishop. The movie's only off moments come, curiously, from the non-TV actors in the bunch: the younger Franco and Reilly have very little chemistry and watching their bromantic riffing is vaguely painful.
But few are able to shine their personalities as much as Ms. Plaza, whose well-worn April Ludgate-beats as surly, enraged and, finally, gothy are performed like Jimmy Page whipping up "Stairway to Heaven" for fun. Along with her peers, she senselessly attacks a groundkeeper played by Paul Weitz, she rolls her eyes while giving confession and, finally, leads a witchcraft sacrifice ritual in the corner of the woods that tops the whole thing off. Baena's power is in giving each of these routines the space to breathe that they are rarely given on television. His world, if anything, brings to mind the immersive fairy land of the first Shrek movie, a place where you could imagine Mike Myers and Eddie Murphy's characters actually living inside, before if got too crowded and the jokes felt scattershot by machine guns. It's a 14th century hangout movie, why not chill?
'The Little Hours' comes out June 30th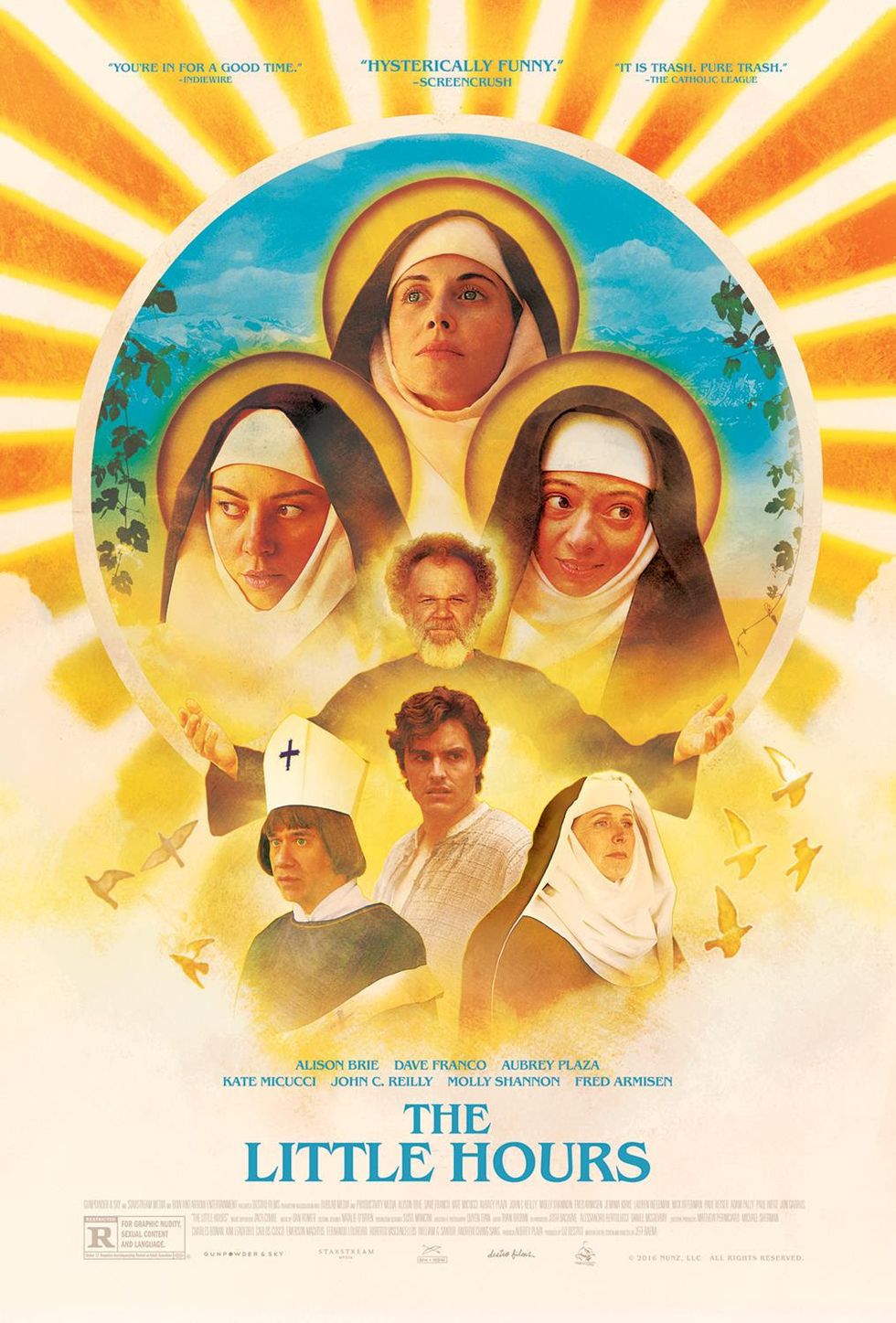 ---
Andrew Karpan is Popdust's chief movie commissar. He will tell you what you need. Want to tell him what he needs? Follow him on Twitter.
More Film!

REVIEW | 'The Bad Batch' is brutal, gorgeous, necessary.
ZACHARY QUINTO gives a master class in acting in 'Aardvark'
SHORT FILM | A real life case of racism and gun violence in Middle America