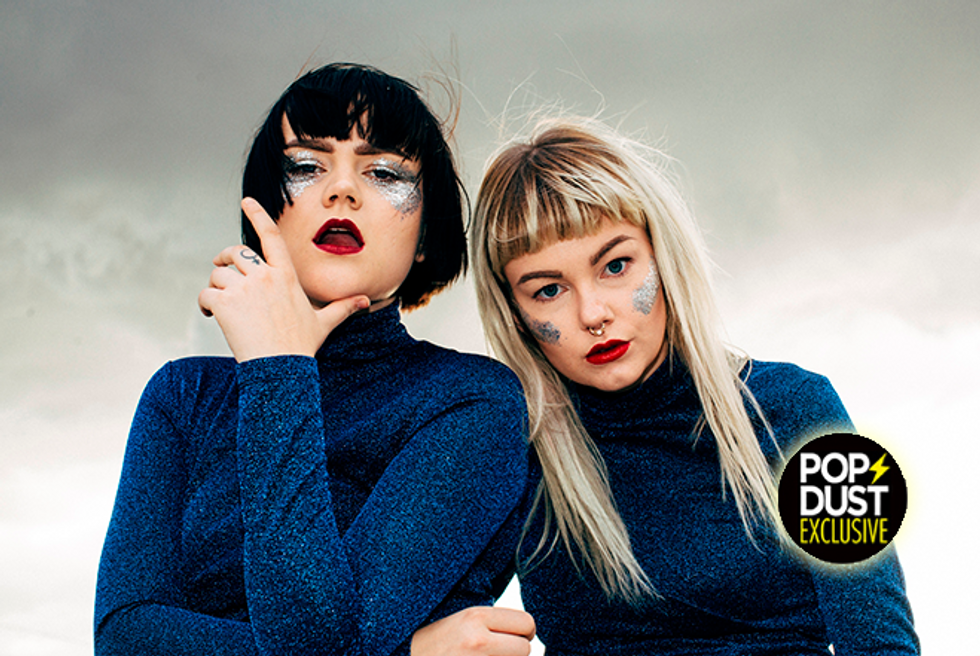 "[Songwriting] is better if it hurts a little," the unstoppable duo discuss their love of Nashville, how bold they've become and the stylistic diversity on their new album.
Sweden has long been the breeding ground for some of the most prolific pop artists of our time. Roxette, Robyn, ABBA, Lykke Li, Ace of Base, Icona Pop, Seinabo Sey. And the list goes on and on and on. Now, we can add electro-pop duo The Magnettes to that impressive lineup; they are as magnetic and spellbinding as you could imagine. Their new single Killers in a Ghost Town (out now) has already racked up over 100,000 Spotify streams, appropriately setting the stage for their impending global domination. The video, too, is a mixed drink of equal parts radical, persuasive and earthy. When the duo, comprised of Rebecka Digervall and Sanna Kalla, look at the numbers, they are taken aback. "It's a nice little wall to break through for the first time, the six figures, the fact that it's not just your family listening, and we've seen the numbers grow and looked forward to it for some time, but once we got there it was also this sense of, like, 'Great! OK, let's go for 500,000!'" they share with Popdust in a recent email.
Gaining momentum is only just the beginning. They continue, "Things definitely seem to be going in the right direction. It means a lot when people we've never met actually take the time to listen, follow us or tell their friends about us and so on. We know how easy it is to just move on, switch track and never look back."
Digervall and Kalla first met when they were both six years old, in their hometown of Pajala, Sweden (a town of 2,000 people). Needless to say, "There's not a whole lot of shit to do. There are no bowling alleys or shopping malls up there. We basically spent our teenage years outside, under bridges and up on rooftops, stealing liquor from our parents and never getting tired on summer nights because the sun never sets."
The music video for Killers in a Ghost Town transcends time and place by both paying tribute to their roots and majestically galloping into the future. The title alone has a significant meaning for both of them. "The world is full of bullshit and old ideas that don't work anymore, and we'd rather be active, maybe part of a counter-movement to make things better, than dead-passive, a.k.a. ghosts," they say, "and of course, 'killers' in that context can mean a lot more than, well, 'murderers' or something. To some extent, it's even about 'killing it,' you know. Finding out what's cool to you and allowing that to shape your identity. So, the title basically draws a line between people like us and bitter old farts. To us, the song is partly about rebellion, partly about identity and mostly about friendship and riding your bike really fast on a summer night."
With Killers being such a pivotal moment, the Magnettes set their sights on a full-length album, hopefully to release later this year or early 2017. While they put the finish touches on what will be their next manifestation, they tease upcoming appearances and new tunes. "We're doing some festival shows in Sweden this summer. We're dropping a new single this summer and then another one in the fall, probably coinciding with another U.S tour. And then it just goes on."
Drawing influences from Kathleen Hanna (known as the punk frontwoman for Bikini Kill and later Le Tigre) and producer/songwriter Max Martin, Kalla and Digervall discuss their stylistic direction for the new record. "We love punk and lo-fi music as much as we love perfect pop gems, and to us that's not really a stretch. It's all so simple and raw and honest. So we've basically tried to do perfect pop songs from a different viewpoint, using a lot of rough lo-fi-sounds, voice samples and weird drum machines and synths. It's sort of like if Selena Gomez would record with Le Tigre."
Their irresistible musical urges are even more enticing, "Right now, we're really excited about one of the last songs we wrote for the album. It has a cool disco groove, a soulful piano hook, jangly pop guitars and we swear a lot. There's another new song that merges our love for The Eagles with a fuckin' epic anthemic chorus, if we may say so, and one that's kind of 90's and Primal Scream-ish. There's also an acoustic song based on an old folk song from Tornedalen (our small northern corner of the world), that stands out on the record, it's just one mic, one take, and it feels really cool to be able to share something like that."
"We're really proud of what'll probably be the last song on the album, because the lyrics are really important to us. There's no kitsch, no punk yelling, no irony, it's just raw and to-the-point, and we're glad we get to show some of that too," they say.
The album also features contributions from band mate Tomas Bäcklund Thuneström, as well as a bevy of mixers, including Jeff Braun, Christian Cummings and Erik Wiss. Fun fact: the entire album was recorded in Thuneström's kitchen.
As they have been developing and honing their overall aesthetic, they focus on several key elements. "A lot of it sort of hovers around this central idea of the ugly youth, the cheerleaders for the outcasts, the desire to do the exact opposite to perfection and lifestyle porn. We've tried to incorporate these ideas into a lot of the songs, the sounds, the clothes, the live show, the videos and the pictures."
Along their journey, they had the chance to visit Nashville, the melting pot of rock, country, folk, pop and everything in between. They recount their experience, "We've loved Nashville from the start, and a lot of it has to do with the people we work with there, but also the sense of community in the scene. And we're sorry, but we love Broadway. We spent Tomas's birthday there last year, got drunk at Robert's and continued to a karaoke bar where we belted out Whitney's 'I Wanna Dance with Somebody.'"
They added, "Being that far away from home and out of the loop made us a lot more free in our writing process. Experiencing the American culture that is just so straight forward and BIG made us feel free to write whatever we wanted. Not just beat around the bush, but being more like 'THIS IS US,' it's better if it hurts a little."
Grab a copy of The Magnettes' new single Killers in a Ghost Town now on iTunes.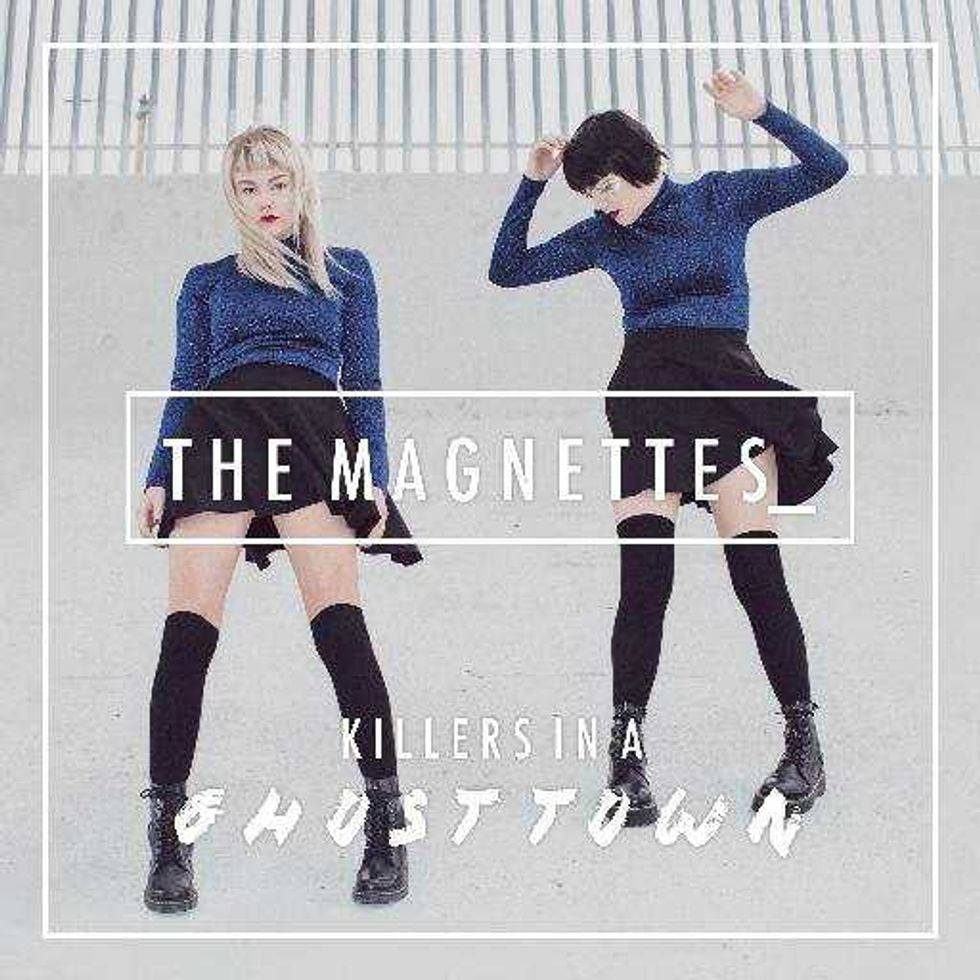 Stay tuned for music updates. Be sure to follow @Popdust and @JasonTheScott on Twitter!