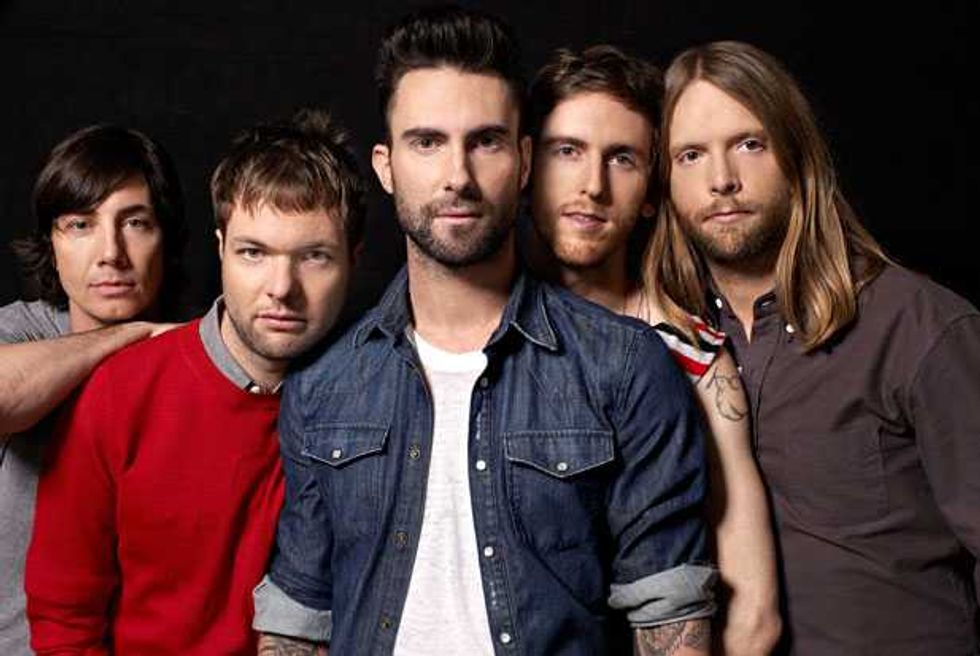 If you make it all the way to the end of the bonus tracks on the deluxe edition of Maroon 5's Overexposed, you'll get to a song that sounds absolutely nothing like anything else on the record: A version of Prince's 1986 chart-topper "Kiss." It's not terribly surprising that Maroon 5 would choose to cover one of the Purple One's signature tunes—they've clearly been influenced by Prince's falsetto-laden brand of guitar-led funk their entire career. What's surprising is the manner of the cover—it's a seven-minute 12-bar blues romp, with guitar solos, blaring sax and honky-tonky piano, and lead singer Adam Levine wailing through not just the song proper, but call-and-response "HEY HEY HEY HEY!" sections and plenty of "WOOOOOO!!!" ad-libs.
The rest of Overexposed is very, very different. Most of it is ensconced in a Benny Blanco/Ryan Tedder/Shellback/Max Martin pop sheen, following in the mold of 2011's "Moves Like Jagger" (the group's biggest-ever hit), with synths, drum machines, layered vocals, pulsing bass and super-clean guitar. In fact, you could count on one hand the number of songs in this album that even sound like they might have been performed by a band—the majority of the numbers sound very much like an Adam Levine solo project, with studio musicians brought in to lay down the rudimentary tracks and the guys behind the decks doing most of the work in making everything sound big and bright and immaculately scrubbed.
That's what makes the cover of "Kiss" sound so conspicuous. Not only is it significantly grungier and un-pop than anything else on the album—it's the one of the 15 tracks on the album's deluxe edition with absolutely no chance of ever getting airplay on Z100—but it actually puts emphasis on the fact that a band is playing it. The instruments aren't just layers in the mix, they actually lead the song, occasionally by their lonesomes. There's actually a good three-minute stretch at the end of the song where Adam's vocals aren't heard at all. And it doesn't sound begrudging, or rote, or like some kind of practical joke—it sounds like the band is simply having a blast, and the entire thing is actually one of the more interesting covers of one of the World's Sexiest Vegetarian's hits to come out in recent years.
This leads to the rather interesting question—is this the kind of music that Maroon 5, and lead singer Adam Levine, actually wishes that he/they could be making? Would group and singer be grateful if they were freed from the commercial pressures of pop music and could just jam on some Prince covers instead? In his coaching role on The Voice, Adam reveals himself to be a guy fairly well-versed in rock history and tradition, someone who looks to folks like The Beatles, Stevie Wonder and The Police for his musical inspiration. He never seems like a guy entirely comfortable with being more of a Justin Timberlake-type pop talent—when he performed John Lennon's "Instant Karma" with his finalists during the last season, he stayed behind the drum set and barely sang. He's a rock guy at heart.
Yet, with the uber-success of "Moves Like Jagger"—after the rather underwhelming performance of the Hands All Over and its lead single "Misery," more of a conventionally rocking song (produced by AC/DC and Def Leppard mix-master Mutt Lange)–the band had to make a choice. They could stick with their mildly funky brand of pop/rock and fade into a sort of adult contemporary middle age, surrounded by the Rob Thomases and Alanis Morissettes of the world, with a reliable but aging fanbase. Or, they could through their hats firmly back into the pop game, put themselves at the mercy of their super-producers and try to squeeze a couple more Top 40 crossover hits out of their run. The latter is the path they've chosen, and for the time being, it certainly seems to be working—"Payphone" peaked at #2 on the Hot 100 and is still in the top five months later, while recently released follow-up "One More Night" lies in the iTunes top ten, due for a big Billboard debut this week.
Still, the "Kiss" cover makes you wonder if they don't regret their decision—or if, at the very least, they wish that it wasn't a decision they had to make. Or maybe it's just something they had to get out of their system before they resume their lives as fantastically wealthy, successful, and once-again mainstream-relevant rock stars—by comparison, perhaps giving up the actual "rock" really isn't that big of a sacrifice.